Asian and European markets are higher this morning and that is most certainly bullish heading into trading here in North America. Markets have been volatile this week and with the options expiring we would not be surprised to see some gamesmanship take place in certain areas of the market today. We like where we sit in our portfolios with our current positions and risk levels and shall look to build up cash in the near-term in order to execute some of the plays we have drawn up in our playbook.
Chart of the Day:
Apple (NASDAQ:AAPL) is beginning to look like gold, or is it gold is beginning to look like Apple? Either way both are at multi-year lows and this is a critical juncture for Apple as they are in the $400/share support area which, should it fail to hold, could lead to further downside... and sharper downside too.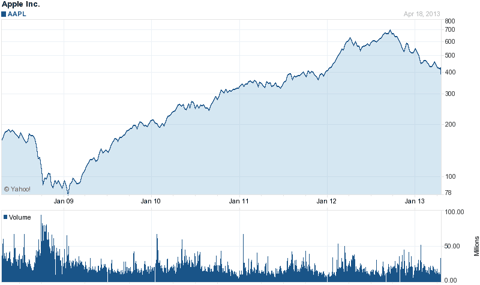 Chart courtesy of Yahoo Finance.
We have no economic news due out today.
Asian markets finished higher today:
All Ordinaries -- up 0.24%
Shanghai Composite -- up 2.14%
Nikkei 225 -- up 0.73%
NZSE 50 -- up 0.05%
Seoul Composite -- up 0.35%
In Europe markets are up this morning:
CAC 40 -- up 1.54%
DAX -- up 0.60%
FTSE 100 -- up 0.63%
OSE -- up 1.21%
Technology
Yesterday was a tale of two tech stocks, as shares in eBay (EBAY) dropped $3.28 (5.85%) to close at $52.82/share on volume of 24.9 million shares after the company announced quarterly results and guidance for the next quarter which disappointed analysts and investors. The blame seemed to be placed upon Europe and the economic troubles over there which dragged down the growth at the company's PayPal unit. On a side note, we have seen a lot of articles popping up lately with analysis on the whole Bit Coin phenomenon and the risks posed to established and entrenched players such as PayPal but we seriously doubt that it has staying power or that companies would be willing to accept it. So with the latest results showing a slowdown at the PayPal unit and the company stating that they see further slowing of growth, although still healthy in the high teens, we think that this could be an opportune time to buy as many are beginning to discount the name here.
Whereas eBay was down, Overstock.com (NASDAQ:OSTK) was up strongly. Shares rose $4.24 (37.00%) to close at $15.70/share on news that they blew away revenue and profit estimates. Where eBay missed, Overstock beat and did so with the number of orders they fill having actually fallen (the beat was enabled by a 20% increase in the size of each order they received). We are not buyers here, but thought that the results may add some color to the eBay results.
Consumer Goods
Pepsico (NYSE:PEP), one of the names we like in the consumer goods group, blew away earnings yesterday and as a result saw shares close at an all-time high of $81.25/share after having risen by $2.40 (3.04%) during the session. We could not understand why there were those who wanted to break up the company recently as the two businesses compliment each other and tend to provide the company balance when one of the two units runs into headwinds. Hopefully investors have taken note of this and filed it away in the back of their minds so that the next time some fast talkers looking for a quick buck come around agitating for change and/or a break-up they are not so warmly accepted. We are still bullish the name and the group in general.
One of the big winners of 2013 almost wasn't. May this be a lesson to shareholders of why breaking up assets is not always the correct answer.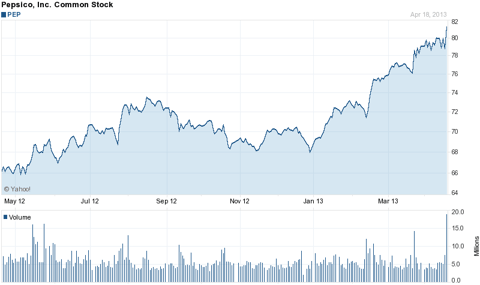 Chart courtesy of Yahoo Finance.
Transportation
Like the consumer goods names we follow the transports have continued to be leaders here, which keeps with our thesis and provides further support to be bullish. Like Pepsico, Union Pacific (NYSE:UNP) saw shares finish the session at an all-time high after rising $5.52 (4.03%) on the session to close at $142.46/share. The move was precipitated by the company's quarterly earnings and their outlook moving forward, both of which were better than expected even in the face of lower coal shipments and the drag on growth that the category has caused. One must remain bullish of these names, and the general market as well, until the tape says otherwise.
It looks like the chart had been running into some resistance, but the latest earnings report and the outlook could provide the ammunition for a further breakout, this should be watched.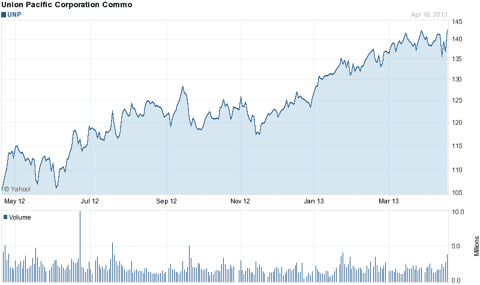 Chart courtesy of Yahoo Finance.
Disclosure: I have no positions in any stocks mentioned, and no plans to initiate any positions within the next 72 hours. I wrote this article myself, and it expresses my own opinions. I am not receiving compensation for it (other than from Seeking Alpha). I have no business relationship with any company whose stock is mentioned in this article.