By: Brendan Gilmartin, VP Research & Content
Netflix (NASDAQ:NFLX) is scheduled to report 1Q2013 earnings after the close of trading on Monday, April 22 at approximately 4:05 p.m. EST with a conference call slated to follow at 6:00 p.m. Netflix shares have been rallying sharply since the 4Q earnings release back in January, rising more than 60% on renewed growth prospects and increased subscription revenues.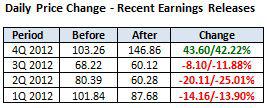 Outliers & Strategy
Netflix is expected to post EPS of $0.17 for the 1Q period. The range is (-$0.14) to $0.35. (Source: Yahoo! Finance). Back in January, Netflix said it was targeting 1Q EPS in the range of $0.00 to $0.23.
Revenues are seen rising 16.9% to $1.02 billion (Source: Yahoo! Finance). The company previously guided for revenues in between $1.004 billion and $1.031 billion.
Keep an eye on guidance for the upcoming 2Q 2013 period. Estimates are as follows:
Earnings Per Share (EPS): $0.29 (high estimate is $0.51)
Revenues: $1.06 billion (high estimate is $1.09 bln)

Following the recent run-up in Netflix shares, there are widespread concerns in the sell-side community that Netflix shares are highly overvalued. Note that short interest is back up in the 14% area - an indication of increased bearishness.
The options market is currently pricing in a 16.8% move off earnings. In just the past 4 quarters, the average price change is 23%.
Recent News
04/15: BTIG Research started coverage on Netflix with a Buy rating and a $250 price target, according to a report on Barron's. The firm sees Netflix posting 1Q EPS of $0.23 on revenue of $1.02 bln. The positive view was based on an improving price/value.
04/11: Netflix CEO Reed Hastings posted on Facebook (NASDAQ:FB) that the company streamed 4 billion hours in the 1Q 2013 period.
04/05: Cantor Fitzgerald raised its price target on Netflix from $150 to $180, suggesting the company will continue to benefit from the rise of internet TV, according to a post on StreetInsider.com. The firm also maintained a Buy rating.
03/26: Pacific Crest raised the price target on Netflix from $160 to $225 and reiterated an Outperform rating. The firm reportedly sees the U.S. streaming business obtaining 36 million new subscriptions by the end of 2015 and 17 million international subs, according to a post on StreetInsider.com. Pacific Crest calls Netflix the clear leader in the space.
03/13: Netflix announced streaming members in the U.S. can link their Netflix account to Facebook.

Technical Review
Netflix shares are up more 60% since the January earnings release. Since approaching an all-time high near $200 earlier this month, the shares have since retreated toward support near $160 - a level going back to late January. In the event of a disappointing earnings release, that would be the first level of support, followed by $140.00. Conversely, overhead resistance is at the aforementioned high in the $200-area. (Chart courtesy of StockCharts.com)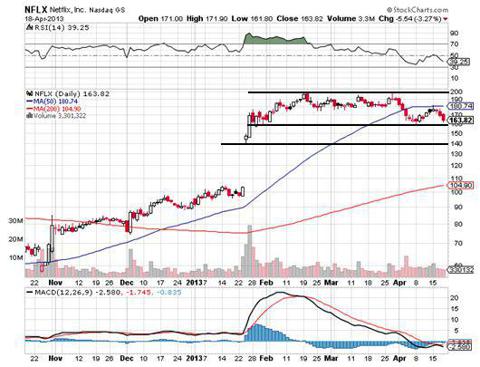 Summary
Netflix shares have been rallying over the past several months, benefiting from new content licensing agreements, expansion on social media platforms, and a more dominant market position, resulting in increased subscriber additions and more flexibility on pricing. The fundamental improvements have resulted in a dramatic pickup in sell-side sentiment. However, the valuation side of the equation seems to have many concerned that the recent run-up was too much, too fast, with shares trading at rich premium to earnings and revenues on a relative historical basis. Against this backdrop, Netflix shares, which have shown technical vulnerability (near $160 support level) are vulnerable to even the slightest missteps. Conversely, another blowout quarter could easily push the shares toward the recent all-time high near $200.
Disclaimer: By using this report, you acknowledge that Selerity, Inc. is in no way liable for losses or gains arising out of commentary, analysis, and or data in this report. Your investment decisions and recommendations are made entirely at your discretion. Selerity does not own securities in companies that they write about, is not an investment adviser, and the content contained herein is not an endorsement to buy or sell any securities. No content published as part of this report constitutes a recommendation that any particular investment, security, portfolio of securities, transaction or investment strategy is suitable for any specific person.
Disclosure: I have no positions in any stocks mentioned, and no plans to initiate any positions within the next 72 hours. I wrote this article myself, and it expresses my own opinions. I am not receiving compensation for it (other than from Seeking Alpha). I have no business relationship with any company whose stock is mentioned in this article.