It's been rare of late that I write about positions that I'm currently invested in. As a contributor, you often are faced with two criticisms from people that don't agree with a stance you've taken on a particular stock or market outlook:
"If you're so bearish/bullish why don't you own/short this position? According to your disclaimer, you don't have any position!"
"This author clearly has a bias! He's long/short whatever equity he's writing about; look, it's right in his disclosure!"
As I've stated and often repeated (I truly believe it cannot be repeated enough) from "My 17 Definitive Cardinal Rules for Investing Success"; analysts, bloggers, pundits, and anyone that tells you about finance almost always have a stake in the game:
As much as I hate (read: love) to bash Jim Cramer in two successive articles, he's the pinnacle example of this rule. Much of the public was absolutely flattened when they watched his interview a couple of years back on the Daily Show. In this interview, Jon Stewart played back for Cramer a YouTube video of himself openly admitting to making up and disseminating rumors about companies when his hedge fund was short them. This was the public's first glance into the dirty work that goes on behind the scenes at hedge funds; if they knew the down and dirty details, jaws would drop all the way to the ground.

The lesson I hoped the public learned from this is that 95% of the people feeding you advice; whether it's here on Seeking Alpha, on CNBC, or in the Wall Street Journal all have agendas and positions that they're trying to make money on. Believing these people disclose these positions all the time is laughable. Take everything, including what I write, as a sales pitch. Go in as a skeptic and question motives. Again, finance is a lesson in cutthroat 101.
So, as I've not recently written about anything that I actually have a position in (unless you ask Blackberry enthusiasts who insist that I'm short BBRY), I thought it was time to stake out some new positions heading into summer.
To potentially help investors seeking alpha over the summer, I wanted to share my trades and reasoning behind them. Here are my 5 summer flings, positions I opened on April 17, that I plan on using as mid-term investments and trades over the span of the next 4-6 months, until the end of summer.
1. iPath S&P 500 VIX Short Term Futures (NYSEARCA:VXX) Calls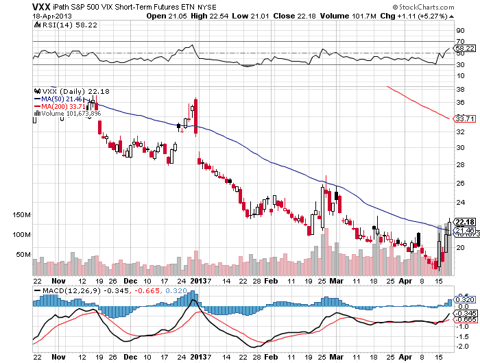 Here's the plan. As I've said in my last article, "3 Moves to Make on the Verge of Market Panic", I'm expecting volatility. I called going long the VXX when it was about $19, after it had already spiked some. I contend there's still plenty of long upside to make a quick buck on VXX and here's part of my reasoning:
Early this week, the VIX spiked 40% and we can look for more of the same action in the weeks to come. This is time to pile into one of the ETFs or options that let you go long the VIX.

After sitting at all time lows for a while, the VIX showed signs of life earlier this week on Monday's panic and sell-off. I expect the VIX back over 35 before year's end more than a few times.

The one year chart of the VIX shows how quickly we can move from the 40's down to the teens. We can move up just as quickly. I am counting on seeing the panic of Monday's trading again. Panic means volatility. It's really easy to say, "that'll never happen, we'll keep going up," but it's investors not in tune with reality that make those remarks. The not-so-cute facts of the stock market are that:

Panic happens
Bear markets happen
Corrections happen
Volatility happens

You need to toughen up and embrace that the market can be an unforgiving teacher. It is not all sunshine and rainbows in investing; look at the last financial bubble -- people were ruined.

How You Can Invest This:

So, I've decided to put my money where my mouth is and pick up some VXX calls, just as I recommended in my article.
My plan here is really simple: I bought some July calls that had a somewhat cheap premium, and I'm going to wait for at least the one or two volatility spikes that will occur before expiration. The serious 10-20% VXX spike (could happen any day now) will be the day I sell and unload this position, as to also grab as much theta value as possible. We're up 5% on the day today (Thursday) so far, so I could be selling as early as today for profit -- but I'll hold a bit longer and seek out a bit more action.
Contending the VXX will not move significantly sometime relatively soon is a non-argument, if you ask me, and the mini-panic of earlier this week is a dead giveaway to me.
2. iShares Silver Trust ETF Calls (NYSEARCA:SLV)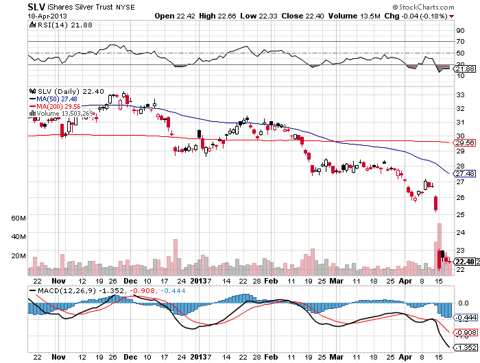 This is another story of putting my money where my mouth is. I've been pumping silver and gold for, well, forever. I've talked about the importance of holding gold for a number of reasons in almost every single one of my macro outlook articles that I've produced. What I recently said about gold holds very true for the same way I feel about silver.
When volatility is skyrocketing and the market is starting to pull back and correct, we should be seeing gold continue to rise in value. This correction is a major buying opportunity for people looking to hedge and firm up their investments in equities.

In an age where demand is created from the Fed injecting money into the supply and events like the horrible tragedy in Boston earlier this week are occurring on a global scale more often than ever, the security of gold is simply a no-brainer buy at these levels.
I bought SLV calls when the equity price was about $22, opposed to gold calls as a "hedge to a hedge", in essence. I hardly believe that there is a gold bubble, but what I do believe in is the possibility of other traders believing there is and causing panic. Gold is in a lot of headlines right now. Headlines mean volatility; panic buying and panic selling - this is why I'm going with silver here. Don't get me wrong, however, I'm also still ultra-bullish long term gold.
The plan to sell here is relatively the same as my VXX position. I'm banking on panic and volatility at some point and actually expect silver to move up at the same clip as gold, if not more, during this point. As my theta deteriorates over the coming months, I'll be looking for one or two quick stretches of panic (if not an entire bearish market, which I also predict), to close these calls and reap my yield accordingly.
3. Bought Apple (AAPL) at $396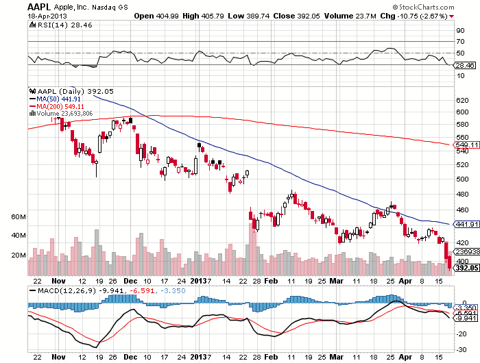 I've been calling Apple a buy since its fall from $530 and I'm going to continue to do so until it blows back through six and seven hundred. At $396, this was a great place for me to open a new position, and a nice opportunity for people already in Apple to average down. This stock continues to try and find a bottom amidst sensationalist headlines that are front page stories on blogs and financial websites every day.
Surely, you're going to need good reason to go long a stock like Apple in the midst of its extremely unceremonious decline over the last few months. Here's some of the reasons it was easy for me to hit "execute" on the Apple trade:
The price is right. There's nothing I love doing more than buying after a strong selloff and selling right after a strong buying panic. I took this week's 6% sell off first thing as a cue to buy.
It's the most fundamentally sound company in the world. It's raking in cash hand over fist, earnings "misses" are laughable as their revenues and margins are beyond world class still, and the company is sitting on enough cash to make Donald Trump look like your high school janitor.
Treats are coming for loyal shareholders. It's been alluded to time and time again since Einhorn has started pressing shareholders to demand that Apple unlock their cash. CEO Tim Cook had alluded to it dozens of times, and it's only a matter of time before shareholders wind up with an added bonus like increased dividends, preferred stock, or share buybacks.
Whether it's the iWatch, the iTV, or god knows what; we can expect a new product launch from Apple this year. With new products come free press, consumer excitement, and brand new revenue streams and market shares to tap into.
Apple's purchase of WiFiSlam is a sign that they continue to do what they do best; develop.
The plan to sell is during the summer. Everybody needs to take a deep breath here with Apple. We're going to get product releases, dividends will be paid, and Apple will not continue to miss earnings every single quarter from now until the end of time. As Apple finds it's bottom point (trading around its 52 week low right now as we speak), it's going to eventually wind up becoming oversold and correcting. The RSI, as we speak, is 28 and change; we're heading well into oversold territory.
$130 billion in cash on hand; that's all the security blanket and comfort pillow this investor needs at the end of the day.
4. Shorted Amarin (AMRN) at $6.83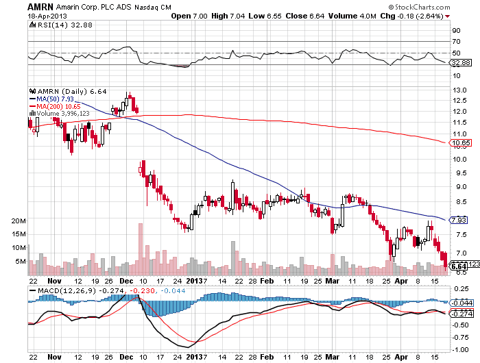 I just can't get myself to get behind Amarin. The short story behind Amarin is that they're an up and coming biotech who recently had their drug Vascepa approved by the FDA. Vascepa is a fish oil pill that's going head to head with GSK's Lovaza. Upon approval, Amarin was unable to find a major pharma partner for a buyout, financing, or marketing and decided to go it alone. They took on a ton of debt, hired their own sales and marketing team, and are going it alone.
So, basically, what we have here is a company whose success or failure is going to be 100% predicated on whether or not they can successfully go up against GSK and execute the launch of their drug. Their last conference call didn't sound bullish at all to me and their prescription data thus far has been nothing to write home about, even with the company offering tons of free samples and discounts to patients, doctors, and pharmacies. Here's what I've remarked about Amarin in the past:
On 1 March 2013 ($8.00/share) I stated:
I've been on the fence about Amarin since I started looking into it. I've watched Feuerstein and Heisenberg battle each other over specifics regarding Vascepa and have watched the stock trickle down over the last few weeks.

The fact of the matter here is regardless of how Vascepa performs in the long term, Amarin stock is going to continue to fall without any type of sales data, which looks to be a few months off at best. It also appears that the company isn't excited about delivering initial data or margins due to the massive costs incurred with initial setup, so it'll likely be months from then when we are offered true, objective insight.

For the long term, I'm still on the fence. It's going to be a "show me the money" situation for Vascepa. But, in the short term, Amarin looks to this investor to be a safe stock to short.
On 26 March 2013 ($7.35/share) I stated:
If you're at a profit in Amarin, meaning you've bought and held since 2010-2011, it's in my opinion that it's time to take some money off the table. If you're long already and don't want to sell, why not pick up some cheap $6 puts that expire in '14 or '15 to hedge your position. If things pick up, you can write calls against your position and pocket the premiums and the difference between today's price and the strike price.

Can't bring yourself to run from the potential upside, even in the face of this news? Play an options spread, but leverage yourself 2:1 on puts to sweeten the pot should things continue down this grim looking road for the company.

This company is on thin ice without a major partner or the right type of marketing. This has been a concern for many longs from the get-go: how is this company going to market and roll-out an entire drug, effectively, on its own? If the prescription metrics continue to slow and people do not continue to refill, Amarin could be headed for serious trouble. I'd steer clear or go short here, and best of luck to all investors.
The facts are that this company, although successful in getting permission to launch their drug, is a company that has shown zero tangible sales or prescription data. To me, that is not a company that should be commanding an enormous $1 billion market cap.
The plan to cover here is really to wait and bank on the coming results this summer from the company. Without solid sales numbers, AMRN still has room to be cut in half, in my opinion. I'm anticipating lower than expected prescription numbers, negatively impacted by the money shelled out for sales, free samples, and other costly methods of getting people on the hook for Vascepa. I'll play the next panic sell off on Vascepa sales news, and cover shortly thereafter.
5. Bought Yelp (YELP) Puts
I'm not going to lie; for me and Yelp, it's personal.
I took my first short stake in Yelp a while back on the verge of tons of shares about to become unlocked, expecting that puts would yield me great results on the ensuing sell-off. What I got was a short squeeze that sent Yelp up over 20% in a day and essentially annihilating my entire put position. Hey, sometimes the market just doesn't make sense.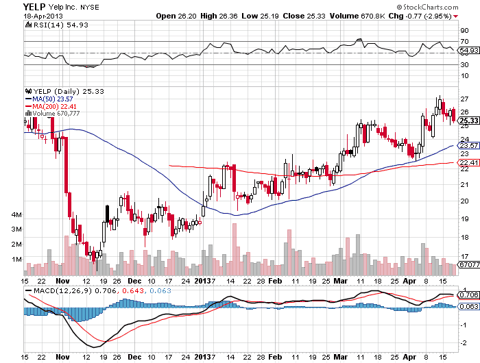 Anyway, I have two reasons that I'm buying Yelp puts:
I don't think the concept is rock-solid. I understand that Yelp is a site that offers reviews and makes most of its money off of advertising. I also realize that Yelp, like LinkedIn (NYSE:LNKD) has done a really great job of integrating itself into mobile technology, browsers, and social media. For that, I commend them.
However, the concept is one that anybody can have a hack at -- just like there's nothing stopping someone from creating the next LinkedIn resume and networking site, there's no one stopping someone from creating the next Yelp restaurant and business review site. There's zero niche and original concept and it reminds me starkly of what happened to MySpace and Napster. For years, MySpace was the ultimate social networking site, until Facebook (NASDAQ:FB) came along and did social networking better. For years, Napster was the place to download your mp3's, until Kazaa, LimeWire, and ultimately the iTunes store came along.
Another reason I like puts here is simply another case of putting my money where my mouth is. It's no secret that I think we're on the forefront of the beginning of a bear market. I wrote about it in my aforementioned "3 Moves..." article, as well as in my article "The End is Near : Why the Bull Market is Finished".
Put simply, I wanted to add another short position as insurance in case the market as a whole craps out. With a beta of 4.85, if the market does such much as trades down a half percent, Yelp could find itself trading much lower. Trading at a high beta like that means you're more than likely to take an aggressive dive if the market does as well.
I'll close the puts when Yelp gets down near it's 52 week low. I'd be betting on a move down to the $15 range when the market as a whole loses its footing this summer.
Disclosure : I am not a stockbroker or financial advisor. I am a casual investor making casual observations for the purpose of discussion and open communication and analysis of companies and stocks. All articles are my opinion only and are not suggestions to buy or sell any equity, bond, option or other financial instrument. There are tons of unqualified people out there offering up financial advice and it's your responsibility to sort through the BS. You don't hit the button to fill my orders and I don't hit yours, so no whining or praising over stocks covered by me.
I own AAPL calls, YELP puts, SLV calls, am short AMRN and own AMRN puts, and own VXX calls. I assure you, I'm not short BBRY, for the last time. I wrote this article myself, and it expresses my own opinions. I am not receiving compensation for it (other than from Seeking Alpha). I have no business relationship with any company whose stock is mentioned in this article.
Disclosure: I am long SLV, VXX, AAPL. I wrote this article myself, and it expresses my own opinions. I am not receiving compensation for it (other than from Seeking Alpha). I have no business relationship with any company whose stock is mentioned in this article.
Additional disclosure: I am short AMRN and YELP.