By Tracey Ryniec
As the Mexican economy heats up, so will its transportation needs. Grupo Aeroportuario del Centro Norte, S.A.B. de C.V., otherwise known as OMA, (NASDAQ:OMAB) is on the front lines of the expansion as it operates 13 airports in Mexico. This Zacks Rank #1 (Strong Buy) is expected to see double-digit earnings growth in both 2013 and 2014.
Most people only think of the airlines, truckers and railroads when they think of transportation infrastructure. But Mexico also has three companies that run the airports themselves.
OMA operates airports in the north and central regions of Mexico including the important business center of Monterrey, which is Mexico's third largest metro area. It also services key tourist destinations of Acapulco, Mazatlan and Zihuatanejo.
Additionally, it operates a hotel and commercial center outside of Terminal 2 at the Mexico City airport.
A Solid Year In 2012
With the Mexican economy growing around 4% in 2012, it's not surprising that airport traffic was up for the year. OMA saw total revenue grow 14.7% in 2012. Passenger growth jumped 7%.
The good times look to be continuing in 2013.
In early April, the company reported March traffic jumped 6.6%. Domestic was up 7% and international traffic rose 4.7%. It operated 97.6% commercial and 2.4% general aviation through its airports.
OMA's Growth Strategy
The thing that sets OMA apart from the other Mexican airport operators is its non-airport business segments. Analysts see opportunities for commercial ventures in Monterrey and expanding the Mexico City airport businesses.
This gives OMA a separate revenue stream with further growth which should help balance the airport business.
Earnings are expected to grow 14.6% in 2013 and another 14.9% in 2014.
The Cheapest of the Mexican Airport Stocks
OMA has been a hot stock the last 12 months. Shares recently hit a 2-year high but have pulled back a bit in the last week.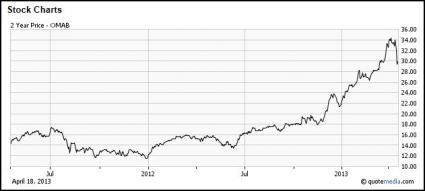 With the recent run-up, shares are no longer cheap. OMA has a forward P/E of 20.
But it remains the cheapest of the Mexican airport stocks. Its two competitors, ASUR and GAP, which are also trading near new highs, both trade with forward P/Es of 23.
There are a lot of ways investors can play the Mexico growth story. Investing in the airports, however, is a unique way to tap into both the growth in tourism as well as cargo and business travelers.
OMA is expected to have bigger growth than its peers and it has a more respectable valuation. Investors considering investing in Mexico should have OMA on their radar.
GRUPO AEROP-ADS (OMAB): Free Stock Analysis Report (email registration required)