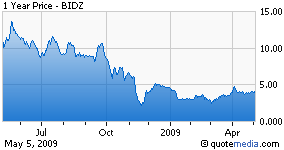 Bidz.com (NASDAQ:BIDZ) posted Q1 revenue of $31.2 million, down 49.6% from $61.9 million a year ago, but in line with Street expectations. The company posted EPS of 7 cents a share, beating guidance of 4-5 cents, and the Street consensus of 5 cents. The online auction company said that the number of new buyers was down 38.7% from a year ago, while orders per day were down 45.3%, items sold per day was down 49.9%, and items per transaction was down 8.4%. But gross margin per order was up 10.7%.
For Q2, the company sees revenue of $28 million to $30 million and EPS of 3-5 cents a share; the Street has been expecting $28.8 million and 4 cents. The company said Q3 revenues will also be below Q1.
BIDZ said it bought back 336,000 shares in the quarter, at an average price of $3.20.
In late trading Tuesday, BIDZ is up 32 cents, or 7.5%, to $4.60.