Exxon Mobil (NYSE:XOM), Chevron (NYSE:CVX), and ConocoPhillips (NYSE:COP) will release first quarter 2013 earnings next week. Here are the conference call schedules:
Exxon Mobil: April 25, 11am EST, webcast link
ConocoPhillips: April 25, 1pm EST, webcast link
Chevron: April 26, 11am EST, webcast link
Investors in these companies may want to bookmark this article for easy reference to the Q1 earnings information.
For year-over-year comparison purposes, the following chart summarizes year ago (Q1 2012) revenues, earnings, and production: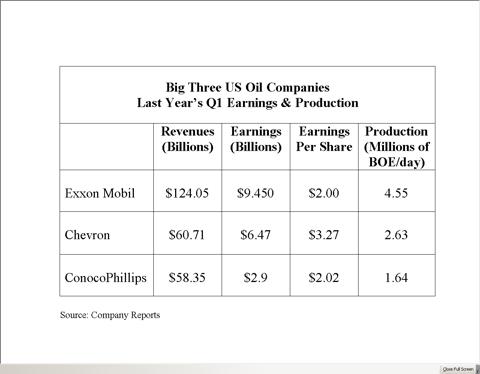 But that was last year. Now let's take a look and see what Q1 of this year may have in store.
First of all, how does the price of oil and gas compare year over year? In Q1 of 2012, Brent spot started the year around $111/barrel and exited the calendar quarter at $123/barrel.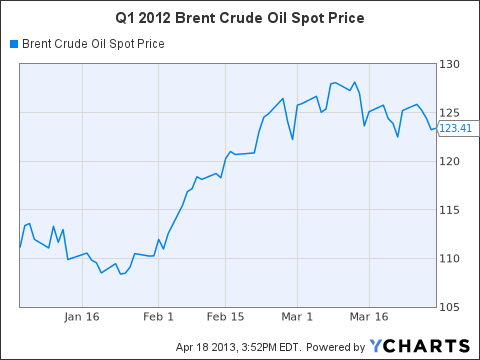 Brent Crude Oil Spot Price data by YCharts
This year, Brent prices started near the same price as last year, but have fallen to $108/barrel at the end of the first 3 months.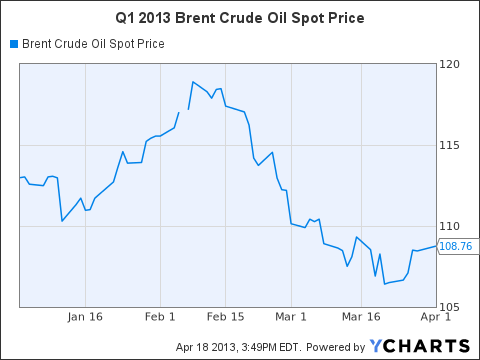 Brent Crude Oil Spot Price data by YCharts
From these charts, I would expect average realized Brent prices for the quarter to be about $10/barrel lower than last year.
The news is much rosier on the natural gas front. Here's what nat gas prices did in Q1 of last year: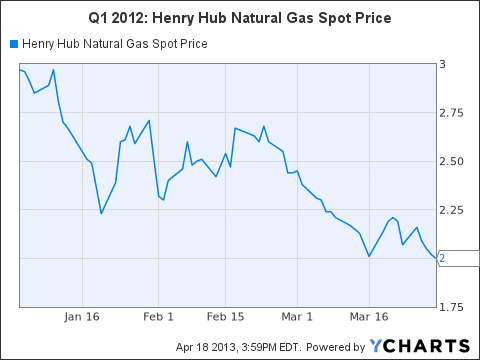 Henry Hub Natural Gas Spot Price data by YCharts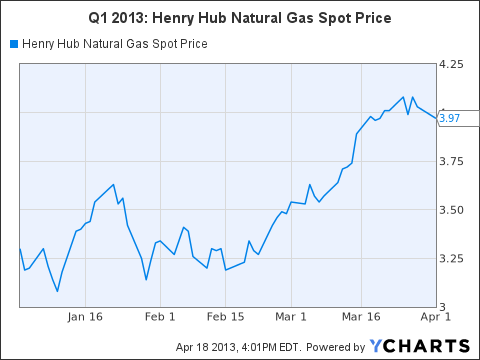 Henry Hub Natural Gas Spot Price data by YCharts
So let's say the average price in Q1 of last year was about $2.50/MMBtu. For Q1 of this year, natural gas prices started the quarter much higher ($3.25 MMBtu) and rose sharply in March to end the calendar quarter around $4/MMBtu. Let's call it an average of $3.50/MMBtu -- about $1 higher than the year earlier. This is welcome news for domestic U.S. gas producers. Perhaps none so much as Exxon Mobil, America's #1 producer of natural gas (see chart below), which has seen its stock price stagnate in the 5 or so years since its takeover of gassy XTO. Note that COP is the #7 producer, and CVX comes in at #10 (as of Q3 2012).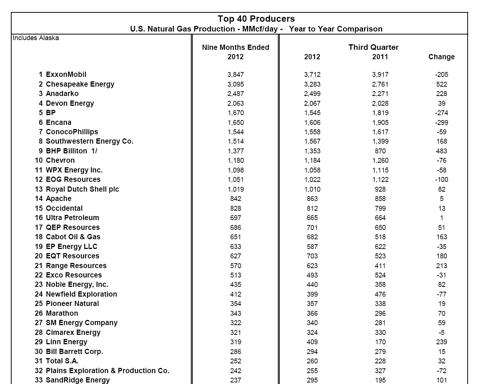 For back of the napkin calculation for the difference in XOM's domestic nat gas revenues year-over-year, let's assume XOM gets the Henry Hub price for its U.S. produced gas and let's say production in Q1 2013 equals Q3 2012 (3,847 MMcf/day). We have the conversion factor:
1 MMBtu = 1,000 cf
and...
XOM nat gas production = (3,847 MMcf/day)*(1 MMBtu/1,000 cf) = 3.847*MM*MM/day = 3,847,000 MMBtu/day.
So, if my ballpark year-over-year average price difference of $1 is close, we have XOM increasing its domestic nat gas revenues by $3.85 million/day or approximately $346.5 million for the quarter. Not too shabby. XOM had 4,734,000,000 shares outstanding at the end of 2012. So this increase in natural gas revenues works out to about $0.07/share.
Higher nat gas prices will be an even bigger per share pop for ConocoPhillips. Using the same assumptions as above, with COP producing 1,544 MMcf/day, we have an extra $1.54 million/day or approximately $138.6 million for the quarter. COP had 1,231,395,000 diluted common shares outstanding at 2012 year end, so that works out to an additional $0.11/share for the quarter.
It will be very interesting to see if the companies raised natural gas production as a result of the higher price. Both XOM and COP shut-in significant capacity when the price of natural gas cratered. It should be relatively easy and inexpensive to turn the spigots back on.
Increasing Earnings By The Share Buyback Method
While reviewing the year-over-year Brent and natural gas pricing just presented, one would think earnings are going to be below last year's since the price of Brent was ~$10/barrel lower and that swamps the domestic natural gas price rise. While this may indeed be the case, there are other considerations: namely, EPS can go up because there are fewer shares outstanding as a result of stock buyback programs.
For example let's take a look at Exxon. As all my followers are aware, it bugs me to no end that XOM spent twice as much on share buybacks ($20 billion) as it did on dividends ($10 billion) in 2012 while its dividend yield is the absolute lowest in its peer group (2.6%). As a result, the number of common shares in XOM were:
End of Q1 2012 : 4,676,000,000
End of Q4 2012 : 4,502,000,000
or a delta of 174,000,000 shares. Now, net income for Q1 2012 was $9.45 billion and EPS was $2.00/share. If net income for Q1 2013 were to be the same as in Q1 2012 ($9.45 billion), the company would now earn $2.10/share (+5%) simply as a result of having fewer outstanding shares.
And this is why I wrote the article Exxon Mobil: Buyback Heavy, Dividend Light and criticized the company's management for its over-the-top 2:1 ratio of buybacks to dividends. It's a way for management to reward themselves at the expense of ordinary shareholders. Not only does management leave the impression that earnings are growing, but their future stock awards will be worth more on a per share basis. Meanwhile, it seem very unfair to shareholders that the biggest publicly traded company with one of the cleanest balance sheets in the business pays the lowest dividend yield in its peer group. It wouldn't bother shareholders so much had the stock price been appreciating, but XOM has gone nowhere in 5 years. When will XOM shareholders hold management accountable for the stock's 5 year very low total return?
Of course ConocoPhillips and Chevron also have share buyback programs, but they are not as absurdly skewed toward buybacks as is XOM's policy. As a result, both COP and CVX pay significantly higher dividend yields and their managements are more focused on growing earnings through operations.
Dividends
Speaking of dividends, last year, XOM announced a dividend increase on April 25th and raised the quarterly dividend from $0.47/share to $0.57/share. It needs to raise it at least another dime to $0.67/share. At today's closing price of $86.62, that would put the yield at $3.09%. In comparison, CVX's current dividend yield is 3%, and COP is leading the pack at 4.4%. I would be surprised if COP raised its dividend in 2013, but last year, CVX boosted its dividend two days before the Q1 earnings release. I would expect CVX to boost it again next week and remain comfortably ahead of XOM's dividend yield.
Earnings Outlook
The average Q1 earnings estimate for Exxon is $2.04, according to S&P's latest company report dated April 13, 2013.
Chevron had an eventful quarter. The company received permission from Brazil to restart the Frade field. It also announced its Coronado discovery in the Gulf of Mexico. Lastly, there was good news on the Ecuador lawsuit as environmental claims were disavowed under oath by the plaintiffs' own experts. S&P estimates CVX's earnings will come in at $3.08/share.
This will be Conoco Phillips' last quarterly earnings when the prior year's quarter included its Phillips 66 (NYSE:PSX) midstream and refining assets. COP has also been shedding non-core assets, which make year-over-year production comparisons quite difficult. The average analyst estimate for COP's Q1 earnings is $1.40/share.
Summary
Q1's earnings for the big three American oil companies shouldn't contain many surprises. Production for all three should be relatively flat. However, investors should pay special attention to the size of Exxon Mobil's dividend increase and year-over-year natural gas production changes as a result of the positive increase in price.
Disclosure: I am long COP, CVX, XOM. I wrote this article myself, and it expresses my own opinions. I am not receiving compensation for it (other than from Seeking Alpha). I have no business relationship with any company whose stock is mentioned in this article.
Additional disclosure: I am an engineer, not a CFA. Please do your own research and contact your investment adviser. I am not responsible for investment decisions you make. Thanks for reading and good luck!