With the markets jumping up and down this week, with volatility spiking by over 40% in one day and staying high, with gold's 15% fall, many investors wonder what is going on. Where is the money moving?
Typically, in a correction, investors flee to safety. Let's investigate where exactly the money has been flowing this week. What asset classes and specific investments investors consider safe this time? First, we will have a look just at stocks. Then, we will examine stocks in relation to other asset classes to explore which asset classes have been highly demanded and which have been dumped in this sell-off. Data on all charts represent daily closing prices from Thursday, April 11, until Thursday, April 18, including.
1. Major U.S. market averages
As you can see from the chart below, Russell 2000 (NYSEARCA:IWM) experienced the largest drop, followed by Nasdaq (NASDAQ:QQQ), S&P (NYSEARCA:SPY) and Dow Jones (NYSEARCA:DIA).
This is a clear risk-off trade, a flight to safety: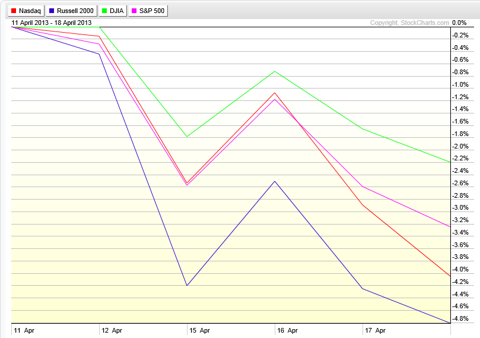 source: Stockcharts.com
2. S&P Sectors
All sectors of the S&P have lost in this market turmoil. However, the stars of this market sell-off have been Utilities (NYSEARCA:XLU) and Consumer Staples (NYSEARCA:XLP), which have lost only 0-0.5%, followed by Healthcare (NYSEARCA:XLV), Cyclicals (NYSEARCA:XLY), Technology (NYSEARCA:XLK), Financials (NYSEARCA:XLF), followed by Industrials (NYSEARCA:XLI), Materials (NYSEARCA:XLB) and the worst-performing Energy sector (NYSEARCA:XLE).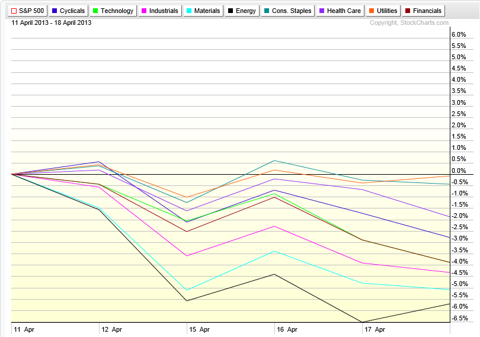 source: Stockcharts.com
3. Stocks by market cap
Small-cap stocks (NYSEARCA:SLY) have been hit the hardest, followed by mid-cap stocks (NYSEARCA:MDY). Large caps have been weathering the sell-off relatively well: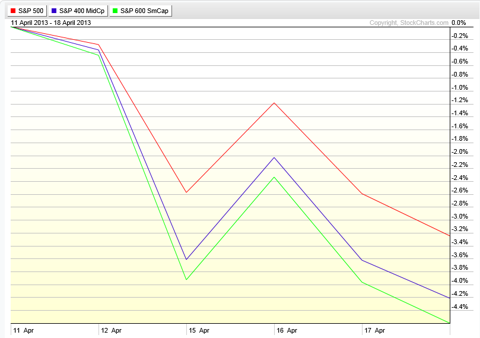 source: Stockcharts.com
4. Asset classes
Moving on to a broader market snapshot, Treasuries (NYSEARCA:TLT) have been performing well this week, accompanied by the resilient U.S. dollar (NYSEARCA:UUP). The U.S. currency dipped on Wednesday. However, it recovered on Thursday, to remain virtually flat for the period. The hardest hit were stocks, followed by commodities.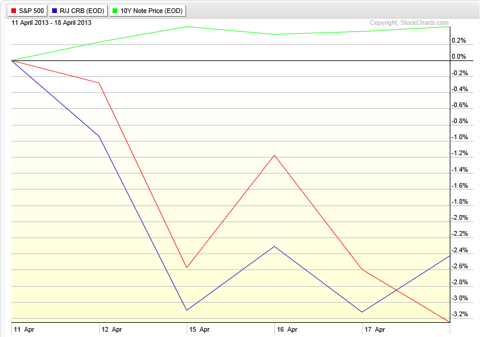 source: Stockcharts.com
Let's have a closer look at the commodities breakdown. It will be interesting to see if gold's tumble was the only reason why commodities have been much less than popular this week.
5. Commodities
Within commodities, gold (NYSEARCA:GLD) has been clearly the enfant terrible, together with silver (NYSEARCA:SLV). The Precious metals group has lost 12%. However, other commodities have not fared much better. Energy and Industrial metals commodities have lost 5 and 4% respectively. Interestingly, Agricultural and Livestock were the only commodity groups, which have held ground. These food-related commodities have remained remarkably stable and virtually flat throughout the turmoil.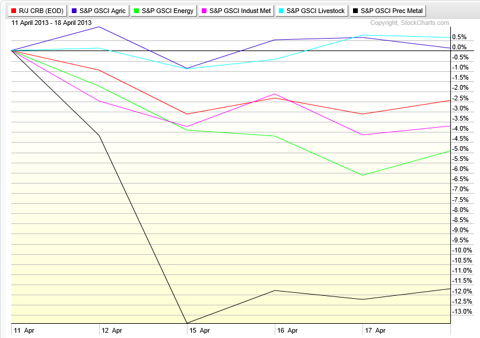 source: Stockcharts.com
Conclusion
We have been experiencing a flight to safety in the markets this week. Defensive stock sectors and assets such as Treasuries have performed well. Agricultural and Livestock commodities have held ground. Two key takeaways can be made from this week's market behavior:
1. Investors are seeking safety by rotating to defensive titles and assets, preparing for a slower economic growth and more uncertainty in the summer months. This article analyzes which S&P sectors usually perform the best over the summer.
2. Investors expect mixed inflationary-deflationary tensions. On one hand, prices of food and other necessities are likely to rise. At the same time, asset deflation is likely to occur in other asset classes such as riskier stocks and all commodities except for food-related hard assets.
Recommendation
I recommend taking this week's erratic market action as a warning sign. Selecting more defensive stocks to buy during the likely summer bumpy ride is a smart safe bet. On the other hand, a meaningful correction would present interesting opportunities to buy stable long-term performers such as 3M (NYSE:MMM) for which I described the reasons to buy during this summer here, or Warren Buffett's Berkshire Hathaway (NYSE:BRK.A) and (NYSE:BRK.B). The above stocks are a great defensive play in case the current market shake-up is not the last one this year. Or the worst one.
In fact, Warren Buffett's recent large purchase of Heinz (HNZ) perfectly fits the conclusions of this article, the inflationary-deflationary tensions and defensive play. It seems he has made a brilliant move, once again being ahead of the curve of most other investors. A canned food company is likely to hold value not only during rough stock market times, but his decision is probably also an excellent hedge against possible future rising inflation. Prices of food and agriculture products are one of the few that are very likely to keep pace with future inflation in the long run.
Although I prefer buying the above mentioned stocks, Treasuries and bonds are another possible defensive play. In this case, I recommend choosing an actively managed Pimco Total Return Bond ETF (NYSEARCA:BOND) managed by the legendary Bill Gross.
You may also want to try this summer rotation to Treasuries, which beat the market over the last 10 years on average.
Disclosure: I have no positions in any stocks mentioned, and no plans to initiate any positions within the next 72 hours. I wrote this article myself, and it expresses my own opinions. I am not receiving compensation for it (other than from Seeking Alpha). I have no business relationship with any company whose stock is mentioned in this article.