By Ivan Y.
In Las Vegas, one of the biggest sucker bets is Keno. In the stock market, one of the biggest sucker bets is the U.S. Oil ETF (NYSEARCA:USO). Back in 2006-2007, I was bullish on oil and invested in USO. I was right about oil increasing in price, but I made little or no money on my investment. What I learned from that experience is how much damage contango can do to USO because it has to roll forward the oil contracts it holds every month.
The table below shows how badly USO has underperformed the West Texas Intermediate Crude price that it tries to track.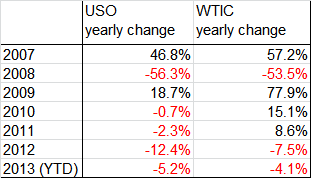 As you can see, USO has underperformed WTIC every year since USO began trading in 2006. USO closed on the first day of trading on April 12, 2006, at $67.84. WTIC closed at $68.62 on the same day. Today, USO is trading around $32 while WTIC is around $88. You can do the math yourself. WTIC has gone up since 2006 while USO has lost more than half its value. This makes USO a horrible long-term investment if you just buy and hold. USO is useful for short-term traders, but the contango will start working against you if you hold it for more than a few weeks.
Beating Contango
So what can you do if you want a pure play on the price of oil? All the oil ETFs suffer from contango to some degree or another. Teucrium Oil (NYSEARCA:CRUD) tries to minimize the effects of contango by spreading the futures it holds across multiple maturities so it doesn't have to roll forward everything every month. I have not done much due diligence on CRUD so I won't say any more.
If you insist on buying USO for the long term, then one strategy would be to sell out-of-the-money covered calls. The premiums you collect will offset the contango losses to some degree. For example, you can collect about 56 cents if you sell the October $36 call for USO.
Conclusion
The one-line summary is this: USO is a terrible long-term investment due to contango. If you are bullish on oil for the long term, then go with individual stocks or a sector ETF like SPDR Oil (NYSEARCA:XOP) or Oil Services (NYSEARCA:OIH). Or consider CRUD or the covered call strategy, which I discussed above.
Disclosure: The author has no positions in any stocks mentioned, and no plans to initiate any positions within the next 72 hours. The author wrote this article themselves, and it expresses their own opinions. The author is not receiving compensation for it (other than from Seeking Alpha). The author has no business relationship with any company whose stock is mentioned in this article.