Looking forward to next week, there are two things I believe in. First, investor expectations prior to an earnings announcement are more important than the earnings themselves, and second, Apple (NASDAQ:AAPL) is headed higher than its current price of $392.
For several months I have been studying ways to predict stock price action after an earnings announcement using four measures:
Whisper numbers vs. analyst expectations
Stock market action leading up to the announcement
The percentage change predicted by option prices vs. historical post-announcement changes
The implied volatility (IV) advantage of the Weekly options over the next-month out options (this is also a good indicator of how much the further-out options will implode in value after the announcement).
The basic premise is that if expectations are unusually high, there is a good chance the stock will fall after the announcement, regardless of how much the company beats analyst expectations on earnings, revenue, margins and guidance. There seems to be a large group of investors who "sell on the news" and at least temporarily depress the stock when expectations are particularly high going into the announcement date.
If expectations are unusually low, the reverse is true. The stock may well move higher even if the company fails to meet analyst projections.
So far, these efforts have been quite successful. Last week, for example, it looked like SanDisk (SNDK) had the highest expectations of any stock on the announcement list, and I recommended either selling it short or placing a diagonal put spread - How To Play The First Week Of The April Earnings Season. At the time of the article, SNDK was trading at $57.50, and in spite of a positive announcement that beat expectations all around, the stock fell to about $52.02 on the day after the announcement. The short sale would have picked up over 9%.
In this article, I suggested an options play that should make gains if the stock remained flat or fell by any amount. That seemed like a good place to be considering that another Seeking Alpha author reported "Since 2005, when the company has beat the consensus earnings estimate it has meant almost nothing. On average, when the company beats the consensus estimate, the stock has gapped higher by only 0.05%, then traded down 1.20% and remained in the red for a week before starting to see some recovery." The diagonal put spread I recommended ending up gaining 68% after commissions in an actual portfolio I conduct at Terry's Tips - see details.
eBay (NASDAQ:EBAY) also seemed to have escalated expectations and I placed an options spread which bet on a lower post-announcement price for my subscribers. EBAY posted a 14% revenue gain with earnings that exceeded estimates yet the stock fell almost 5%. I placed a bear diagonal call spread for a credit, bought the short April calls for a penny after the announcement, and I am holding May calls which will be sold in the next week or so (I am guaranteed a gain even if those calls aren't worth anything since the original spread was sold for a credit).
I have restricted my study to companies who have weekly options available since these are the largest and most active companies traded, and they have the most efficient option markets. I have excluded companies which trade for less than $20 because it is difficult to establish meaningful option positions.
Next week, there are more companies on my list announcing than any other week this quarter, and today I am including just those which announce before the open on Wednesday. Two companies, Halliburton (NYSE:HAL) and Caterpillar (NYSE:CAT), announce before the open on Monday, so you will have to act on Friday if you want to play their earnings.
There are seven companies on this list. Here are the relevant numbers: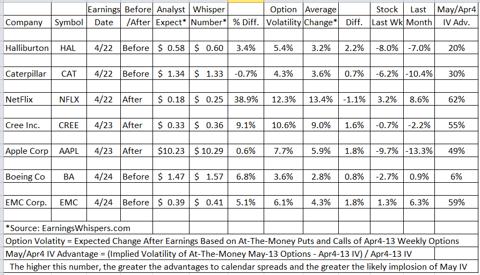 Obviously, there are a lot of other considerations you should make before deciding what to do in advance of earnings, but this table should give you valuable information that might help in your decision.
Idea #1: Clearly, Netflix (NASDAQ:NFLX) has the highest level of expectations going into the earnings announcement. Whisper numbers are 38.9% above analyst expectations and the stock has had a big run-up for the last week and month in spite of the widespread market weakness of late. With investors expecting so much there seems to be a good chance that the stock will trade lower regardless of how wonderful the earnings, revenue, and guidance might be. If they disappoint, a huge drop might occur.
This looks like a good short to me, or if you play options, with the stock trading near $164, I would buy May 165 puts and sell Apr4 155 puts. The natural price as I write this is $6.05. This spread should make a gain if the stock rises only moderately or falls by any amount.
Another (and perhaps safer) alternative would be to short the stock and sell a slightly in-the-money Apr4 put against the short position. If the stock is flat or goes down by any amount, the short put would be exercised and you would end up with no stock and you would collect a nice premium for a few days of waiting.
I like a strategy of buying stock and selling slightly in-the-money calls (if you think the stock is headed higher) or selling stock and selling slightly in-the-money puts (if you think the stock is headed lower). While the potential returns are less than an option spread might deliver, you can make gains if you are right on the direction the stock takes, if the stock is flat, or if you are wrong in the direction department but not too wrong. Those alternatives cover most of the possibilities and the play should be profitable a great deal of the time.
Idea #2: Buy Caterpillar near the current price of $80.46. Expectations are incredibly low. Whisper numbers are lower than analyst expectations, something that almost never happens (given most companies' inclination to under-guide so that they can clobber those low estimates). The stock has tumbled for the last week and month by a far greater amount than the market in general. If by any chance CAT exceeds estimates, the stock could move up nicely. If it fails to exceed expectations, nothing much is likely to happen because the market isn't expecting very much.
An option play might involve buying May 77.5 puts and selling Apr4 80 puts - the current price for the spread would be a credit of $.21 (this spread would entail a maintenance requirement of $250 per spread). It should make a gain if the stock falls by less than $2 or goes up by any amount (the less it goes up, the better). Or you could buy a May-Apr4 82.5 calendar spread (current natural price $.66) which could double your money if the stock moved higher by a couple of dollars.
Idea #3: Buy AAPL. This is a tough one for me to call because I have lost a ton of money on this company over the last several months. I never expected it to get this low, ever. Yet here it is. Trying to catch the bottom is like trying to catch a falling knife, as some wiser sage has said. Every week there seems to be another good reason why it should move lower, and it often has.
Surely, AAPL must have a bottom - its market cap is about $380 billion while it should have about $180 billion in cash by the end of this year, so the estimated $40 billion annual cash flow is about 20% of the $200 billion at risk. How many institutional investors, hedge funds, pension funds, or even individuals would be delighted with earning 20% a year on their money at risk? I would guess that the majority of them would be totally content with this number, and many might start buying the stock.
Expectations for AAPL are incredibly low. While whisper numbers are a tiny bit higher than analyst estimates, the company has such a long-standing record of under-guiding that these whisper numbers are essentially below reasonable expectations. The stock has tumbled 10.4% over the past month and 6.2% in the last week alone. No matter how bad the earnings might be, few people will be disappointed, and many will be tempted to buy on the news. And what would happen to the stock in the event that they exceed earnings by a comfortable margin? Surely, it should be a big upward move.
Guidance will probably be the biggest concern. But once again, after the Cirrus Logic (NASDAQ:CRUS) warning that revenues will be down (most likely the big cause of AAPL's most recent drop since AAPL is reportedly CRUS's biggest customer), the market expects that AAPL's guidance will be lower. So no surprise, and possibly a higher stock price.
If buying AAPL stock is not in your budget, you might consider what I have done, buying May - Apr4 calendar spreads at the 400 and 410 strikes. These spreads are incredibly cheap, about $3.50 each, and could easily double in value if AAPL moves higher next week even though there will undoubtedly be a major implosion of the May option prices after the announcement.
Before next Wednesday rolls around, I plan to make a similar analysis of the nine companies scheduled to announce earnings next week after Wednesday's close. Some of them have interesting profiles that might give us a clue to what direction their shares might take.
Disclosure: I am long AAPL, CAT. I wrote this article myself, and it expresses my own opinions. I am not receiving compensation for it (other than from Seeking Alpha). I have no business relationship with any company whose stock is mentioned in this article.
Additional disclosure: I plan to go short with NFLX options in the next 72 hours.