I remember when Warren Buffett took a lot of criticism back in 1999 during the dot-com bubble. Many investors thought that the oracle of Omaha lost his edge since he wouldn't invest in any of the high-flying tech companies during that time period. Although Berkshire Hathaway (NYSE:BRK.A) (NYSE:BRK.B) stock took a hit after the bubble burst, the company did not get crushed as drastically as many of the tech companies that never recovered. Berkshire recovered nicely and has outperformed the market over the long term. You have to admire Buffett's poise in sticking to his investing principles during the dot-com frenzy. Ultimately, his investing principles have won over time.
As a change of pace, I wanted to highlight the company's business segments rather than discuss the typical stock holdings. Berkshire Hathaway is a comprehensive collection of businesses, which includes: insurance, railroad, utilities/energy, manufacturing, service and retailing, financial products, and investments.
Berkshire's insurance business comprised 30% of net earnings attributable to shareholders in 2012. This significant chunk of earnings was derived from insurance underwriting and insurance investment income. The businesses involved in Berkshire's insurance segment include: GEICO, General Re, Berkshire Hathaway Reinsurance Group, and Berkshire Hathaway Primary Group.
The railroad segment of Berkshire involves Burlington Northern Santa Fe, which is one of the largest railroad systems in North America with approximately 32,500 miles of track. BNSF comprised 22.7% of net earnings in 2012. The railroad produced $20.8 billion in revenue last year, which was 6.6% higher than 2011 revenue.
The utilities and energy segment of Berkshire comprised 8.9% of net earnings. This segment pertains to Berkshire's 89.8% ownership of MidAmerican Energy Holdings Company. MidAmerican operates two utility companies in the U.S.: PacificCorp and MidAmerican Energy Company. It also owns two natural gas pipeline companies. MidAmerican also operates two electricity distribution businesses in Great Britain, and are owned by Northern Powergrid Holding Company. MidAmerican produced $11.7 billion in revenue last year.
Occupying 25% of Berkshire's net earnings is Manufacturing, Service and Retailing. This includes the manufacturing and service businesses of Marmon and the retail distribution of the McLane Company. This segment also includes manufacturers such as: Acme Building Brands, Lubrizol, Benjamin Moore, and Johns Manville. Some of the other businesses include: Fruit of the Loom, Forest River, IMC Metalworking, and livestock and agricultural manufacturer CTB. Some of the retailers include: Pampered Chef, See's Candies, Borsheims, and Helzberg.
Investments and Derivatives comprised 15% of net earnings last year. This segment involves the sale or redemption of investments and the changes in fair value of credit default and equity index put option contracts.
Finance and Financial products comprised 3.8% of net earnings and involved the businesses of XTRA, Clayton Homes and CORT.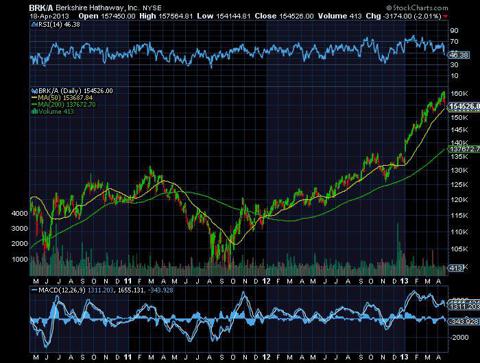 Berkshire's strength in valuation is evident in its low price to book ratio of 1.38. Many companies trade over 3 times their book value per share, so trading under 2 is certainly a plus. Companies that have been distressed such as the banks occasionally trade below their book value per share. So, when you have a strong company like Berkshire Hathaway trading at only 1.38 times its book value per share, you know you're dealing with something special.
Going back to 1989, Berkshire achieved a compound annual growth rate of approximately 15%. This performance significantly outperformed the market. With a long-term performance such as this, a dividend payment is not necessary. Investors will benefit from the long-term above average gains that Berkshire produces. Berkshire is a solid investment to consider for long-term investors.
Disclosure: I have no positions in any stocks mentioned, and no plans to initiate any positions within the next 72 hours. I wrote this article myself, and it expresses my own opinions. I am not receiving compensation for it (other than from Seeking Alpha). I have no business relationship with any company whose stock is mentioned in this article.