In many of my articles, including my most recent one, I have had to explain to a few upset investors why they should hope that Sirius XM's (NASDAQ:SIRI) share price remains on the lower side. With Sirius XM having announced a $2 billion buyback plan that I believe is already underway, lower pricing is actually beneficial to the company and long-term holders both.
Here's why.
The formula for computing the number of shares Sirius XM can repurchase with $2 billion is easy to arrive at, and can be put into a formula of: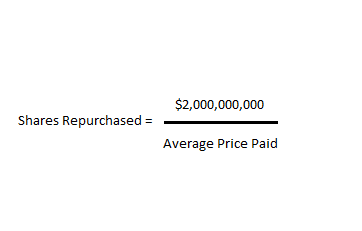 Or more simply, this can be graphed as Y=$2Billion/X and illustrated like this: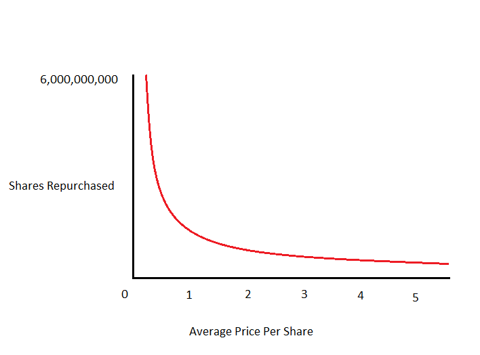 As you can see, as the price of Sirius XM increases, Sirius XM is able to repurchase fewer shares with $2 billion than it could at lower pricing. This may sound like common sense to some, but others may find the graph above useful to illustrate the point. For example purposes, Sirius XM would be able to repurchase all shares outstanding with $2 billion, at around $0.32 per share, or half the shares outstanding at around $0.64 per share.
It's an inverse relationship and as the price per share doubles, Sirius XM is able to repurchase half as many shares as it could at the lower price.
So what does this mean to the long-term investor?
Well, when you look at this as I do, what is essentially happening is your investment in Sirius XM is investing in itself. It is buying back shares and shrinking the outstanding share count. Because of this, your ownership in the company is increasing relative to the number of shares being repurchased.
Thus, if you are a long-term investor, you want your ownership in the company to increase by the greatest amount possible, especially if the market cap of the company increases or stays stable.
For simplicity's sake, let's take a look at two examples. For these examples we'll assume a stable market cap of 20 billion at completion but different average prices for the buyback, and a rounded 6.5 billion shares outstanding. Keep in mind that I am using rounded numbers for the sake of keeping this simple and for example purposes only.
In what I would consider to be a "worst case" scenario for the buyback, Sirius XM would have to pay an average price of $4 per share. At best, I will expect Sirius XM would have to pay an average price of $3 per share. The results of each are shown in the table below.

At this point you might be saying "well a third of a percent increase in ownership to me isn't that big of a deal! That's only a little over $300 on a $100,000 investment! But consider that a buyback adds debt and really shouldn't increase the market cap of the company so it doesn't actually work out in such a simple fashion. Here's where things get interesting. Take a look at the next table.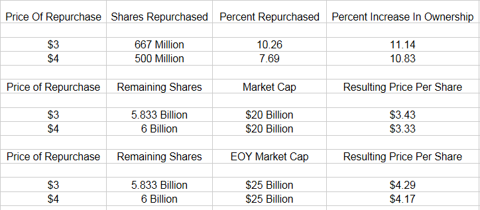 Here you can see what becomes more important to you as an investor. If we assume that the market cap stays the same at $20 billion, your investment today at $3 per share should see price appreciation due to increased ownership stake at the end of the year to about $3.43 if Sirius XM is able to repurchase at these levels, but only to $3.33 if Sirius XM is forced to buy at $4 per share.
To see these numbers for yourself readers can use the formula Y=20/X and chart them through Google (NASDAQ:GOOG) such as at the following link:
Share Price = Market Cap / Shares Outstanding
Focus your attention in the top right quadrant and Google will let you zoom in and move the graph around in order to razor in on more specific data. By moving your mouse over the graph you will get data values for Y and X. Y is your share price, X is shares outstanding.
If you wish to change market cap, adjust the "20" in the search bar to reflect your expected end of year market cap. For 20% appreciation you would use 24, for instance, and for 10% appreciation you would use 22.
One would reasonably expect a sharp correction if the stock had over run, and it would be hard to argue that Sirius XM did not "overpay" for the shares it had repurchased. For a long-term holder who is unlikely to flip and trade the shares out at $4 to be "done with this terrible stock" that has returned 6500% since the depths of 2009, this would be disadvantageous.
But one would reasonably expect a nice boost if Sirius XM were able to buy at lower pricing, due to the increased ownership investors would now have over buybacks at higher pricing as more shares are bought back. Thus, the percentage gain to investors is more. How much? Around 3% increased return.
If one goes further to assume continued strong performance of Sirius XM and approximately 25% appreciation by the end of the year from $3 per share, then it's easy to arrive at estimations for end of year pricing. At a $25 billion market cap, assuming $2 billion in stock is repurchased between $3 and $4 per share, one can expect end of year pricing between $4.17 and $4.29 if one assumes "fair value" at today's $3 per share.
It's 12 cents difference, or gains which are roughly 3% greater the closer to $3 that Sirius XM is able to buy back.
That said, even lower pricing results in better returns, and the relationship is geometric. For instance, and just 'for fun' as it is highly unlikely, if Sirius XM could repurchase shares at $2 per share it would be able to buy back 1 billion shares with a year end price estimate of $4.54 assuming a $25 billion market cap. Repurchases at $1 per share? Year end price of $5.56.
Year end price at a $25 billion market cap and no buybacks? $3.85.
While I understand some may be impatient here and would prefer that Sirius XM overpay for shares in the short term, it is unlikely that the company will do so to its own detriment and for the benefit of those who wish to flip the stock. Long-term investors will want to see Sirius XM make the best moves it can and acquire shares for the lowest price possible in order to reap greater rewards down the road.
3% may not sound considerable to some, but I'd rather have 3% more than 0% more. Even the kids on the AT&T (NYSE:T) commercials understand that more is better. And when you consider that Sirius XM may announce a second buyback plan after the first is completed, well, 3% and then 3% again starts to look pretty darn attractive.
Disclosure: I am long SIRI. I wrote this article myself, and it expresses my own opinions. I am not receiving compensation for it (other than from Seeking Alpha). I have no business relationship with any company whose stock is mentioned in this article.
Additional disclosure: I am long SIRI January 2014 $2 and $2.50 call options.