In this article (Yes Virginia, there is a dividend growth ETF portfolio that delivers), I broke the misconception that you could not build a dividend growth portfolio with ETFs. I created a 3-ETF portfolio that delivered on yield and dividend growth rate. The bedrock of that dividend growth ETF portfolio is Vanguard's High Yield Dividend ETF (VYM). VYM offers a generous yield of 3.15% and a dividend growth rate of 8.5%. Here are some of VYM's top holdings. You'll notice it's a list of companies that you find in the portfolios of many dividend growth aficionados on Seeking Alpha. In fact, this ETF would likely do the trick on its own.
VYM - Top Holdings
Exxon Mobil (NYSE:XOM), Microsoft (NASDAQ:MSFT), General Electric (NYSE:GE), Chevron (NYSE:CVX), AT&T (NYSE:T), Procter & Gamble (NYSE:PG), Johnson & Johnson (NYSE:JNJ), Wal-Mart (NYSE:WMT), Pfizer (NYSE:PFE), Coca-Cola (NYSE:KO), Philip Morris (NYSE:PM), Merck (NYSE:MRK), Verizon Communications (NYSE:VZ), PepsiCo (NYSE:PEP), Intel (NASDAQ:INTC), Abbott Laboratories (NYSE:ABT), Home Depot (NYSE:HD), McDonald's (NYSE:MCD), United Technologies (NYSE:UTX), ConocoPhillips (NYSE:COP), 3M (NYSE:MMM), Altria Group (NYSE:MO), Eli Lilly (NYSE:LLY) Colgate-Palmolive (NYSE:CL), Emerson Electric (NYSE:EMR), Illinois Tool Works (NYSE:ITW).
From there I went looking to add more diversification and to juice the yield. As was noted by Seeking Alpha author Michael Johnston, some of the best dividend growth ETFs are not even dividend growth ETFs. So I added the popular REIT ETF (NYSEARCA:MORT) and an MLP ETF (NYSEARCA:MLPA). MORT brings in a yield of 5.6% and a dividend growth rate of 12%. MORT brings home a yield of 8%, and modest income growth of 4%.
Put those three ETFs together and we boost the portfolio yield to 4.7% and essentially maintain the dividend growth rate - now we're at 8.3%.
We now have a portfolio that offers considerable diversification across sectors in North America. But the portfolio suffers from the same home bias we see in most dividend growth portfolios. It's all U.S., all the time.
As I demonstrated in this article, international diversification can enable an investor to boost returns above the U.S. market returns. It can also add greater dividend stability to your portfolio.
Here's a simple portfolio that combines the market indices in the U.S., International EAFE and Canada vs. the S&P 500. The chart reflects a 10-year time frame. EAFE holds companies in 22 developed nations across Europe, Australasia and the Far East.
International Portfolio Total Return: 165.4%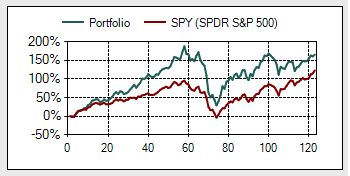 The above portfolio's total return was 165.4%, outperforming the S&P 500 ETF's total return of 122.9%. The total return includes stock price appreciation and dividends. The international basket offered returns that were 35% greater than the U.S. markets.
Many dividend growth investors already hold companies that are large multinationals and those companies are generating significant profits overseas. They are hoping that those companies can deliver international diversification. Here are a few examples of foreign earnings of multinationals.
Wal-Mart now has total revenues of $420 billion with 26% generated from overseas operations. Exxon-Mobil has $134 billion in revenue with 20% generated from overseas. Ford (NYSE:F) has $129 billion in revenue with 51% generated from overseas. Amazon (NASDAQ:AMZN) has $34 billion in revenue with 45% generated from overseas. McDonald's has $24 billion in revenue with 66% generated from overseas. Nike (NYSE:NKE) has $21 billion revenue with 50% generated from overseas. And General Electric has $149 billion in revenue with 54% generated from overseas.
Certainly, earnings power has decoupled from U.S. GDP growth rates. But from there it gets tricky. The tax system does not encourage the repatriation of those foreign profits. This article (Sorry, your dividends are not coming home any time soon) outlines the tax barrier that U.S. multinationals face. That said, dividends paid from foreign corporations also provide barriers for dividend investors. Still, if an investor wants a truly diversified portfolio that includes international dividend payers, the withholding taxes may be a price worth paying.
In the search for international dividends, I went looking in all of the obvious places. There's the Global X Super Dividend ETF (NYSEARCA:SDIV). There are many countries and regions covered, and it offers a 6.7% yield. But there's no dividend growth. The fund does not filter for consistent dividend growers, it searches for "payers". It is very erratic to say the least. I also looked at iShares International Select Dividend ETF (NYSEARCA:IDV). But once again, I found the same result - no dividend growth. After running into the same wall several times, I once again abandoned the search for an International Dividend ETF that carried the words "Dividend" and "International".
I then came across another ETF from iShares, the Global Consumer Staples ETF (NYSEARCA:KXI). This sector is prime breeding ground for dividend companies. Here's a list of some of the top holdings and their percentage of the ETF.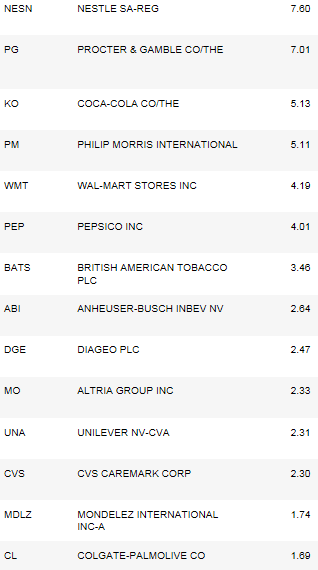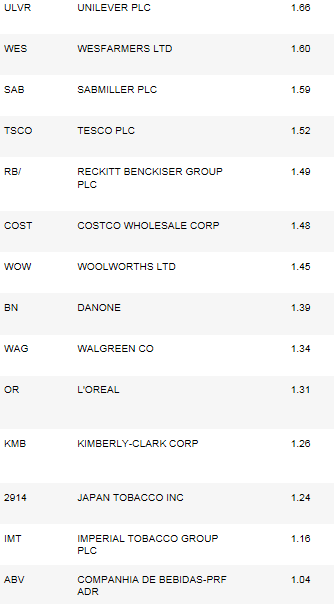 Here's the regional coverage.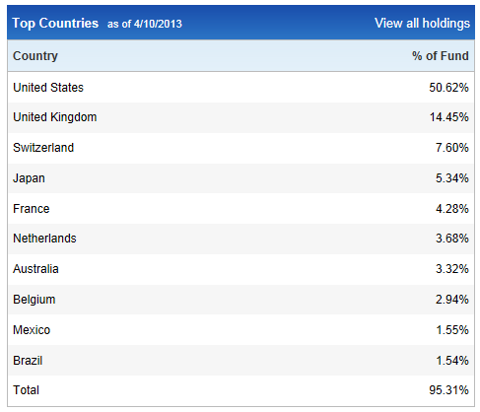 And finally we have some of that treasured dividend growth in an international dividend ETF.

KXI offers a current yield of 2.4% and a dividend growth rate of 11% over five years. And certainly there is some overlap within the VYM and KXI top holdings with both ETFs holding Procter & Gamble, Wal-Mart, Coca-Cola, Philip Morris, PepsiCo, Altria Group and Colgate. But within a broad-based dividend portfolio, that doubling down is not going to affect concentration levels very much. And who doesn't want more of that great basket of seven dividend growers? By adding KXI, an investor is picking up some great international consumer staple giants.
So what happens when we add KXI to our already-effective 3-ETF dividend growth portfolio?
Here's the original ETF portfolio composition:
| | | | | |
| --- | --- | --- | --- | --- |
| ETF | Type | Yield | Dividend Growth | % Portfolio |
| VYM | U.S. Dividend | 3.15% | 8.5% | 60% |
| MLPA | Energy MLP | 6.0% | 12.0% | 20% |
| MORT | REIT | 8.1% | 4.0% | 20% |
| Total Avg. | ETF Portfolio | 4.7% | 8.3% | 13.0 (ChowDex) |
And here's the dividend growth portfolio with international exposure.
| | | | | |
| --- | --- | --- | --- | --- |
| ETF | Type | Yield | Dividend Growth | % Portfolio |
| VYM | U.S. Dividend | 3.15% | 8.5% | 55% |
| MLPA | Energy MLP | 6.0% | 12.0% | 15% |
| MORT | REIT | 8.1% | 4.0% | 15% |
| KXI | International | 2.4% | 11% | 15% |
| Total Avg. | ETF Portfolio | 4.4% | 9.1% | 13.5 (ChowDex) |
And there you have it, a dividend growth ETF portfolio with sector diversification, comprehensive diversification from the hundreds of holdings, plus international exposure.
Not only is there a dividend growth ETF portfolio that delivers, there's an international ETF that can sweeten the dividend offering.
And mostly what I discovered in the search for a dividend ETF portfolio, is that when looking for dividend growth ETFs, don't search using the words dividend and growth - the best dividend growth ETFs often go by another name.
Disclosure: I am long DIA, EFA, EWC, TRP, ENB, THI. I wrote this article myself, and it expresses my own opinions. I am not receiving compensation for it (other than from Seeking Alpha). I have no business relationship with any company whose stock is mentioned in this article.
Additional disclosure: Dale Roberts aka cranky is a Streetwise Coach at ING Direct Mutual Funds. Streetwise Portfolios offer Canadians low-fee, complete, index-based portfolio options. Dale's commentary does not constitute investment advice. The opinions and information should only be factored into an investor's overall opinion forming process.