Cloud computing is no longer an emerging trend. For instance, salesforce.com has seen 14 years of operation and it has been more than 5 years since it topped 1 million subscribers. Similarly, other organizations operating in cloud computing have made significant progress in cloud-enabling their applications. However, recent innovations in this sector, such as everything-as-a-service (XaaS), are signs that there are still opportunities yet to be tapped into.
Realizing these trends and helping its clients to get the most business value from cloud computing along with an anticipation of a greater demand for public cloud, Accenture PLC (NYSE:ACN) has launched the Accenture Cloud Platform. Also, Accenture will invest more than $400 million in cloud technologies, capabilities and training by 2015 in an attempt to deliver the right cloud services from its network of providers, as well as blending its own industry solutions and innovations with third party offerings.
How big is the cloud?
According to the IDC cloud research, worldwide revenues from public IT cloud services exceeded $21.5 billion in 2010 and are expected to reach $72.9 billion by 2015, achieving a CAGR of 27.64%, far superior to the growth of 6.7% expected to be experienced by the worldwide IT market as a whole over the same period. It is also estimated in the research that by 2015, one of every seven dollars spent on packaged software, server and storage offerings will be through the public cloud model. Within the cloud arena, the size of the Software as a Service (SAAS) solutions market, in which Accenture predominantly operates, is expected to reach $37 billion by the end of 2016.
According to Accenture's estimates, by 2016 enterprises will devote 14% of their overall IT product and services spending to cloud, up 5% from 2011. More importantly, by that same time 46% of new spending would be on cloud-enabled technologies. In the same research Accenture estimates that more than one-third of large enterprises have yet to implement any cloud technology, public or private, in their infrastructure. And for platform cloud technologies the ratio of enterprises increases to 50%. The table below lists the key drivers and inhibitors to the growth in the industry.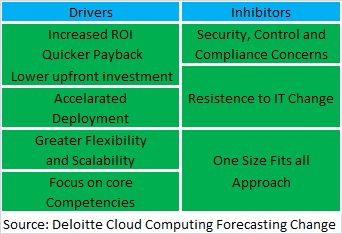 Accenture's Cloud
Accenture provides cloud services in three areas to help clients improve IT efficiency and agility: It helps clients plan, implement and manage services from its provider ecosystem; it develops Software as a Service solutions built on its proprietary assets; and it provides provisioning, integration and management of services to bridge operations across traditional and cloud environments. In addition, the company helps its clients in implementing SaaS solutions to meet their business needs with the added benefits of increasing flexibility and reducing total costs of ownership. The company's SaaS methodology and toolset enables delivery of SaaS solutions across a wide range of services and leading SaaS solutions including Salesforce.com, Workday, SAP, Oracle and Netsuite.
Accenture has already worked on more than 4,000 cloud projects and has more than 6,700 professionals trained in cloud. Accenture Cloud Platform is an important step for the company in order to provide cloud brokering and orchestration services that have recently seen growth in demand and is expected to experience high demand by clients in the future as well. According to Jack Sepple, the global senior managing director of Cloud Accenture, the company's Cloud Platform is already in use in more than 200 projects and has proven technologies and business processes to help clients in making a safe journey to clouds. He further stated that the company is dedicated to moving the company's extensive portfolio of cloud offerings - a large eco-system of alliances, and a large global client base - to the cloud in all forms: public, private and hybrid.
Multiples based Valuation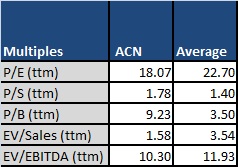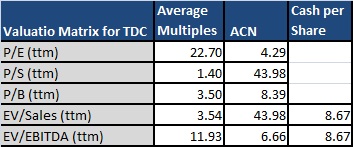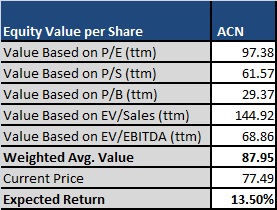 In my multiples-based valuation I have given a greater weight to enterprise value multiples as they better capture the core earnings of the company. Based on the valuation, the company is relatively undervalued, compared to the industry. The current price of $77.49 provides an upside potential of 13.5%.
Conclusion
Accenture's focus towards enhancing its cloud services portfolio through the development of SaaS solutions, employee training and corporate alliances will enable it to capture the forecasted exponential growth in the overall cloud market. According to research, three-fourths of the executives in 414 organizations that were asked suggest that they would rely on the in-house staff for IT services, but the same executives also are expected to increase the use of external services as their reliance on the cloud grows.
Accenture has positioned itself as a platform that enables its users to seamlessly integrate the new cloud solutions with their existing IT infrastructure. With its valuable partnerships with large players in the industry, such as Cisco Systems (NASDAQ:CSCO), Google (NASDAQ:GOOG) and Microsoft (NASDAQ:MSFT), the company is bound to reap the benefits from the market trends. Based on my analysis and the upside potential in the stock, I would recommend buying Accenture.
Disclosure: I have no positions in any stocks mentioned, and no plans to initiate any positions within the next 72 hours. I wrote this article myself, and it expresses my own opinions. I am not receiving compensation for it (other than from Seeking Alpha). I have no business relationship with any company whose stock is mentioned in this article.