Some days ago, I wondered about the BlackBerry's (BBRY) alleged stock manipulation and the coming Q10 release.
Why are there people allegedly trying to manipulate the share price?
Why is Q10 unique in the market?
Are BlackBerry fans waiting to buy Q10 instead of Z10?
Currently, these questions cannot be completely answered. Nevertheless, here are some thoughts about it.
Stock's Alleged Manipulation
First of all, let's point out the stock's alleged manipulation, which is spectacular these days. Even professional analysts reported false figures regarding the Z10 sales and returns, according to the company. It means that some people want to scare investors about BlackBerry and the potential sales of Z10 phones. In short, manipulations benefit shareholders because if you want to hide the truth, it is for a good reason. Right now, there is no concrete proof of manipulation. Nevertheless, BlackBerry said that it asked the SEC for an investigation about the false figures. Thorsten Heins, CEO said:
Sales of the BlackBerry Z10 are meeting expectations and the data we have collected from our retail and carrier partners demonstrates that customers are satisfied with their devices (…) Return rate statistics show that we are at or below our forecasts and right in line with the industry. To suggest otherwise is either a gross misreading of the data or a willful manipulation. Such a conclusion is absolutely without basis and BlackBerry will not leave it unchallenged.
Q10 phone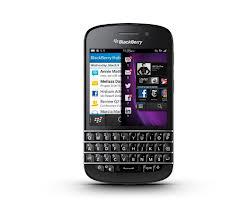 In my previous article, I argued that Q10 is relatively unique in the market because it has a physical keyboard, which is one of BlackBerry's key advantages in the smartphone market. In this article, the author points out the superiority of physical keyboards versus touchscreen ones. Moreover, BlackBerry becomes famous all over the world thanks to its physical keyboard devices. This is why the company has to focus on this feature for its future. Hence, I think about another question:
Are BlackBerry fans waiting to buy Q10 instead of Z10?
Personally, I have a BlackBerry Bold 9900 (with physical keyboard), which is amazing to use thanks to its writing comfort. As I said in my previous article, I cannot imagine changing for a touchscreen, because the physical one is much more practical and comfortable to write with. For this reason, I haven't intended to buy a Z10 phone, I have only considered the Q10 one, even with the longer waiting period. Some analysts also expect that BlackBerry diehards are waiting for the Q10 physical keyboard. IDC Canada's senior mobility analyst Krista Napier said:
It's iconic for them, that's for sure (…) I think at least here in Canada, there are a niche group of people who have been using the keyboard for a long time.
Blackberry Q10 could be successful in the coming months, and could contribute to the company recovery. Nevertheless, it is impossible to say now what will happen. The aim of this article is to share my point of view about BlackBerry's stock manipulation and the Q10 release. I hope it helps you in the current situation.
Disclosure: I am long BBRY. I wrote this article myself, and it expresses my own opinions. I am not receiving compensation for it (other than from Seeking Alpha). I have no business relationship with any company whose stock is mentioned in this article.