In seeking out alternative markets for investment, I turned to the 34 member countries of the Organization for Economic Co-operation and Development (OECD). The OECD represents a collection of both developed and emerging economies globally.
Despite its small size with a GDP of about 1.5% of that of the United States, Israel is a stand-out among the OECD member countries. Israel has an open economy in that it encourages both exports and imports. About 40% of Israel's GDP is exported. In 2012, Israel's real GDP growth rate was 3.2% and GDP totaled $241.7 billion.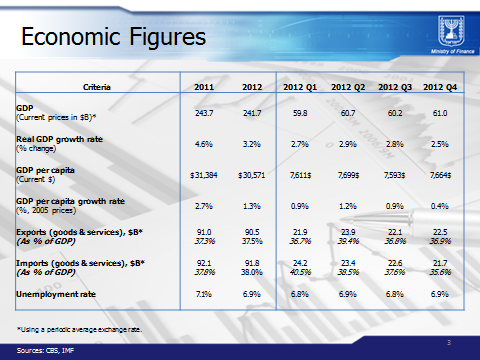 There is widespread debate today concerning the level of debt relative to GDP that a country can safely carry. Recent orthodoxy placed that limit at 90% of GDP. However, the academic research that buttressed central bank-backed austerity measures has been placed in doubt because of errors related to data collection and analysis. In 2012, Israel public debt as a percentage of GDP stood at 74.0%. In comparison, the OECD average was 108.7%.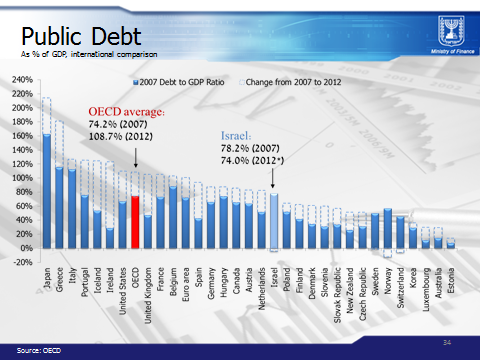 Perhaps a more informative metric is the deficit to GDP ratio. In 2012, the general budget deficit which includes both national and local government debt was 4.5% of GDP. The OECD forecasts Israel's 2013 deficit to GDP ratio at 4.1%. The U.S. has a forecasted ratio of 6.8%. The southern Europe tier of countries, Italy, Greece, and Spain have forecasts of 2.9%, 5.6% and 6.3%, respectively.
Inflation is an important economic indicator. In 2012, Israel's inflation rate was 2.17%, the mid-point of the Bank of Israel's target. The OECD estimates Israel's 2013 inflation rate to be 1.9%, about the same rate as the U.S. Italy is expected to have an inflation rate of 1.9%, Greece -0.2% and Spain 1.2%.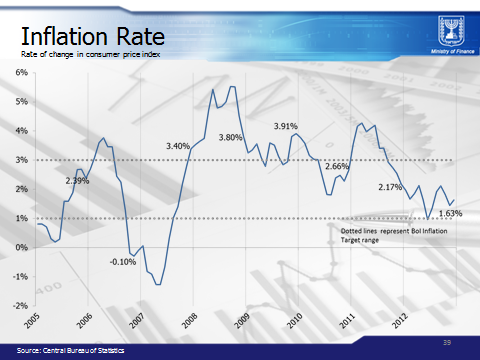 Israel's unemployment rate is at a 30 year low and participation in the work force is increasing. The unemployment rate is down to 6.9% and the participation rate is 63.8% and is expected to expand as more members of the religious and Arab sectors join the workforce.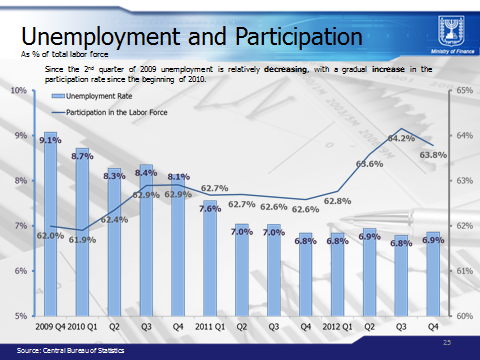 According to the OECD, the 2011 participation rate for Greece was 55.6%, for Italy 56.9% and for Spain 58.5%. These rates compare with 66.6% for the U.S. The overall unemployment rate for the OECD was 8.0%.
By most standards, Israel has a successful economy. This success is derived from entrepreneurial talents tied to scientific and technological prowess.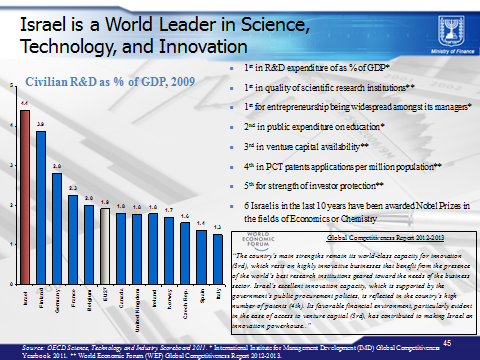 For Israel to fully realize its potential, I believe it is necessary to break-up the oligarchic structure that constitutes the country's economy. Crony capitalism is not good for the country or the people who live there. Today, about 20 families control half the value of the shares that trade on the Tel Aviv stock exchange. The new government should deregulate the economy and break the oligopolies, in the interest of all Israelis.
About 74 Israeli companies trade on the several U.S. stock exchanges. These companies are large and small; hi-tech and no-tech. Some well-known names include Teva Pharmaceuticals (NYSE:TEVA), Check Point Software Technology (NASDAQ:CHKP), Mellanox Technologies (NASDAQ:MLNX) and SodaStream (NASDAQ:SODA).
The companies I like today are Delta Galil Industries (OTC:DELTF), an apparel manufacturer for Nike (NYSE:NKE), Maidenform (NYSE:MFB), Marks and Spencer (OTCQX:MAKSY), Lululemon (NASDAQ:LULU), Calvin Klein, Hugo Boss (OTC:HUGPF), Tommy Hilfiger and Under Armour (NYSE:UA), among others. I also like the telephone network operator, Partner Communications (NASDAQ:PTNR).
Disclosure: I have no positions in any stocks mentioned, and no plans to initiate any positions within the next 72 hours. I wrote this article myself, and it expresses my own opinions. I am not receiving compensation for it (other than from Seeking Alpha). I have no business relationship with any company whose stock is mentioned in this article.