Next week, Two Harbors Investment Corp (NYSE:TWO) is expected to distribute its remaining shares of Silver Bay Realty Trust (NYSE:SBY) to shareholders via a special dividend. Two Harbors holds 17,824,647 shares or around 45% of the outstanding shares of Silver Bay Realty. While this move was expected after the IPO back in December, the doubling of the public float is the next step making Silver Bay Realty an investable REIT.
The company plans to acquire, renovate, lease, and maintain a portfolio of single-family homes in select attractive markets in the U.S. It plans to operate under a REIT where substantially all of future income is returned to shareholders.
While Silver Bay still sees favorable trends for purchasing single-family rental houses, some news suggests that the onslaught of private equity money in major markets might be placing pressure on rental rates. As the company moves to invest and stabilize the purchased homes, the abundance of competition to an unproven concept could be very damaging.
Stock Distribution Details
Back on March 18th, Two Harbors Investment announced plans to distribute the 17.8M shares of Silver Bay Realty Trust held by the company. The distribution in the form of a special dividend is expected to occur on or about April 24th to shareholders of record at the close of business on April 2nd.
While some people might have bought Two Harbors to obtain shares of Silver Bay, the likelihood is that a large percentage of shareholders own Two Harbors for the substantial dividend. That stock now yields 11% while Silver Bay is virtually zero. With no expectations that Silver Bay will have any significant profits in 2013, Two Harbors investors receiving the stock will likely quickly flip the special dividend.
In addition, the spin-off is a fraction of the value of Two Harbors. Each investor will only obtain roughly one share for each 17 shares of Two Harbors. In essence, $200 invested in Two Harbors amounts to only $20 of Silver Bay. Investors under $5,000 will have less than $500 in Silver Bay and will have natural incentives to dump the shares due to the immaterial size.
Normally in these situations, a large distribution and a substantial increase in the public float will pressure the stock short-term.
Private Equity Competition
The competition for single-family houses is heating up among private equity investors. From Blackstone Group (NYSE:BX) to Colony Capital, thousands of homes for billions of dollars have been purchased by institutional money in the last year. In addition, several firms from American Residential to American Homes 4 Rent have filed for an U.S. initial public offering or are expected to file for one soon.
All these moves will help to lift the home prices in the target markets, but the rapidly increasing price could dampen the returns on future home purchases. In addition, the added supply of IPO shares could dampen or dilute investor demand for Silver Bay. Below are samples of the known details of institutional investments:
American Residential - The company filed for an IPO on March 22nd. American Residential filed to raise $300M. The Scottsdale, AZ based company only booked $3M in revenue for the year ended 2012. According to the filing, it had 2,381 homes in multiple states and had added 1,000 of those homes during the first quarter.
American Homes 4 Rent - The company stated back on February 27th that it planed to submit a registration statement with the SEC. It is the biggest owner of single-family homes behind Blackstone with about 10,000 back at that point. The company is headed by Wayne Hughes, the founder of Public Storage (NYSE:PSA).
Blackstone Group - The private equity group is the largest owner of single-family homes having spent over $3.5B to buy 20,000 homes at a $100 million-a-week pace. This amount is only a small fraction of the overall investments owned by the group.
Colony Capital - The private equity group raised $2.2B to buy properties for lease and owned 7,000 homes as of March 6th.
Pressure On Rents
While the surge of demand for investment properties will undoubtedly raise the value of the existing homes owned by Silver Bay, the surge in supply could pressure rental rates in the major cities. According to a Trulia report, rental rates aren't keeping up with home prices. As an example, the average house in Las Vegas soared by nearly 25% last year while the rental rates declined by 1.9%. This scenario played out in a similar manner in all of top 18 metro areas. Even in areas of rising rental rates such as Dallas, Miami and Tampa Bay, the home prices rose at a faster rate. The real concern is the declines in rental rates in places such as Las Vegas, Chicago, and areas of California. See table below: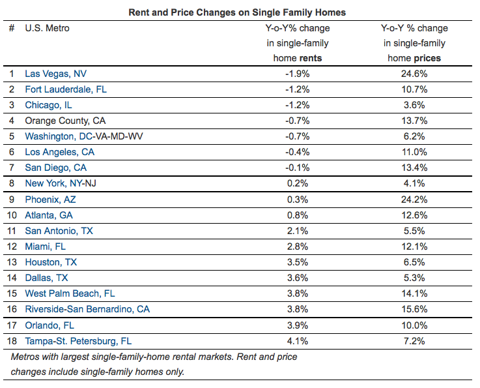 For Silver Bay investors, the major concern is whether the surge of rental properties ultimately leads to an oversupply that either drives down rates or even leaves a substantial amount without renters.
Stock Valuation
With 37.3M shares outstanding, the stock has a valuation of around $750M based on a stock price of $20. The company has a book value of around $660M so the stock trades at a slight premium to book value. With rising housing prices in the key cities of Phoenix and Las Vegas, the company could have a book value closer to the stock value.
The stock is difficult to value as the company is still in the process of stabilizing recently purchased houses and has a limited operating history. In addition, as of the Q1 report the company had a significant amount of cash still on hand from the IPO. Also, it is unknown how investors will value a REIT that offers limited earnings due to a lack of leverage and most of the value obtained via the unencumbered housing assets and potential for price appreciation.
Conclusion
Before Silver Bay can even finish acquiring and stabilizing a portfolio of rental homes, the market already appears to be over heating. Trulia suggests that rental rates are declining in major investment areas and the institutional money continues to rush into the market.
The distribution of the Two Harbors shares is a huge key to making Silver Bay a viable investment. As the shares are absorbed, new investors won't have to fear the massive distribution of those shares. Unfortunately, until the portfolio of properties are stabilized, investors should continue keeping the stock on the radar and out of the investment portfolio. The lack of profits and flood of competitors going public will prevent the stock from appreciating anytime soon.
Disclosure: I have no positions in any stocks mentioned, and no plans to initiate any positions within the next 72 hours. I wrote this article myself, and it expresses my own opinions. I am not receiving compensation for it (other than from Seeking Alpha). I have no business relationship with any company whose stock is mentioned in this article.
Additional disclosure: The information contained herein is for informational purposes only. Nothing in this article should be taken as a solicitation to purchase or sell securities. Before buying or selling any stock you should do your own research and reach your own conclusion or consult a financial advisor. Investing includes risks, including loss of principal.