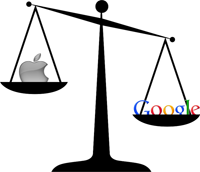 The Google (NASDAQ:GOOG) strategy of scalability may seem obvious on the surface but it's less obvious than you might think.
Google gets that one of the primary limits to scalability is human resources. You can't scale past the point where you can hire people to perform tasks. The limits of growth are simple of any company are simply the limits of their model of scalability. If you get to a point where you start to pass that, the cracks start to show. You can't respond to customer needs, servers become overloaded, orders get backlogged, inventory gets depleted.
It's not a technical problem, it's a systems problem. You've seen it happen at inflection points for numerous companies and you'll see it again. A company hits a limit of the design of the current systems and they either address the design flaw or they suffer from the loss of whatever revenue was dependent on that system.
Google Competitors and Scalability
Amazon (NASDAQ:AMZN) get this and are operating this way. Amazon started out by building the world's biggest online bookstore. Scalability is a primary requirement for that goal and they accomplished this in spades and continue to apply the concept in every aspect of their business, from technology to fulfillment.
Apple (NASDAQ:AAPL) doesn't get this. Design was always primary and scalability was secondary. This doesn't mean that they didn't build amazing products and it doesn't mean they didn't scale. It just means that this wasn't a primary goal. Each time they ran into scalability issues they fixed them, forgot about them and moved on. One of the biggest areas where this will take a bite out of Apple is their need to review apps manually. Because quality is their primary concern, they continue to manually review apps, which means that the rate the App Store grows has a very real and very human limit.
Microsoft (NASDAQ:MSFT) and Yahoo (YHOO) never got this concept and just build stuff that doesn't leverage the services of other products by the company, and simply grows until it reaches the limits of its supporting systems for that product. No synergy and no scalability outside of individual products. That's why you see individual product successes but nothing on a company-wide basis.
Google gets it. This is so ingrained, that you can review Google patents to get a feel for exactly how much this is at the core of the Google philosophy.
Scalability as a Requirement
Google never stops to consider anything without scalability being the primary requirement. Like Amazon, Google's primary product required scalability just to be viable. Each system Google builds must be built with efficiency of both human and silicon resources.
For example, when Google built their Google Play store, they made a fundamental decision to not manually review submissions. This was not an accident but a company philosophy. It never occurred to Google to create a large manual review process. They are working to improve quality by automatically identifying bad actors among their submitted apps including apps that spam, install viral or subversive software on Android phones or take other actions that will hurt a user's experience. They also have a kill switch built into Android to allow for the removal of apps that do "bad things".
For every other product, they've done the exact same thing. In fact, Google has patented the algorithm that has become the core of their "Big Data" analysis framework. This algorithm, known as MapReduce is arguably as important as the famous PageRank algorithm that locked Google's ownership of search in place for the foreseeable future.
On a side note, Google has taken a unique position with regards to this patent and granted a license to the open-source mapreduce project named Hadoop. Ironically, Hadoop is a core framework provided in Amazon Web Services (AWS) as the Elastic MapReduce service.
From indexing websites, sorting and ranking search results, analyzing advertising performance MapReduce is the simple algorithm at the core of Google's scalability.
Patents as an Insight into Company Focus
Comparing Apple and Google, by looking at their patents, provides a unique approach to understanding a company's focus. Apple have always been focused on design, hardware and building insanely great products. If you browse the Apple Patent library from the early days, you'll see they were focused on building computers. As you go through the years, you'll see a growing focus on design along with the hardware patents. Apple has put so much effort into their design focus that they have a number of patents on icons.
Google's Patent library has a focus on algorithms from the very beginning. The thrust of most of their patents is how to automate the processes of their business.
Cost of Doing Business
Aside from a qualitative analysis of patents and the approach to clearly identify Google's dedication to scalability, I wanted to find some evidence of scalability in the companies' fundamentals. A basic tenet of scalability is doing more with less or efficient use of resources. This not only includes capital resources but human resources. I wanted to see how revenue and costs were distributed across employees.
While the results aren't crystal clear, they are interesting. Looking at the revenue and costs of revenue per employee, I wanted to see exactly how much absolute revenue each company was earning for each employee. Out of the group of companies in the table below, it is clear that Google and Apple are both leveraging their employees better than Microsoft, Amazon and Yahoo.
| | | | | | | |
| --- | --- | --- | --- | --- | --- | --- |
| Company | Employees | Revenue | Costs Rev | RPE | CPE | Margin |
| Yahoo | 11,700 | $ 4,987 | $ 1,621 | $ 0.43 | $ 0.14 | 68% |
| Microsoft | 94,000 | $ 72,930 | $ 17,975 | $ 0.78 | $ 0.19 | 75% |
| Google | 53,861 | $ 50,175 | $ 20,634 | $ 0.93 | $ 0.38 | 59% |
| Apple | 72,800 | $ 164,687 | $ 95,668 | $ 2.26 | $ 1.31 | 42% |
| Amazon | 88,400 | $ 61,093 | $ 45,971 | $ 0.69 | $ 0.52 | 25% |
Table: Revenue per Employee for 2012 (data source sec.gov)
It is also clear that Apple are currently beating Google with productivity per employee, while their gross margins are lower than Google's. But the comparison is nuanced. Google is growing and Apple is maturing. I'm going to watch the revenue per employee statistic to see if my theory holds as Apple start to see the effect of declining growth.
The market obviously supports the idea that Apple is a different company than they used to be with the decline in stock price from over $700/share in September of 2012 to below $400/share on April 19, 2013. But it's more than that. With the focus of this article being scalability, I'm less concerned with the current state of Apple's business than their ability to sustain and grow that business.
Scalability in Mobile Phone Wars
In my recent article, I compared Apple's App Store to Google Play with a comparison of the mobile operating system market share to the revenue earned from their respective app stores. And they are out of synch.
Google's Android has a larger market share at approximately 65% compared to Apple's iOS at 20%. But, Apple's App Store still has revenues of 2.6 times Google Play. For more details on why that is, please read my article, but the main point of this article is that Google's growth is accelerating while Apple will not be able to sustain their growth.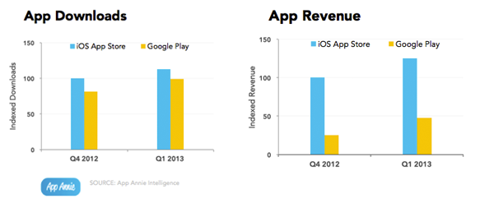 Figure: App Annie Q1 2013 Comparison of Apple App Store vs Google Play (data source App Annie)
First, Apple's share of the smartphone market is declining while Google's, which has already grown to dominance, is still growing. Second, Google Play is growing both in terms of downloads and in terms of revenue at a very rapid rate. Third, Google can only improve monetization of their OS market share with the steps they are taking to improve the quality of the apps in the Google Play store.
Finally, and this is the most important: Google don't have a scalability ceiling built in to their growth. Apple can only approve apps at a constrained rate with their manual review process. Google can grow their app store at a rate unconstrained by the approval process and as they improve their automated review systems, quality will also improve.
Apple's growth is nearing the ceiling, while Google's doesn't have a ceiling.
Disclosure: I have no positions in any stocks mentioned, and no plans to initiate any positions within the next 72 hours. I wrote this article myself, and it expresses my own opinions. I am not receiving compensation for it (other than from Seeking Alpha). I have no business relationship with any company whose stock is mentioned in this article.
Additional disclosure: While I don't currently have positions in Google, I have actively traded Google in the past and will continue to do so. I am also an active trader of Amazon.