Introduction
Technological advances have made the production of objects now possible by printing. While printing was previously restricted to 2 dimensions, these advances have transformed the way production is carried out. With still a long way to go, two companies are battling it out to be the spearhead of 3D printing industry - 3D Systems Corporation (NYSE:DDD) and Stratasys (NASDAQ:SSYS). For the time being, 3D printing is a costly process, which takes longer and results in products of inferior quality, when compared to traditional methods of production. With time, however, I expect this trend to move forward, allowing investors a great opportunity to latch on to the profits generated by these firms.
The conundrum facing the two companies today is the correct selection of one of the following options to keep their business sustainable and profitable: focus on the niche and build products which are accessible to individual end users, or target mass producers, which would want to shift from the usual methods of production and adopt the new printing technology. 3D Systems, in particular, has taken an approach which focuses on 3D printer affordability and end-user friendliness for everyday use. This is a strategy that remains to be proven, with its demand and risk question marks. Stratasys, on the other hand, is focusing on becoming the go-to source for the high end, professional 3D printing and consumables.
For 3D Systems, growth in revenue is expected to be around 24% to 37% for 2013. Earnings are expected to be between $1.00 and $1.15 per share, based upon strong demand for its products in 2012. A 23% growth in Q4 2012 revenue, coupled with a $28.6 million orders backlog, shows an encouraging forecast for the future. Stratasys has become the leading provider of printers for use in the medical sector. The company's recent launch of Object30 OrthoDesk for small orthodontic labs and clinics demonstrates the rapid growth of digital orthodontics. While this provides a welcome opportunity for the 3D industry, costs of manufacturing are still far higher than what is considered reasonable, resulting in high prices that are not within the reach of average consumers.
Stock Analysis
Contrary to the global market trends, which witnessed a massive loss in demand and output during 2009, the 3D industry began experiencing its boom as demand, awareness and use of the technology has become more widespread. Since 2009, 3D Systems and Stratasys have grown by 567% and 268%, respectively; phenomenal figures for a revolutionary invention which is still costly to operate. In comparison to the S&P 500 and Dow Jones Industrial Average, the two companies obviously outperformed the market averages.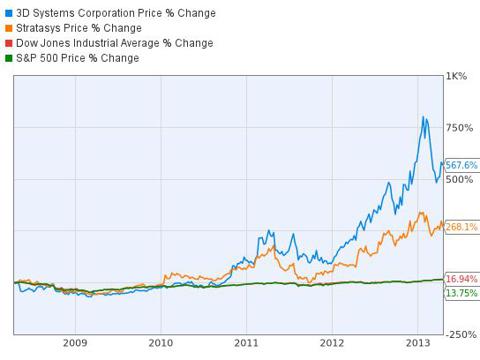 What's important for investors now, though, is the present performance of the stock and the anticipation of expected returns for the future. That being said, the two stocks have grown phenomenally over the past year. However, growth in 2013-2014 will depend more on the adoption of 3D printing as a mode of preferred production, as well as the reduction in costs for using this service.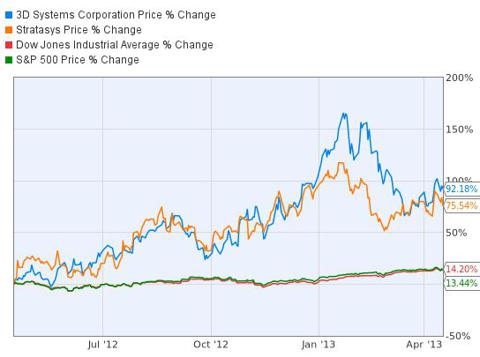 Financial Review
The two companies do not offer a dividend at the moment and rely solely on earnings for rewarding investors. 3D System's 52 week range is from $25.56 to $71.98 per share, while it is currently trading at $34.26. Stratasys, on the other hand, has a higher 52 week range from $42.28 to $92.30 per share and its current trading price is $74.51.
There are many ways to estimate the fair stock value of a company. For this purpose, we applied the discounted-earnings-plus-equity model developed by EFS Investment analysts to these competitors.
Indicator

Price/Earnings ttm

69.68

150.04

Price/Book

6.6

1.8

EPS Growth

(3 Year Avg.)

249.2

21.6

Dividend Yield, %

-

-

Debt/Equity

0.2

0.0

Return on Equity

10.6

1.0

Current Price

$32.75

$70.52

$14-19

$27-68

Stock Valuation

Overvalued

Overvalued

Premium over Fair Value

41%

3%
Data from Morningstar and Financial Visualizations on April 20, 2013
The calculations based on this model allow us to suggest the following: currently, all stocks are overvalued. In addition, EFS's fair stock price valuation indicates that DDD is trading at the highest premium over its fair value.
3D Systems has enjoyed double-digit year-to-year growth in its revenues for the past four quarters. Over that period, revenue has grown by an average of 51.8%. The company is valued slightly more than its competitor, with their market caps being separated by $0.3 billion. Stratasys's higher price suggests issuance of a lesser number of shares in comparison to 3D Systems. The P/E ratio points towards Stratasys being overvalued compared to price and also to EPS. It only has a 21.6% EPS growth over the past 3 years, compared to 3D Systems' 249.2%. As far as margins and ROE are concerned, 3D Systems outperforms Stratasys again due to its superior value, while eclipsing its rival by more than 10 times.
Make or Break for Investors
3D Systems Corp has been very aggressive with its acquisition policy, and there are still doubts about whether it can generate organic growth, which is pivotal for future EPS. This is even more important, as it does not offer a dividend. The management encouragingly noted in the Q4 conference call that a large portion of this year's growth will be organic. That being said, the constant acquiring has helped 3D Systems to experience impressive metrics over the past three years and also helped to fuel investor confidence on the stock market.
Stratasys, on the other hand, managed to acquire Objet inexpensively earlier in the year, which helped it grow as a company and also on the stock charts. It has the widest printing material array in the industry and around a $30 million backlog of orders, suggesting a high demand for its products. Stratasys is capitalizing on the one market segment which is showing promise for swift growth and demand for 3D printers - commercial manufacturing. While personal 3D printing continues to languish, medical and manufacturing are increasingly making use of Stratasys's services for 3D printing.
This provides a conundrum for investors. Do they count on the past performance and stick with 3D Systems in the hope that it will emulate gains provided since 2010, or should they read less into the metrics and understand the industry dynamics, realizing that it is, in reality, Stratasys, which is making the right moves with its focused production and organic growth, which is the only way to achieve a profitable return on any stock.
I understand that this industry is new, with a lot yet to be proven and accepted, which keeps me interested in these stocks, but only at a distance. However, this complicated decision is made easier for me due to Stratasys's potential for growth. Its products continue to tap into a much more lucrative market than that which 3D Systems has chosen.
Morningstar provides the following rating for the two stocks - DDD: 2/5 buy, 1/5 outperform, 1/5 hold, 1/5 underperform. SSYS: 1/4 buy, 1/4 outperform, 1/4 hold, 1/4 underperform.
Bottom Line
Stratasys and 3D Systems are stocks which will generate a massive demand in the future, but their potential is, undoubtedly, dependent upon the global reception of 3D printing as a tool of manufacturing. That being said, in my opinion, Stratasys has made the right call by focusing on manufacturing instead of personal user demand, as it will not only provide a greater return, but also will bring the costs of 3D printing down over time.
Disclosure: I have no positions in any stocks mentioned, and no plans to initiate any positions within the next 72 hours. I wrote this article myself, and it expresses my own opinions. I am not receiving compensation for it (other than from Seeking Alpha). I have no business relationship with any company whose stock is mentioned in this article.