By: Brendan Gilmartin, VP Research & Content
Broadcom (BRCM) is scheduled to report 1Q 2013 earnings after the close of trading on Tuesday, April 23. Results are usually available at 4:05 p.m. EST and will follow with a conference call at 4:45 p.m. EST. Note that Broadcom's Bluetooth and Wi-Fi combo chip are embedded in Apple's (NASDAQ:AAPL) iPhone, along with a host of other premier smartphones. The results could influence trading in Qualcomm (NASDAQ:QCOM) due to report on Wednesday.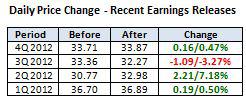 Outliers & Strategy
Non-GAAP EPS: The Street estimate is $0.56 (Source: Yahoo! Finance), toward the mid-point of the projected range ($0.51 - $0.64). Note that earnings have topped consensus estimates over 14 straight quarters.
Revenues: Broadcom said back in January it expects revenue of $1.9 bln, plus or minus 4%, or $1.824 billion to $1.976 billion. The estimate is at $1.91 bln.
Revenues Guidance: The current consensus is $2.05 bln for the 2Q 2013 period. If the low end of the outlook is above this estimate, Broadcom could reverse the recent slide (see Technical Review below). If the high end of the range falls short of the consensus, look for a potential retreat toward the November low near $30.00.
Broadcom is now trading at just 10.4x forward earnings, resulting in a PEG ratio of just 0.77, implying the shares are trading at a discount to the estimated earnings growth rate.
The options markets is currently pricing in a 5% move off earnings, consistent with historical price moves.

Recent News
04/11: Barclays cut Broadcom from Overweight to Underweight, as part of a broader call on the chip sector, according to a post on Barron's. In the case of Broadcom, the firm cited decreased demand for connectivity chips.
02/22: Piper Jaffray initiated coverage on Broadcom with an Overweight rating and a price target of $50, according to Benzinga.com. The firm cited demand for communication chips, market share growth in mobile, and top-line expansion.
02/14: RBC Capital reiterated an Outperform rating and a $45 price target on Broadcom, according to Barron's, following the introduction of the new LTE chipset, as it could help generated a partnership with Apple.
02/12: Broadcom introduced the smallest 4G LTE-Advanced modem for next generation 4G LTE smartphones and tablets.
01/29: Broadcom approved a 10% increase in the quarterly cash dividend to $0.11 per share. The shares are yielding a mere 1.38%.

Technical Review
Broadcom shares have come under heavy selling pressure in recent weeks, breaking the previous February nadir, en route to the lowest level since late November. The Relative Strength Index (RSI) subsequently slipped toward the oversold 30-level, while the MACD also implies the selling momentum is overdone. Should earnings and guidance disappoint, however, there is downside risk to Friday's low near $31.25, followed by the November low close to $30.00. In the event of an upside surprise, resistance is formidable as shares near $33.00. (Chart courtesy of StockChats.com)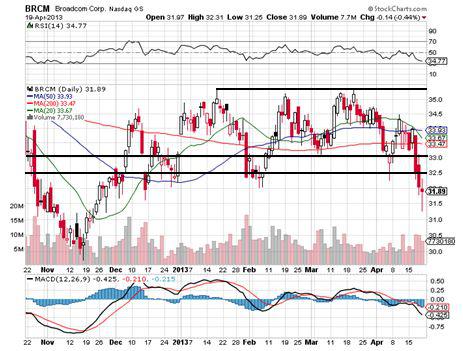 Summary
Broadcom shares have come under pressure in recent weeks amid concerns over demand for Apple products, questions over the outlook for smartphones in 2013, along with broader chip demand. But with the shares off close to 10% from the mid-March high, much of the weakness appears priced in. So long as earnings for 1Q meet consensus estimates and guidance is in-line, Broadcom could easily recapture the $33.00 level, while the shares are vulnerable to the November low near $30.00 in the event of a weak report. Also bear in mind that earnings from Apple are due about 20 minutes after the Broadcom report and could result in more subdued trading.
Disclaimer: By using this report, you acknowledge that Selerity, Inc. is in no way liable for losses or gains arising out of commentary, analysis, and or data in this report. Your investment decisions and recommendations are made entirely at your discretion. Selerity does not own securities in companies that they write about, is not an investment adviser, and the content contained herein is not an endorsement to buy or sell any securities. No content published as part of this report constitutes a recommendation that any particular investment, security, portfolio of securities, transaction or investment strategy is suitable for any specific person.
Disclosure: I have no positions in any stocks mentioned, and no plans to initiate any positions within the next 72 hours. I wrote this article myself, and it expresses my own opinions. I am not receiving compensation for it (other than from Seeking Alpha). I have no business relationship with any company whose stock is mentioned in this article.