Whether or not one believes the market is overbought or oversold in the present, what remains inevitably true is that investors are beginning to feel a little more uncertain. A look at the chart below shows that the CBOE Volatility Index has begun to erratically jump. The increase in volatility as well as the start of a downtrend for market benchmarks, such as the Dow Jones Industrial Average, suggests that a correction is now underway.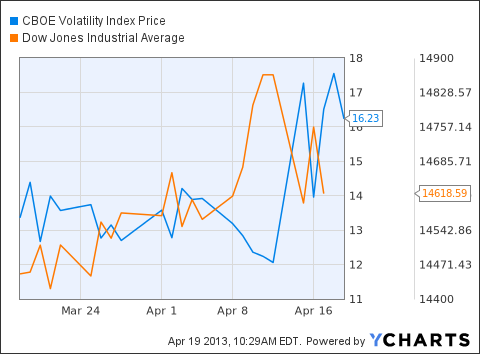 Yet even as the stock market reaches new highs, it remains dubious as to the ultimate direction looking out a few months from now. On the one hand, the economy remains in a slow recovery as it emerges from the Great Recession stimulated by a global increase in money supply. On the other, it consistently remains shaken by the economic and geopolitical earthquakes ranging from Chinese manufacturing to European sentiment. With corporate profits suggesting market valuations have now become a bit more in tune with the operational realities, it remains a coin toss as to the direction the market will eventually choose.
Regardless of these outcomes, it remains the responsibility of investors to adequately arm themselves with investments that can help them outperform in any market. The following five holdings represent my ideal selections for an uncertain market such as this. For these conditions, it remains ideal to seek market protection through high yields and inflationary hedges. Yet it also remains important to balance this with long-term growth by adding promising innovation or stable growth trends.

Conclusion.
Altogether, this simple portfolio attempts to both hedge against a possible market downturn without forsaking the long-term growth found in an ongoing recovery. Apple provides a cash-rich investment now fairly priced and likely to raise its dividend in the years to come. GLD provides an ideal counterweight against a falling market and a stable long-term growth trend. REM provides a high yield for ongoing investment income and takes advantage of the artificially low interest rates. AGCO capitalizes upon a steady growing sector of the economy and remains backed by heavy insider buying. Last of all, Solazyme provides a unique opportunity capitalizing upon multiple growth trends varying from sustainability, rising energy costs, whole foods, falling input feedstocks, and green awareness.
Disclosure: I am long AAPL, AGCO, GLD, REM, SZYM. I wrote this article myself, and it expresses my own opinions. I am not receiving compensation for it (other than from Seeking Alpha). I have no business relationship with any company whose stock is mentioned in this article.