On April 10, Nextel Mexico and Motorola Mobility, a unit of NII Holdings (NASDAQ:NIHD) and a unit of Google (NASDAQ:GOOG) respectively, jointly announced
the launch of the Motorola ATRIX HD, the most advanced handset in the companies' joint portfolio, as well as the launch of PRIP®, Nextel's advanced Push-To-Talk (PTT) solution.

Nextel Mexico is the first market to launch the PRIP service, which offers instantaneous high performance communication for PTT users. PRIP, which was designed by Motorola, uses a software-based solution that is integrated with Nextel's wireless network and is accessed via an icon on the handset. The solution is preloaded with the Motorola ATRIX HD handset, and allows Nextel Mexico customers to connect with other PTT users via Nextel Mexico's next generation network, Wi-Fi or while roaming, anytime and in any place in the U.S. and around the world.
GOOG's Motorola Mobility LLC acquisition is certainly starting to show some creative products, even though recent earnings showed that the Motorola business posted an operating loss of $271 million in the first quarter. This could be what GOOG CEO Larry Page referred to, according to Reuters:
He said the new lineup of yet-to-be-released Motorola devices would offer a variety of improvements over current smartphones.
Strength in shares of NIHD is gaining momentum on a daily basis:
Click to enlarge image.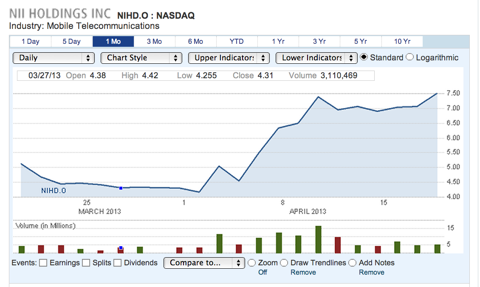 Last week, Raymond James analysts sent a note to investors about a report from Anatel, the Brazilian telecom regulator, showing improvement in subscribers for Nextel Brazil, NIHD's subsidiary in that country. Quoting from the note:
SME sector net adds during March were -5,000, a sharp improvement from the -49,000 posted in February. Nextel dominates the SME sector in Brazil with about 99% of all SME subscribers; therefore, we consider it reasonable to assume that the vast majority of the March SME attrition was from Nextel. For all of 1Q13, the SME sector generated net adds of approximately -37,000. While Nextel Brazil's 2G iDEN net adds will be lower than our estimate of -15,000, we are encouraged by the sharp rebound in March. ... Nextel Brazil has seen a nice early ramp in its 3G HSPA business (launched in December), with 70,000 net adds in March according to ANATEL and 80,000 for Q1 2013 (vs. our estimate of 5,000). This strong early 3G performance is a good harbinger as Nextel has a small-scale 3G deployment in Brazil with only data sales currently as the company is targeting full 3G data and voice service in Sao Paulo in Q2 2013 and Rio de Janeiro by YE13. As Nextel turns on its 3G networks in the two largest markets in Brazil and starts selling 3G handsets, we would expect continued growth in 3G net adds as well as 2G net losses as legacy 2G iDEN subscribers upgrade their device.
We think this is good news for NIHD shareholders and enhances the comeback story for the company after the return of its CEO Steven Schindler. Earlier this month, NIHD announced the sale of Nextel Peru for $400 million, a sum that exceeded many analysts expectations. In addition, we think their may be a spillover of renewed interest in pure-play international wireless carriers since the Sprint (NYSE:S)-Dish Network (NASDAQ:DISH) announcement earlier this week, as we wrote in a recent article here on Seeking Alpha.
With the battlefield for mobile operators in the U.S. crowded by the likes of Verizon (NYSE:VZ), AT&T (NYSE:T), and Dish, GOOG could be looking to innovate mobile in the international marketplace. It can purchase the undervalued wireless carriers like NIHD at an affordable price and not see regulatory scrutiny because NIHD is already a U.S.-based company. With Google Fiber and Android plus Motorola, GOOG certainly shows an aspiration to become a full-fledged carrier.
Disclosure: I am long NIHD. I wrote this article myself, and it expresses my own opinions. I am not receiving compensation for it. I have no business relationship with any company whose stock is mentioned in this article.