By Brendan Gilmartin, VP Research & Content
VMware (NYSE:VMW) is slated to report 1Q 2013 earnings after the close of trading on Tuesday, April 23. The results are typically released immediately after the closing bell and will be followed with a conference call at 5:00 p.m. ET. VMware is a leader in desktop virtualization and cloud-computing benefiting from rapid growth in enterprise and business spending.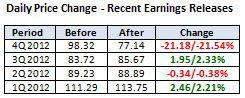 Outliers And Strategy
Key measures delivered by Selerity:
Non-GAAP Earnings Per Share: The current Street estimate is for Non-GAAP EPS of $0.70, at the mid-point of the projected range of $0.67 to $0.72. (Source: Yahoo Finance)
Revenues: VMware previously said it expects total revenues for 1Q to range from $1.17 bln to $1.19 bln, or growth of approximately 11% to 13%, well BELOW consensus estimates at the time. The current estimate is $1.18 bln.
Revenues Guidance (2Q 2013): The current consensus is for revenue of $1.26 bln for 2Q 2013. If the low end of the range provided by the company is >$1.26 bln, VMware could see more upside. However, if the high end of the range is <$1.25 bln, VMware faces potential downside risk as it did last January.
Revenues Guidance (FY 2013): Revenues for 2013 are seen growing 18.1% to $5.22 bln. Anything less may be seen as a disappointment given the lofty valuation and high expectations.
Back in January, shares of VMware were hit hard after delivering 1Q 2013 revenue guidance well below consensus views. The company cited several factors, including the macroeconomic environment, weak federal bookings, sluggishness in Europe, and the stronger dollar.
As of December 31, 2012, EMC Corp. owned about 41 million shares of VMware, equating to a stake of 32%. As a result, keep a close watch on EMC as the shares tend to react off the results from VMware.
Recent News
04/09: Jefferies is maintaining a Hold rating and a price target of $82 per share on VMware ahead of earnings, according to StreetInsider.com. The firm suggested channel checks for the quarter show the company on-track.
03/14: RBC Capital Markets upgraded VMware to Outperform and boosted the price target to $110.00 from $90.00, a day after the company's analyst meeting, according to StreetInsider.com.
03/13: VMware CEO Pat Gelsinger outlined the company's strategy at a meeting with analysts, providing details about its plans to deliver the software-defined datacenter and expand its hybrid cloud offerings.
Technical Review
VMware shares are testing the late-February low in advance of the 1Q 2013 earnings release, with investors somewhat cautious in the wake of last quarter's disappointing release. With the shares now off 21% YTD and the ability to hold the 52-week low near $70, much of the anticipated weakness may be priced in at these levels. Should earnings and guidance surprise to the upside, the shares could make a run back toward the $77.50/$80.00 area. Support is at the aforementioned low near $70.00. (Chart courtesy of StockCharts.com)
Summary
VMware has come under pressure in advance of the 1Q earnings release. The provider of virtualization solutions and cloud infrastructure is experiencing slower growth, supported by the recent earnings warning from F5 Networks (NASDAQ:FFIV), which cut its revenue forecast in response to a slowdown in North America and to a lesser extent EMEA sales. Given the current oversold scenario, a solid quarter and in-line guidance could trigger a turnaround in the beaten-down shares.
Disclaimer: By using this report, you acknowledge that Selerity, Inc. is in no way liable for losses or gains arising out of commentary, analysis, and or data in this report. Your investment decisions and recommendations are made entirely at your discretion. Selerity does not own securities in companies that they write about, is not an investment adviser, and the content contained herein is not an endorsement to buy or sell any securities. No content published as part of this report constitutes a recommendation that any particular investment, security, portfolio of securities, transaction or investment strategy is suitable for any specific person.
Disclosure: I have no positions in any stocks mentioned, and no plans to initiate any positions within the next 72 hours. I wrote this article myself, and it expresses my own opinions. I am not receiving compensation for it (other than from Seeking Alpha). I have no business relationship with any company whose stock is mentioned in this article.