According to the head of Baker Botts LLP's LNG on April 15, Freeport LNG may get expanded approval from the U.S. Energy Department to export liquefied natural gas in the next quarter or two.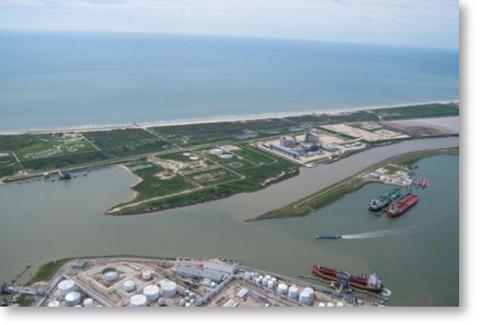 Source: Freeport LNG
Freeport LNG Development, L.P. designed, built and now operates a world-class LNG receiving and re-gasification terminal in Freeport, Texas. Unique features of the terminal include vacuum-insulated LNG transfer lines, an environmentally friendly VE air tower that provides heat from the air for re-gasification, a salt-dome cavern gas storage facility integrated with terminal operations and a boil-off gas re-liquefaction system.
Salt-dome Gas Storage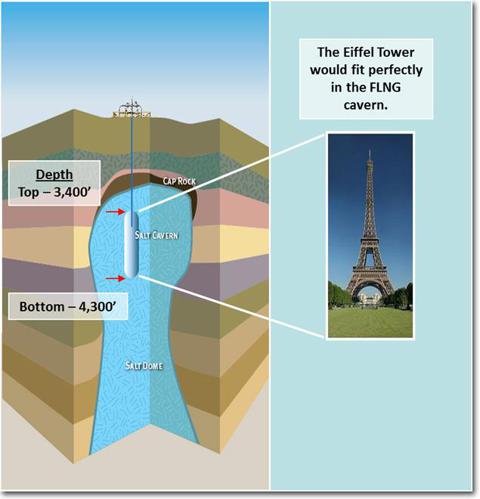 Source: Freeport LNG
The terminal started construction in 2005 to enter commercial operations in June 2008. Freeport LNG is owned by ConocoPhillips (NYSE:COP) at 50% while the remaining ownership is with Freeport LNG Development L.P.
Shale Gas Revolution, A Market Game Changer
Given a dramatic reversal of natural gas (NYSEARCA:UNG) market conditions with the shale gas revolution, Freeport LNG has launched its natural gas liquefaction project, proposing to add approximately 1.9Bcf/d (billion cubic feet per day) of liquefaction capability to its Quintana Island terminal facilities.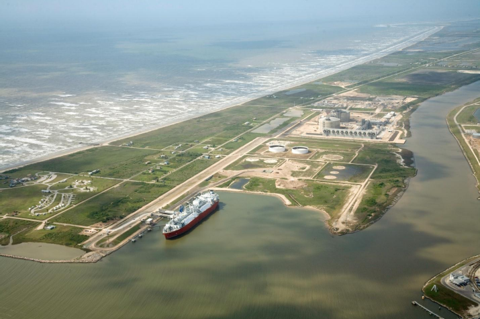 Source: gCaptain
As a matter of fact, because of the recent breakthroughs in shale gas exploration and development, the U.S. now has an opportunity to export LNG and create upwards of twenty thousand new permanent jobs in the process.
A LNG Export Terminal For Asian Markets
LNG exports will produce significant additional benefits for the U.S. economy, including billions of dollars in direct investments, short-term construction jobs and a multi-billion dollar annual improvement in the country's foreign trade imbalance. Furthermore, LNG import facilities will remain in place to fulfill LNG importation needs if the U.S. market calls for it.
Future Export Facilities Model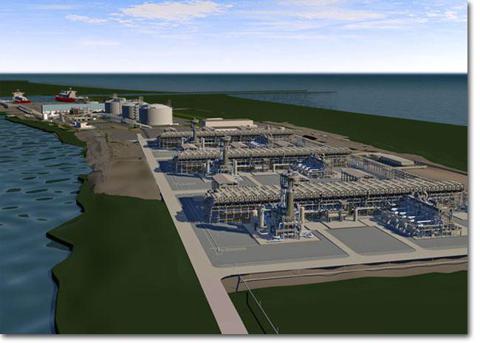 Source: Freeport LNG
Back in July 2012, Freeport LNG executed a 20-year liquefaction tolling agreements with Osaka Gas Co. (OSGFS.PK) and Chubu Electric Power Co. (OTC:CHUEF), covering 100% of the liquefaction capacity of its first train which has approximately 4.4Mtpa (million tonnes per annum) for exports.
On February 2013, Freeport has committed to a 20-year liquefaction tolling agreement with BP (NYSE:BP) for the total capacity of Freeport's second LNG train of 4.4Mtpa. Freeport LNG is expecting to commence construction in late 2013 and anticipates a construction schedule of approximately four to five years to completion and start-up of the liquefaction project which is currently envisaged to occur in 2017.
A Wealth Of Money Will Flow From This Opportunity
LNG is the fastest-growing part of the global natural gas market, increasing at a 6% annual rate over the last decade. It represents a fast and cost-effective way for countries lacking natural gas resources and delivery infrastructure to inject this source of energy as an alternative to more expensive fuels or energy sources.
The ongoing energy boom is reshaping the U.S. economy. If history can teach us something, some of the biggest gains in history of the oil business came from the men who were smart enough to own the infrastructure required to get the oil and the gas to the market. Foreign markets like India and China need cheap energy sources to sustain their economic growth and natural gas is the cheapest source of energy, at four times the price of the commodity, here in the U.S. See the recent rise of the U.S. natural gas price on April 18, here.
Therefore, investing in much-needed infrastructure construction to move this commodity into global markets makes a lot of sense. Only one company is detaining a license for exporting LNG for now, Cheniere Energy (NYSEMKT:LNG). But this is about to change since Freeport LNG should receive its license soon.
Investors interested in the natural gas market should get on board before the license approval's announcement is made to profit from ConocoPhillips future increase of its share value. Furthermore, the company has a lot more to offer besides LNG. The company is the third largest energy company in the U.S. with assets worldwide. So, whether investors are looking for short or long positions, I believe that this project will be a great opportunity to get into the play of the natural gas revolution.
Disclosure: I have no positions in any stocks mentioned, and no plans to initiate any positions within the next 72 hours. I wrote this article myself, and it expresses my own opinions. I am not receiving compensation for it (other than from Seeking Alpha). I have no business relationship with any company whose stock is mentioned in this article.