Investing in high quality dividend equities is a popular strategy to combat an increasingly uncertain stock market. The Dow suffered its worst weekly decline in almost one year and the situation was not much better for the S&P 500 or the Russell 2000. The combination of political and economic indecisiveness is resulting in a flight to high quality US equities. Most companies with high yields have strong financial positions that make them attractive to investors. Additionally, these companies usually have high cash flows from operations, one of the most important factors in a prospective investment. While some investors are buying Italian ten-year bonds yielding less than five percent, I suggest considering relatively safe American equities with comparable or higher yields.
This week six candidates have been analyzed below based upon SA readership criteria. Two real estate investment trusts ("REITs") were added because they met all requirements except P/E ratio (as discussed in previous articles, when possible I try to avoid analyzing REITs using P/E.) The majority of the companies this week are financial services firms including banks, specialty finance, and REITs. Market capitalizations are generally low this week but there are two companies with $50B+ market caps. I prefer that my ex-dividend candidates have market caps greater than five billion dollars but that is not a requirement, especially with smaller financial services. The ex-dividend dates are spread throughout the week but two are trading ex-dividend today.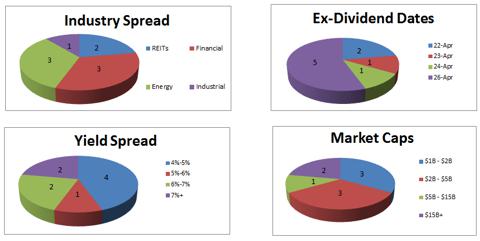 For details of the strategy and my screener details, please consult my methodology on the topic (last modified 4/7/2013). In brief, the screen focuses on relative stable equities with a concentration on liquid companies at affordable valuations. This is summarized below:
Dividend Yield ≥ 4.0%
Ex-Dividend Date = Next Week
Market Capitalization ≥ $1B
P/E Ratio: 0-20 (Relaxed for REITs)
Institutional Ownership ≥ 15%
Ideally Modest YTD S&P 500 Underperformance
Minimal European Exposure
After applying this screen, I arrived at the equities discussed below. Depending on your belief in the investment hypothesis, you may decide to hold long enough for the dividend or to hold for long-term. The information presented below should simply be a starting point for further equity research in consultation with your professional financial advisor before making an investment decision. My goal is to present new companies to you and provide a brief overview of their recent developments; this should not be considered a substitute for your own due diligence.
Prospect Capital Corporation (PSEC): 12.56% Yield; Ex-Dividend 4/26
Prospect Capital is a specialty finance company that operates primarily in the private equity and specialized investment categories with a focus on secured lending. The firm prefers to make small investments ($5-$50M) in small- to mid-size North American companies. Private equity companies are attractive dividend producers because they frequently revitalize or recapitalize existing businesses, thus are able to return excess cash quickly. These can be volatile firms because portfolio companies often do fail but once they have successful investments, they can pay above-average dividends.
Prospect reported another strong quarter of earnings in February and net investment income increased 172% year-over-year as the company continues to experience extraordinary growth. The current portfolio yield appreciated from 13.3% last quarter to 14.7%, highlighting the robust profitability of investments. This indicates that not only is the high dividend payment safe but that an increase is possible. In early December, Prospect increased the dividend payments by 8.2%. In June 2010, Prospect began distributing dividends monthly rather than quarterly, which accounts for the large perceived dividend decrease from $0.40 to $0.11. Private equity investments are complex due to the scale and diversity of their operations, so I strongly recommend that you read the earnings release for further details of investment activities.
The company has been very active recently and raised $250M of debt capital to facilitate additional long-term investments. One potential negative for Prospect is that it will need to replace the income generated by its Energy Solutions Holdings, Inc. investment, which generated "significant dividend and interest income" in 2012. This risk is mitigated by the $400M investment pipeline that includes "secured investments with double-digit coupons, sometimes coupled with equity upside through additional investments, diversified across multiple sectors."

(Source: Yahoo! Finance)
The stock has lagged the market by four percent the past month and now trades substantially lower than a recent $384M net stock issuance ($11.10 per share before fees). The P/E is around eight and the yield is above 12; therefore, I am bullish on Prospect Capital's future. I continue to reiterate that I would be comfortable buying Prospect under $11.00 and the stock has only appreciated one percent in 2013 thus far. The 3.2% decline in the past month has pushed PSEC's price-to-book ratio slightly below 1.0 and the stock is attractively valued.
In January, Prospect announced that it would be diversifying its investments into the real estate market with three investments totaling $50M. President Grier Eliasek stated that "while our initial real estate investments have been in industrial and multi-family residential properties, Prospect is interested in all types of direct and indirect real estate investments, including properties owned by private equity-owned companies." Prospect might be late to the game, but I believe this diversification will ultimately improve the quality of the company.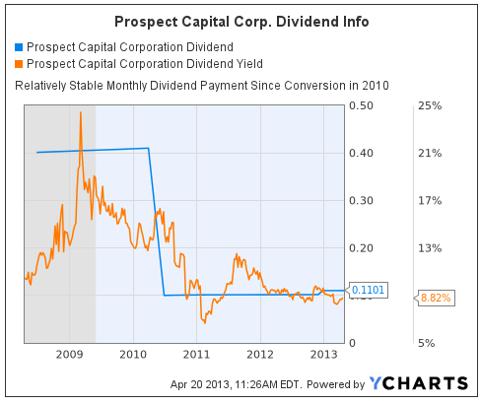 Baytex Energy Corp. (BTE): 7.05% Yield; Ex-Dividend 4/24
Baytex Energy is an oil and gas company that engages in the acquisition, development, and production of oil and natural gas in Western Canada. In recent years, Baytex has also been expanding its presence in the United States. As a Canadian publicly listed corporation, there may be special tax considerations for United States shareholders depending on their unique situations. Despite its natural gas interests, over 75% of revenue is derived from heavy oil with light oil accounting for nearly 20%. Jeffrey Gall wrote an overview of Baytex in which he concludes, "BTE is overvalued relative to PGH, ERF, and PWE based on an investigation of funds flow from operations, reserve valuation, dividend yield and dividend coverage ratio. Because of this, it is recommended to sell BTE…"
The stock continues to exhibit volatility and the yield has generally stayed between 5.8% and 6.2%; however, the dividend yield increased over one-hundred basis points since February due to the stock's 18% quarterly decline. The monthly dividend has remained at twenty two Canadian cents per share since late 2011 and I view future growth as unlikely given the 123% payout ratio; however, the payout as a percent of funds from operation (FFO) is closer to 60%.
(Source: April 2013 Corporate Presentation)
Baytex announced an acquisition in October 2012 of 46 sections of undeveloped oil sands leases in the Cold Lake area of northeast Alberta for approximately $120M. This acquisition is consistent with Baytex's focus on heavy oils. Overall Baytex appears to be an average dividend opportunity but there may be storm clouds on the horizon. Demand for pipeline capacity is outstripping supply and those companies without refining capabilities, such as Baytex, may suffer. Earnings are estimated to drop almost thirty percent going forward if demand stays at this level. This is a critical situation to monitor if you are considering a long position in the company and the stock has dropped nearly twenty-five percent in the past year. The yield is now at its highest point since late 2009 and may entice dividend hunters who are willing to assume the risk. The valuation ratios have declined recently but with current and forward P/Es of 17.3 and 22.0, respectively, I would personally avoid the risk involved in Baytex.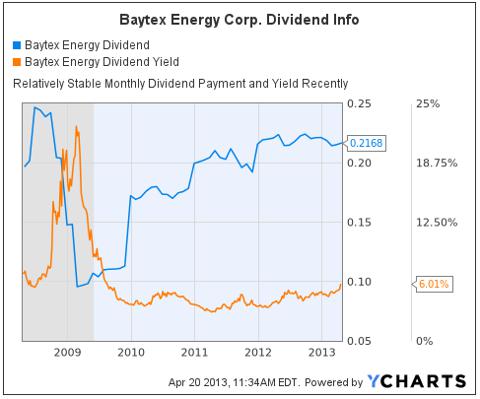 Government Properties Income Trust (GOV): 6.66% Yield; Ex-Dividend 4/24
Government Properties Income Trust is an office REIT with 84 properties across 32 states as of February 2013. GOV is unique in that it specializes in renting properties to federal, state, and other governmental agencies. 94% of annualized rental income is generated from federal/state governments and the United Nations. Tenants include the Internal Revenue Service, U.S. Customs & Immigration Service, Federal Bureau of Investigation, Social Security Administration and other entities that will exist for the foreseeable future. Renting to governments is extremely stable and over the past ten years, government tenants have occupied leased space for an average of 26 years. In 2013, only 8.8% of annualized rental income is set to expire with another 3.9% set to expire in 2014. The Public Buildings Reform Act of 2012 brings additional regulation to the governmental real estate sector but reductions in space through 2015 are expected to be less than two percent of current totals. Rental income for comparable properties declined in reported 2012 due to vacancies at four properties. Operations naturally have high fixed costs, so any vacancies have outsized impacts on performance.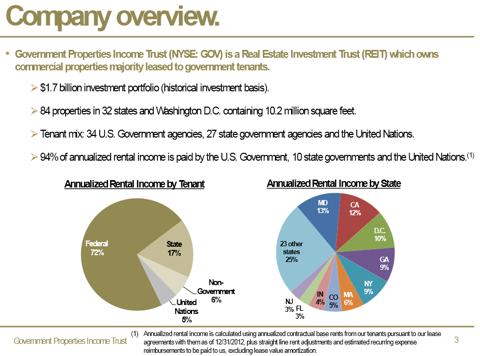 (Source: February 2013 Investor Presentation)
Reported 2012 normalized funds from operations (FFO - a non-GAAP measure) per common share were $2.12 versus $1.69 of common distributions per share over the same period; this is in-line with my previous annualization of nine-month data. Despite having a P/E of 25.37, GOV's price-to-normalized FFO is a much lower 12.26. Note that GOV's calculation of FFO is higher than the standard set forth by The National Association of Real Estate Investment Trusts because acquisition-related costs are excluded. Ordinarily, this is an immaterial difference but GOV had significant acquisitions during the year.
The dividend payment has been increased marginally and the yield has been declining steadily from eight percent in late 2011. Normalized FFO per share only increased by 2.4% in 2012 but GOV acquired 13 new properties during the year. With this in mind, GOV is positioned to increase the dividend slightly faster in the future but any increases will still likely be minimal. The book value per share is $18.80 and the price-to-book ratio is 1.39. The premium is higher than I would like to pay for a real estate oriented investment but I am willing to give GOV some leeway based on its record of accomplishment. Ideally, I would look for $25 as an entry point to initiate a position.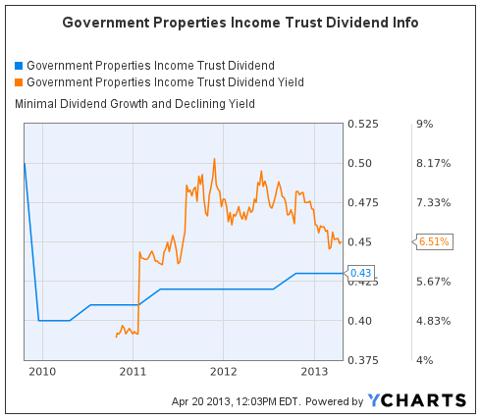 Omega Healthcare Investors Inc. (NYSE:OHI): 5.81% Yield; Ex-Dividend 4/26
Omega Healthcare is a REIT that specializes in providing financing in the long-term healthcare industry with a focus on skilled nursing facilities in the 33 states. As of December 31, 2012, Omega had interests in 476 facilities, nearly all of which are skilled nursing facilities. 92% of assets are owned with the remaining eight percent representing mortgage assets. As I wrote last week when covering Senior Housing Properties Trust (NYSE:SNH), "the investment hypothesis is easy to understand: the US population growth for those older than 85% is forecasted to be above average for the intermediate term." There is a possibility of a two percent sequestration related rate cut for Medicare payments to OHI. The company's guidance for adjusted FFO is in the range of $2.45 - $2.50, resulting in a forward price-to-adjusted FFO of 13.4. Generally, I would say this is attractive but I am a little more cautious given the sequestration concerns.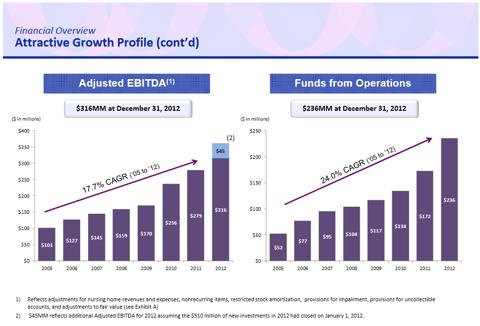 (Source: OHI Investor Presentation February 2013)
The stock has been one of the largest gainers over the past year as shares are up over 65%. In the last quarter alone, shares have appreciated over 30%. The stock continues to set all-time highs although it has faced some resistance in the past week. The dividend has been in a steady uptrend and has increased approximately fifty percent since late 2009. The yield has dropped sharply primarily because of the strong share price appreciation over the same period. The dividend was increased by 2.2% for the next quarter. Management targets a payout ratio of 75% to 85% of adjusted FFO and the new annualized payout is $1.84 versus the low-end of adjusted FFO guidance of $2.45. This implies a 75% payout ratio, so I would not be shocked to see the dividend payment around $.50 per share quarterly by the end of the year. Based upon the current price, this is a forward yield of over six percent. While the Medicare sequestration risk presents a threat to OHI, I believe its conservative dividend policy alone can continue to unlock value for shareholders going forward.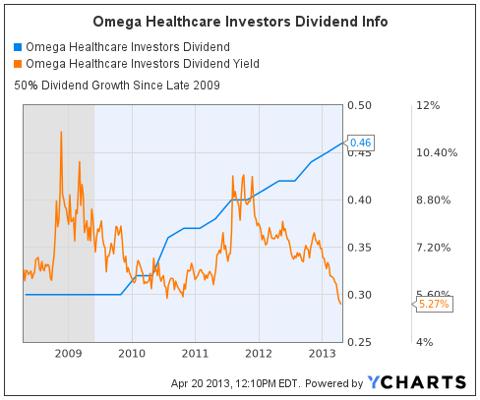 Enterprise Products Partners L.P. (NYSE:EPD): 4.44% Yield; Ex-Dividend 4/26
Enterprise Products Partners LP is an oil and gas company with operations in pipelines, storage, and natural gas processing. The company is the seventh largest US energy company by enterprise value and in the top fifty among S&P 500 companies. The company has increased gross operating margins by 66% since 2008 and continues to exhibit solid year-over-year growth. NGL pipelines & services continue to be the greatest source of gross margins with onshore natural gas the next most significant driver of value for EPD. Other key metrics including adjusted EBITDA and distributable cash flows have also exhibited strong growth in recent years. This growth should continue in the future as the partnership is committed to expansion with approximately $7.5B in major capital project in progress.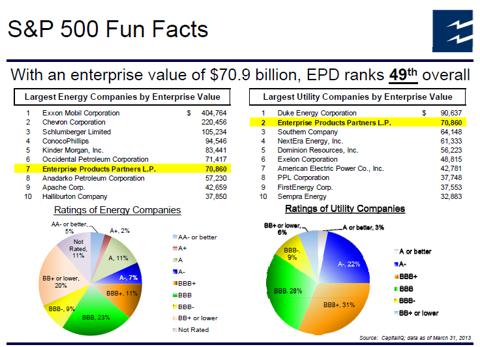 (Source: April 2013 Analyst Meeting)

(Source: Finviz.com)
The stock has had string of positive upgrades thus far in 2013, with Deutsche Bank raising its target three times alone in 2013. The yield is at its lowest point in at least five years as the stock has jumped significantly year-to-date. From July to December 2012, the stock traded in a tight range of $48 to $52 but has been in a solid up-trend in 2013 that leaves the stock trading above $60. Overall, I believe Enterprise Products Partners is an attractive dividend partnership but also appears to be overbought in the short-term and dividend investors should exercise caution.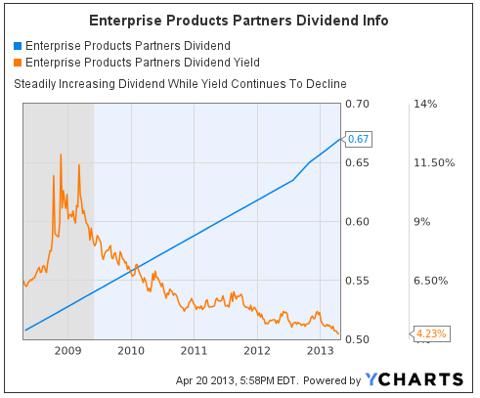 Royal Bank of Canada (RY): 4.13% Yield; Ex-Dividend 4/23
The Royal Bank of Canada ("RBC") is one of the world's largest diversified banks with services ranging from commercial banking to investment banking to wealth management. RBC is currently the largest bank in Canada with The Toronto-Dominion Bank (NYSE:TD) a close second. Fifty-five percent of the company's profits come from 'vanilla' personal banking services, while less than twenty-five percent comes from the more capital market segment. Capital and financial health are key topics for banks and RBC passes the test with an "all in" common equity Tier 1 capital ratio of 9.3% and Aa3 stable credit rating from Moody's.

(Source: Finviz.com)
The five large Canadian banks have all traded relatively flat in 2013 and RBC has increased only fractionally. I recently covered the Toronto-Dominion Bank and found the entire sector to be undervalued; however, RBC is the most expensive of the five despite a middling EPS forecast for next year. Furthermore, the company trades at a much higher P/B ratio than average. Based upon its relative valuation alone, I would look to another opportunity this week.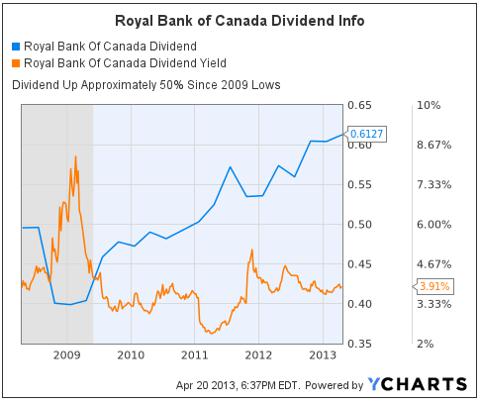 The information presented has been summarized below. I make no guarantees regarding the information in the chart as industry classifications and yield calculations are frequently imperfect. Orange and green represent "avoid" and "consider" classifications, respectively.

Please refer to profile page for disclaimers.
Disclosure: I am long PSEC. I wrote this article myself, and it expresses my own opinions. I am not receiving compensation for it (other than from Seeking Alpha). I have no business relationship with any company whose stock is mentioned in this article.
Additional disclosure: Please refer to profile page for disclaimers.