Trident Microsystems, Inc. (TRID) is exactly the kind of business that we want to be involved in. This article will hopefully shed some light on some of those reasons.
WHAT THE COMPANY DOES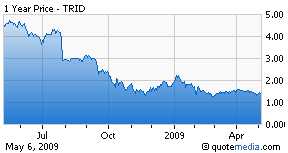 Trident designs, develops and markets integrated circuits, or ICs, and associated software for digital media applications. It also designs cross-platform software that allows multimedia applications to run on devices in the digital living room. Trident operates in one reportable segment: digital media solutions. During the fiscal years ended June 30, 2008, 2007 and 2006, the digital media segment accounted for nearly all of its revenues. It also sells a product that focuses on digital TV in the PC market as well as providing some engineering consulting services.
TRIDENT NEWS:
On March 31, 2009, Trident Microsystems, Inc., a Delaware corporation (the "Company"), and its wholly-owned subsidiary, Trident Microsystems (Far East) Ltd., a corporation organized under the laws of the Cayman Islands ("TMFE"), entered into a Purchase Agreement (the "Purchase Agreement") with Micronas Semiconductor Holding AG, a Swiss corporation ("Micronas") pursuant to which TMFE will acquire selected assets of the frame rate converter, demodulator and audio product lines of Micronas' Consumer Division (the "Purchase"). The Purchase Agreement and the transactions contemplated therein have been approved by the boards of directors of the Company, TMFE and Micronas."

"Subject to the terms and conditions of the Purchase Agreement, the consideration payable to Micronas at the closing of the purchase (the "Closing") will consist of 7.0 million shares of the Company's common stock, and warrants to acquire up to 3.0 million additional shares of the Company's common stock. One million warrants will vest on each of the second, third and fourth anniversaries of the Closing, with exercise prices of $4.00 per share, $4.25 per share and $4.50 per share, respectively. If not yet exercised, the warrants will expire on the fifth anniversary of the Closing.
Trident also released
this
information the same day:
With respect to the quarter ending March 31, 2009, and subject to Trident's closing procedures, Trident expects to report net revenue of $6 to $7 million. Closing balances of cash and cash equivalents are expected to be approximately $200 million.
In the same 8K filing Trident released its outlook for the 4th quarter for the fiscal year 2009:
Fourth Quarter Fiscal Year 2009
•
Net revenues are expected to be in the range of $6 to $7 million.
•
Non-GAAP gross margins are projected to be between 22% and 25%.
•
Non-GAAP operating expenses are projected to be in the range of $10 to $11 million for research and development expenses and approximately $5 million for selling, general and administrative expenses.
•
Non-GAAP operating loss is projected to be in the range of $14 to $15 million.
•
Provision for income taxes is projected to be in the range of $1 to $2 million.
•
The company expects to end the quarter with a cash balance of approximately $180 to $185 million.
On March 2, 2009, Spencer Capital Management, LLC issued a press release announcing their intentions to put forth a slate of candidates for election to the board of directors of Trident Microsystems.
Trident also released this information regarding the Micronas acquisition:
Trident expects to expand its revenue base and leverage its low cost operations in Asia to reduce its projected near-term operating losses. Trident anticipates that combined net revenue for the quarter ending September 30, 2009 will be approximately $35 million and expects non-GAAP operating loss and cash consumption to improve from its current outlook. The transaction improves Trident's visibility in achieving its previously stated long-term financial model targets.
FINANCIALLY SPEAKING
Currently, Trident has been generating $6 - $7 million in quarterly net revenue and expects that to continue until September 30, 2009 in which they anticipate net revenue to be $35 million due to the acquisition of parts of the Micronas business. Meanwhile, Trident expects its cash position after the acquisition and economic downturn to be $180 - $185 million the 4th quarter of 2009. By that time, Trident will have increased its outstanding shares approximately 11% to 69.89 million shares.
Assuming it hasn't paid off any additional liabilities from the last reported quarter, Trident's total liabilities are valued at $56.37 million. $180 million (cash & equivalents) - $56.37 million = $123.63 million market cap. / 69.89 million outstanding shares = $1.77 per share in just cash after all liabilities are deducted.
Trident is currently trading at $1.44 per share which is 18.64% less than is coming 2009 4th quarter cash - liabilities per share value. That is a bare bones, no frills, rock bottom assessment of the value proposition. Initially, 18.64% doesn't provide us with the necessary margin of safety to gain our attention. As we will continue, we'll open up the entire business to find its true underlying value which will not only provide us our margin of safety but will provide us with a truly great value proposition to take advantage of.
GOING CONCERN
Trident Microsystems sells its technology to companies that include Samsung (OTC:SSNLF), Midoriya (a distributor supplying Sony (NYSE:SNE)), & Phillips. According to research firm DisplaySearch, Samsung Electronics and Sony were the top two flat-panel TV brands in all four quarters of 2008. The market shares of the top five in the last quarter were Samsung Electronics 20.4%, Sony 14.1%, Vizio 12.3%, LGE 8.1% and Toshiba 7.9%.
Trident Microsystems has recently been creating new technologies in its field.
Trident announced its new, state-of-the-art video processing technology, Enhanced Super Resolution (ESR). While consumers have been buying high definition TVs for many years, the majority of video content is still in standard definition. Trident's ESR technology incorporates superior upscaling, with sophisticated noise reduction algorithms, allowing end users to take advantage of their televisions' high-resolution capabilities by improving standard-definition images with enhanced details, which creates a sharper, crisper image that appears more like high definition.
THE VALUE PROPOSITION

Trident Microsystems, Inc. has produced a Median CROIC (Cash Return On Invested Capital) of 14.60% over the last five years. Its five year Median Free Cash Flow has been 84.70% as well as its Revenue Growth rate has been 50.50% over that period. Trident has produced a median Shareholder Equity growth rate of 39.90% over the last five years.
Needless to say these are outstanding returns. Even though the economy has changed, in my opionion, Trident's ability to create value hasn't. Is the slowdown in business directly related to the economic standstill of consumer spending? We believe so. If you believe that it is impossible for the economy to get better than it currently is then my advice to you is not to invest in ANY publicly traded company.
Trident's generation of such outstanding growth factors over a long period of time and managements focus to continue creating growth and value gives us the ability to estimate Trident Microsystem, Inc. Intrinsic Value to be $15.00 per share.
Activist Investor - Spencer Capital Management

Currently Trading for less than its Cash & Equivalents (C&E) per share after deducting all its Liabilities

Currently Trading for less than its 4th quarter estimated C&E per share after deducting all its Liabilities


Trident is worth $15 per share as a going concern

Trident purchased three technologies from Micronas that will increase their revenue stream by an extra $35 Million per quarter.
BOTTOM LINE
Short Term Valuation: $1.77 per share

Long Term Valuation: $15.00 per share
Downside Risk: Since the company is currently trading for less than the value of its cash after deducting all liabilities; the downside risk is unmeasurable. We do not "predict" micro & macroeconomic conditions but we can safely ascertain that the current economic crisis in regards to consumer spending can not and will not continue.
Full Disclosure: We have a holding in Trident Microsystems, Inc. (TRID). This is neither a recommendation to buy or sell any securities. All information provided believed to be reliable and presented for information purposes only. Do your own research before investing in any security.