Recently healthcare stocks performed quite well compared to the rest of the market. Inside the healthcare industry, there is an interesting new sector with a promising future: the molecular diagnostic market and genetic tests.
Inside this sub-industry, Myriad Genetics (NASDAQ:MYGN) is one of the most interesting stocks, a leader in what can be defined as "predictive medicine".
Most of my data are taken from here and here.
Genetic Tests: These are new kinds of tests recently available.
They are the future for cancer treatment along with robotics and nanotechnology. These tests allow the selection of individuals more exposed to cancer risks, allowing more effective screening and therapies. The positive effect is to improve the therapy, but also to reduce cost. Another application is the distinction between more and less aggressive tumors.
MYGN Stock: Market Capitalization is $2.3 Billion, with $545 Million in sales and almost $124 Million income, both growing above 20%.
Recently the company increased guidance for 2013 to $570-585 Million
The share count has decreased every year from 2009 because of buybacks and there is no debt, so the balance sheet looks very good for the growing business, the positive free cash flow and the low level of liabilities.
Another positive for MYGN is the international presence. They have offices for sales and marketing in Paris, Milan, Madrid, and a diagnostic laboratory in Munich (Germany) for BRCAnalysis and Colaris testing, which make up 82% of the global revenue.
After Europe, they plan to expand in Latin America and Asia (already having distributors in 81 countries)
They also have a huge database to provide companion diagnostic services, for instance a library of over 550 individual human and rodent immunoassays, used in human clinical trials and pre-clinical animal studies.
Positive catalysts for the stock in 2013 could be the launch of the lung cancer test, the first available, and the partial reversal of the District Court ruling affecting 15 claims for patents related to BRCA1 and BRCA2.
There are another 500 separate claims under 24 patents also covering the intellectual property utilized in or related to the BRCAnalysis test which are not affected by this lawsuit.
This test is actually the most important for MYGN, because it is the most predictable (87% of the women with altered gene will face breast cancer before age of 70) and provide 74% of revenue for the company.
So, this is one of the few cases where a biotechnology company is able to monetize the genomic science and technology.
(courtesy of Bigcharts.Marketwatch.com)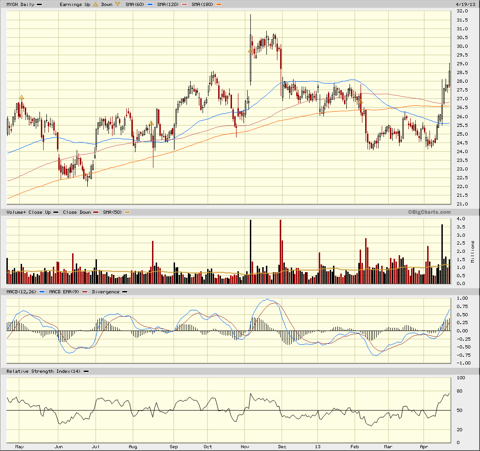 Business and Products : Actually there are 9 Products:
1 - BRAC Analysis for hereditary breast and ovarian cancer
2- COLARIS for hereditary uterine and colorectal cancer
3 - COLARIS AP for hereditary colon cancer syndromes
4 - MELARIS for hereditary melanoma
5 - PANEXIA for hereditary pancreatic and related cancer
6 - ONDOSE for chemotherapy dosing
7 - PREZEON for PTEN gene status
(PTEN is a tumor suppressor gene and when it losses its function there is a higher progression of the illness.)
8 - THERAGUIDE 5FU - for chemotherapy toxicity
(Allows the individuation in advance of the patients exposed to the side effects of chemotherapy.)
9 - PROLARIS for Prostate cancer prognosis
(Determines the aggressiveness of the cancer and the consequent therapy, avoiding many unnecessary surgeries.)
There are also 13 pipeline tests in development relative to lung, kidney, and bladder cancer; Alzheimer's disease and depression.
MYGN owns or has license rights in 193 issued patents in the USA and foreign countries. Their expirations spread from 2013 to 2029 or later.
Competitors and risks:
This is a highly competitive environment, and even if MYGN is doing well, there is the risk of new tests introduced by competitors at lower prices. The main competitors are Quest Diagnostics (NYSE:DGX), Quiagen, Exact Sciences (NASDAQ:EXAS), Genomic Health (NASDAQ:GHDX), but even big pharma companies are active in this field.
Some tests are reimbursed by the insurance companies, and for other tests the reimbursement is pending.
There are also legal risks associated: There is a pending lawsuit in relation to BRCA1 and BRCA2 genes, where the plaintiffs sought a ruling that 15 claims for related patents are invalid or unenforceable. After an unfavorable ruling, the US Court of Appeals stated that 10 of them are patent eligible.
The key is to have a monopoly on a test, not on a gene which is a natural product, and not eligible for patent. The final decision is expected in June and could be a catalyst for the stock.
Conclusion: This appears to be the most interesting stock in the sector, because of higher growth and cheap valuation. It still has big potential upside and is even a takeover target. The main risk is high competition.
Disclosure: I have no positions in any stocks mentioned, but may initiate a long position in MYGN over the next 72 hours. I wrote this article myself, and it expresses my own opinions. I am not receiving compensation for it. I have no business relationship with any company whose stock is mentioned in this article.