Two of my favorite stocks in 2013 are MAP Pharmaceuticals (NASDAQ:MAPP), which was bought out a few weeks after my article was published here, and Acadia Pharmaceuticals (NASDAQ:ACAD) - which jumped from $7.67 to $12.50, 6 days after my article was published here.
The story with Keryx BioPharmaceuticals (NASDAQ:KERX) continues to evolve. I like the potential of this company, its management and its potential for higher prices. The trend remains very strong and I expect new 52-week highs soon. I like small companies that have the potential of becoming the next Celgene (NASDAQ:CELG) or Biogen Idec Inc. (NASDAQ:BIIB).
The story behind KERX
In January, KERX released top-line Phase III about its drug Zerenex, a patented formulation of ferric citrate it has licensed, for the treatment of hyperphosphatemia in end stage renal disease patients on dialysis. The stock price tripled in price and touched $10. A secondary offering of shares was placed soon after, which helps the company in the long term to analyze more studies.
The future
In accordance with the Company's SPA agreement, the Phase 3 clinical program for Zerenex consisted of two clinical trails, a short-term study which was successfully completed approximately two years ago in the long-term safety, and efficacy study that we announced today.
This long-term Phase 3 is therefore the second and final obligation under our Phase 3 clinical program part of the SPA. The next step is to start working towards the New Drug Application (NDA) and European MAA filings, both expected in the second quarter of this year.
The CEO stated:
"Zerenex clearly demonstrated very robust increases in ferritin and TSAT scores to the extent of 51% for ferritin and 26% for TSAT, whereas the active control group remained flat. The changes in ferritin and TSAT occurred fairly quickly and peaked after only about four to five months, what is also very compelling is that the ferritin and TSAT levels then plateaued at these higher levels. We believe that this maybe the body's natural iron absorption mechanisms being utilized. And of course is the striking reductions in IV-iron and ESA use observed in the study that are truly a potential game changer."
Fundamental analysis
KERX is very strong fundamentally. The company has no debt, which reduces the chances of a secondary offering of shares. The company has $14.68 million in the bank.
The company has 69 million shares in the float. A high 20% is short, and positive news can produce a short squeeze to higher prices. Insiders own 15% of the float, which is good. There has been very minimal insider sales which is a very bullish scenario. More information can be seen here.
Technical analysis
The weekly chart is a thing of beauty. With the big news in January, the stock rallied to new highs and has now been consolidating. I expect another big run-up into the Summer with new highs shortly after.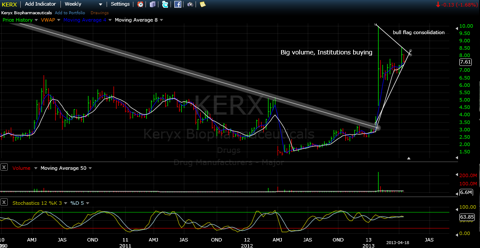 Conclusion
Despite the recent appreciation in price, I continue to believe KERX is going higher from here after a period of consolidation. Volume is increasing and I expect FDA approval. KERX can also be seen as a potential buyout candidate. The company continues to work on other studies, so the potential for higher growth is there.
Disclosure: I have no positions in any stocks mentioned, but may initiate a long position in KERX over the next 72 hours. I wrote this article myself, and it expresses my own opinions. I am not receiving compensation for it (other than from Seeking Alpha). I have no business relationship with any company whose stock is mentioned in this article.