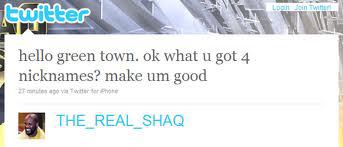 I have to admit that Twitter is my favorite Social Network. Like many, when I first joined in 2009, I checked out "known" entities. For instance, Shaq was the first person I followed. I'm still waiting to hear back from you big fella.
Since my life was consumed with stocks, I checked out some CNBC talking heads. I'll never forget when Ron Insana was trying to figure out who Howard Lindzon, CEO of StockTwits, was. Howard was wailing on them for who knows what reason. It was fun seeing David get under Goliath's skin.
I immediately started following Howard and was introduced to Stock Twits (the 24/7 stock talk stream). From that point on, I was hooked on 140 characters. Note: Howard and CNBC have since made peace, but it was fun while it lasted.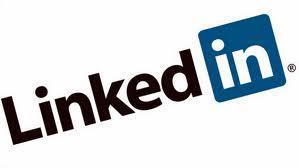 Although I had set up a LinkedIn account before I left the corporate scene in 2006, it sat dormant. Even with the excitement surrounding the IPO in 2011, I never fired it up. After the urging of a couple of friends, I decided to take another look at it in January of this year.
I updated my profile and re-connected with some old friends. Some of my old lunch buddies were Vice Presidents while others were still old lunch buddies. It was amazing to see how their careers had progressed or regressed. LinkedIn's power as a job search platform was undeniable.
That's basically what I expected, but there was so much more. As a former sales guy, I immediately saw its benefits as a sales tool. A big part of our strategy meetings were understanding a company's organizational structure. Who reports to who, what products were they responsible for and who were the real decision makers. LinkedIn has it is all laid out for you by the people who know it best – the customers. It also includes all kinds of relationship data like interests and favorite restaurants. This thing is a gold mine.
That said, the reason I'm still kicking LinkedIn tires today are the groups. There are 1000s of groups on almost any professional topic that you can imagine. There are nearly 3000 entrepreneurial groups alone. The groups are as broad or as specific as you would like. For instance, On Startups – The Community for Entrepreneurs has nearly 350,000 members. Whereas, there are many small niche groups with less than 100 members.
This is the kind of interaction that locked me in to Twitter. Shaq's antics are interesting, but it was stock talk on StockTwits – the ability to exchange with like-minded people about a specific subject that kept me coming back. Throw in a business model that has some aspects of the new school – monetizing eyeballs by adding in old school dollars in exchange for a service, and I'm sold. I'm on the LinkedIn bandwagon.
Now let's shift gears and talk about the stock (LNKD). Last week when I wrote, CREE Ends My Muhammad Ali Moment, I noted how it broke out on earnings and never violated its B/O day's low in each of the last two quarters.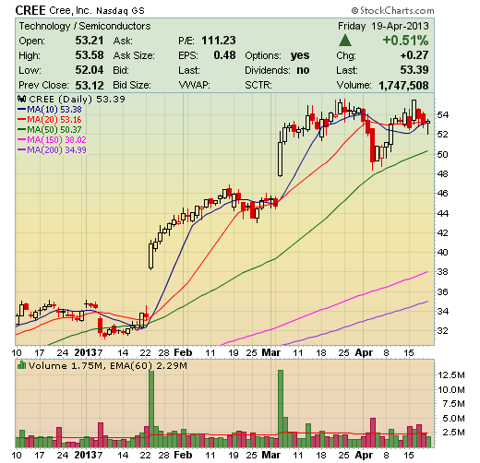 Take a look at LNKD's chart. It has spent the entire quarter above its B/O day's low. LinkedIn reports on 5/2. Can it perform a repeat?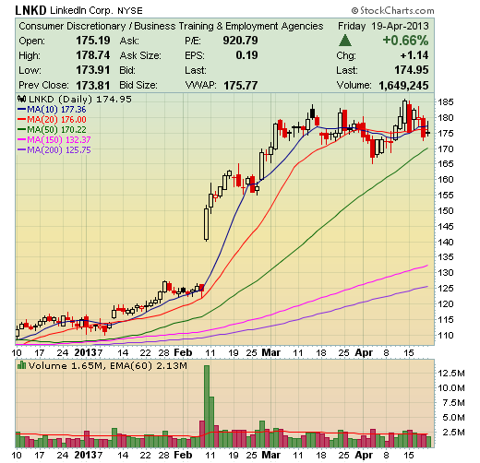 The similarities between CREE and LNKD are earnings day break outs of at least 8% on 4-5X its 50 day average volume. As an exercise left to the reader, another stock displayed similar characteristics on Friday. It's on my radar…
Disclosure: At the time of this writing, I currently have no position in CREE or LNKD (4/21/13). I may be a buyer at any time.