The S&P 500 has seen all-time high levels in the first quarter of 2013. However, most newspaper-related stocks have outperformed the markets. The New York Times Company (NYSE:NYT) is the only stock who has underperformed the market by rallying a modest 4%. Journal Communications (NYSE:JRN) has rallied 20%, Gannett Inc. (NYSE:GCI) has rallied 14%, and The E. W. Scripps Company (NYSE:SSP) has rallied 27%, Figure 1. Gannett Inc. looks attractive to me because it is the only company that offers a dividend payment to its shareholders.
Gannett Co., Inc. is a leading media and marketing solutions company. It operates digital, mobile, broadcast and print media including newspaper "USA Today®". The company has received little attention, but I believe Gannett Inc. suits dividend-seeking investors well. The company has a large dividend payment history and its solid business model does not put the dividend distribution in jeopardy. For reasons presented herein, I believe a long position may be considered in this company.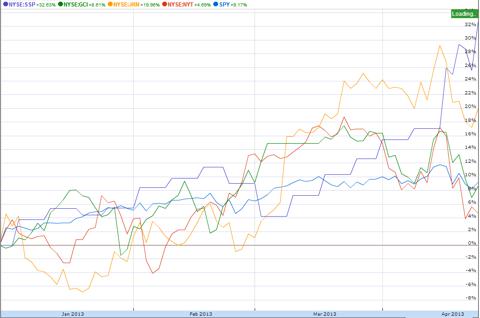 Figure 1. Year-to-date performance of SPY (blue), The New York Times (red), Journal Communications (yellow), Gannett Inc. (green), and The E.W. Scripps Company (purple).
Financial Analysis
According to its 2012 annual earnings report, the company increased its operating revenues by 2% from $5.24 billion in 2011 to $5.35 billion in 2012. In addition, the total digital revenue across Gannett increased 19% and it represented almost 25% of the total revenue. Overall, its diluted earnings-per-share increased 9% from $2.13 to $2.33 on a year-over-year basis.
Further, the company's solid business model allowed it to reduce its long term debt from $1.76 billion in 2011 to $1.43 billion in 2012. Future dividend hikes may be expected as its long-term debt is repaid. Moreover, the company brought investors capital appreciation in 2012 by the repurchase of 6 million shares. Provided that its revenue continues to increase, additional share repurchases may also be expected.
News
Looking forward, the company just announced that USA Today had 46,000 online subscriptions, and that two-thirds of them were new readers. As customers change habits from reading physical newspapers to digital newspapers, its revenue should increase while costs of operation-- such as printing and distribution-- should decrease.
In addition, the company announced that 12 of its television stations won a combined 45 regional 2013 Edward D. Murrow awards. This competition is sponsored by the Radio Television Digital News Association and honors outstanding journalists. Twelve out of 19 broadcast stations were honored. However, KARE, a Minneapolis-St. Paul, MN, based station won a total of 10 awards, being the most honored station in the United States. WGRZ, a broadcasting station based in Buffalo, NY, was honored with 5 awards. This action should assure investors that Gannett is doing things right with respect to the digital service it provides. There are countless of broadcasting stations throughout the country, but provided that Gannett's digital section continues to improve its journalistic service to the community, more viewers will be attracted to its channels.
This company's overall growth strategy suits long-term investors well. As an example of its growth vision, the company acquired Tripology. The service provides a connection between travelers and experienced traveler professionals. The way the service works is: Customers input data such as travel budget, and types of service required at the vacation destination, and the website returns a series of activities that match the budget established by the customer. In addition, the company acquired 10Best.com earlier this year, a website that provides top attractions, things to see and do, and restaurants, for top destinations around the world. Gannett's Travel section has been constantly growing, and I believe that the number of customers is increasing.
Dividend payment
Shareholders enjoyed a 233% hike in dividend payment from $0.24 in 2011 to $0.80 in 2012. What's more is that the payout ratio is 50% of its total earnings. As a consequence of the dividend hike, Gannett offers a 3.69% dividend. To put this in perspective, News Corporation (NASDAQ:NWS), another media giant offers a dividend payment of 0.54%.
The company has a long history of dividend payment. The first dividend paid on Gannett stock was $0.0542 per share after the company went public on Oct. 24, 1967. I have created a dividend history table extracting data from the Gannett website, which illustrates the quarterly payments from 1995 to present days.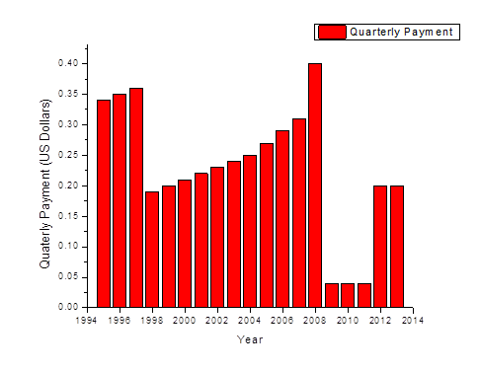 The dividend payment decline from 1997 to 1998 was due to a 2:1 reverse stock split. As the economic crisis hit the markets in 2008-2009, its dividend was reduced by almost 90%. However, the company has presently hiked its dividend from $0.04 in 2009 to $0.20. I believe that its outstanding business model will bring future dividend hikes, and thus the stock could be part of a tax-sheltered account.
Fundamental Analysis
From the fundamental analysis point of view, the company is trading with a P/E of 13.13, and a forward P/E of 8.16. Its balance sheet carries a considerable amount of debt, with a debt ratio of 0.61, but the growth in sales and operating margin should provide investors with confidence that the stock can manage its debt load. Moreover, I would expect the company to further hike dividend payments as its debt is reduced. The company operates with an outstanding business model as its profit margin and sales on a quarter-over-quarter basis increased.
Wrap up
In conclusion, Gannett may be a solid option for dividend-oriented accounts. In my opinion, the company's increase in sales Q/Q and profit margin reflect a strong business model. Furthermore, the company has a long history of dividend payment, and its dividend was hiked in 2012. Further, its payout ratio is only 50%. The dividend payment stability is secured due to a solid business model. Furthermore, value-oriented investors may find Gannett attractive since it is trading with a P/E of 13 and a Forward P/E of 8. It must be noted that a P/E value of less than 17 is considered "cheap" in terms of valuation according to some analysts.
The company's digital section won 19 Edward D. Murrow awards, with one broadcast station winning 10 awards. This leads me to believe that the company's professionalism should not be doubted.
Lastly, the company is expanding operations. As proof, its travel section has acquired Tripology and 10best.com, two websites dedicated to provide professional advices for travelers. These actions only attract customers in the interim and the company's world presence is increasing.
For these reasons, Gannett Inc. may prove an excellent buy-and-hold stock in tax sheltered accounts.
Disclosure: I have no positions in any stocks mentioned, and no plans to initiate any positions within the next 72 hours. I wrote this article myself, and it expresses my own opinions. I am not receiving compensation for it (other than from Seeking Alpha). I have no business relationship with any company whose stock is mentioned in this article.