The stock market has had a turbulent week, with two days of heavy distribution coupled with intense selling pressure. Although the damage to the S&P 500 and the Dow Jones Industrials Average was minimal, it did seem more significant given the placid trading up until now this year.
In a previous article, I laid out my case that a more cautious stance was appropriate given market conditions and the poor performance of high beta indexes. These concerns remain valid and were somewhat realized with higher beta indexes selling off hardest over the past weeks- especially commodities, semiconductors, and small caps. Many of these broke lows formed in March and April, while the Dow and S&P 500 remained above these levels.
As long as this outperformance persists, long trades should be coupled with tighter stop losses and more modest profit targets. In these conditions, breakouts should be treated with higher levels of scrutiny as they are more prone to reversals. The most pertinent example is the S&P 500's breakout from its trading range of 1540-1560, which contained prices for much of March and April, which was swiftly reversed, punishing those who went long on the breakout to new highs.
Naturally, the question is whether this correction marks the end of this rally that began late November in the midst of the "fiscal cliff" negotiations or is it another pause that merely serves as a buying opportunity. In this article, I want to lay out some reasons that this recent weakness is yet again, another opportunity for bulls.
Lack of Flight to Safety
Typically, intense corrections are marked by selling stock and moving into safe assets such as Treasuries. One unique feature of this recent market weakness is the lack of a strong bid in Treasuries. This is a probable sign that money is not moving out of the stock market but merely rotating into different sectors.
One caveat is that Treasuries did have a strong bid the last 2 months, with rates falling sharply while the stock market remained resilient. However, it is unusual that despite the panicky market action that Treasuries were not moving higher.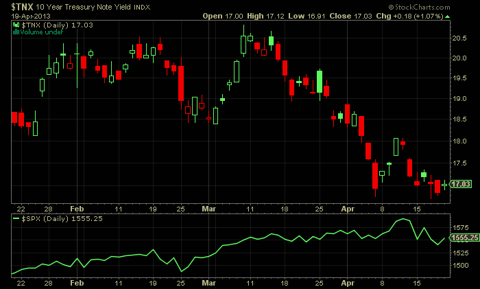 Another risk asset that behaved inconsistent with the notion that we are in the midst of a major correction was the dollar. Like Treasuries during past major corrections, the dollar would almost go parabolic during times of duress and fear. This time, the dollar failed to exceed its March highs. Again, this type of action smells more like rotation exacerbated by the margin calls in the gold market and the Boston bombings rather than the beginning of a major correction or an end to the uptrend.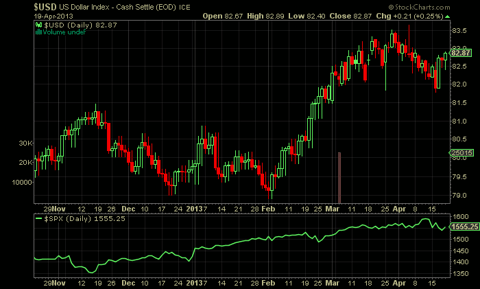 Strength in High Yield Bonds
Another important indicator of market health is the high yield bond market. Despite the understandable fear in the markets, the high yield bond market has remained quite stable. Typically, the cascading sell-offs require participation from the credit markets and spread into the stock market, which takes the brunt of the damage.
Currently, this does not seem to be the case. If the credit markets begin to weaken, then I will reassess my overall bullish posture on the market.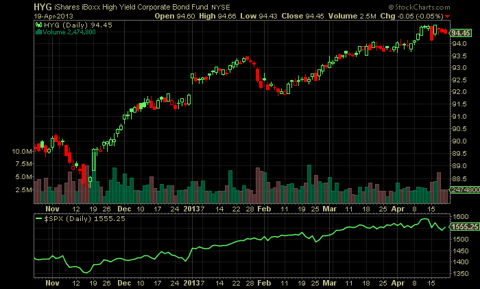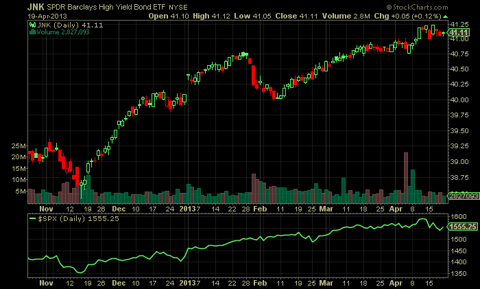 Nascent Signs of "Risk On"
Earlier, I discussed the market conditions and how it favors a strategy of focusing more on managing risk. If these conditions do begin to significantly improve, then I would be more aggressive with trades on the long side. Although it is quite early, there are some constructive developments as these have begun to show some positive signs.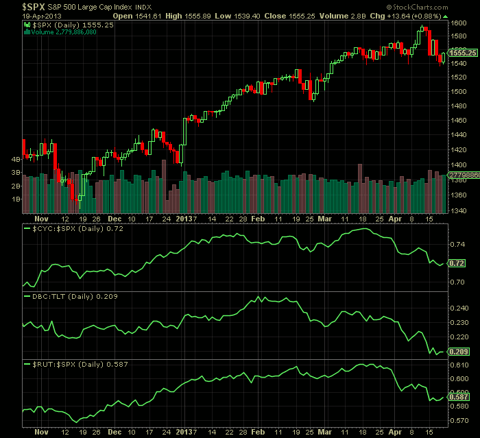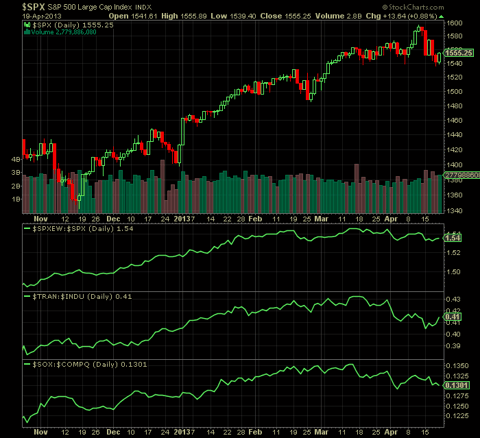 Comparable ETFs for these indexes include the SPDR S&P 500 ETF Trust (NYSEARCA:SPY), iShares Russell 2000 Index (NYSEARCA:IWM), iShares Barclays 20+ Yr Treas. Bond ETF (NYSEARCA:TLT), and the PowerShares QQQ Trust, Series 1 (NASDAQ:QQQ).
Conclusion
In my opinion, the best opportunities in the market are not when there is significant upside. The best opportunities in the market are when the downside risks are low and contained. In case you are wrong, you can exit with minimal losses. This is such an opportunity, as a stop can be placed below Thursday's low.
This quote from Ned Davis, which I found on Barry Ritholtz's website, particularly resonated with me: "We are in the business of making mistakes. The only difference between the winners and the losers is that the winners make small mistakes, while the losers make big mistakes."
Another important note is that the conditions I discussed in my previous article remain, so I will stay conservative in terms of sizing and risk. However, if there are indications that these conditions are changing to favor more risk, then size and risk should be adjusted accordingly.
In some ways, the market functions as a Rorschach test. I'm sure someone can look at the same factors giving me a bullish tilt and come to the opposite conclusions. Instead of seeing the disinterest in the bonds and dollar as a sign that money is remaining in the equity market, it could be construed that participants remain too complacent. The nascent signs of "risk on" trading can be justified as simply fluctuations that should not take precedence over the obvious downtrend in these ratios.
Despite these legitimate reasons to be pessimistic, I think the most important factor remains the steady uptrend in the market supported by the Federal Reserve's indefinite easing and the strong breadth in the advance. Fighting this trend has been futile for bears. At some point, this will change. This is 100% certain.
I do believe that this is not the time to be taking long-term long positions in the market. There is considerable more risk at these levels and less upside for stocks. This article is simply highlighting a low risk, short-term opportunity in the market.
In the long term, there are numerous concerns. I have written about some of these in this article stating my reasons for why I don't think this is a secular bull market. Further, in this article I discussed Warren Buffett's valuation model, which is now showing a market that is no longer "undervalued" by any means.
However, I also believe that in the short-term liquidity and sentiment matter more than fundamentals. Therefore, I see no contradiction in holding different perspectives for different time frames.
Disclosure: I have no positions in any stocks mentioned, and no plans to initiate any positions within the next 72 hours. I wrote this article myself, and it expresses my own opinions. I am not receiving compensation for it (other than from Seeking Alpha). I have no business relationship with any company whose stock is mentioned in this article.