Company:
Credit Acceptance Corporation (NASDAQ:CACC) is an indirect auto finance company that works with car dealerships nationwide to enable them to sell cars to consumers, on credit, regardless of the buyer's credit history. According to a company profile provided by Hoovers.com:
Working with more than 3,000 independent and franchised automobile dealers in the US, CAC provides capital for auto loans to people with substandard credit. The company also provides other services to dealers, including payment servicing, receivables management, marketing, and service contracts. It typically funds around 1.5 million auto loans per year; Michigan, New York, Texas, Ohio, and Pennsylvania are the company's largest markets.

Source: Hoovers.com
Commentary:
Once again, in keeping, with the CAN SLIM screening theme, I have chosen to highlight a company that was uncovered during a screen I performed using William O'Neil's original CAN SLIM screening criteria. That company is Credit Acceptance Corporation. Though no longer a unique idea, CACC is unique in terms of its business model. As described in the company's most recent 10-K report for the fiscal year ended December 31, 2012:
Since 1972, Credit Acceptance Corporation (referred to as the "Company", "Credit Acceptance", "we", "our" or "us") has offered automobile dealers financing programs that enable them to sell vehicles to consumers, regardless of their credit history. Our financing programs are offered through a nationwide network of automobile dealers who benefit from sales of vehicles to consumers who otherwise could not obtain financing; from repeat and referral sales generated by these same customers; and from sales to customers responding to advertisements for our product, but who actually end up qualifying for traditional financing.

Source: CACC 10-K (2012)
In short, CACC makes its money by providing loans to clients who are less than creditworthy. Its business model is unique in the sense that it has been able to consistently turn a profit during some of the most brutal economic periods in history, and that it has done so by lending monies to consumers who are some of the most financially disadvantaged.
In the following Consolidated Income Statement, taken from the most recent 10-K, we see that, for fiscal year 2012, CACC's total revenues increased 15.99% on a YOY basis. Total revenues increased an astounding 37.8% from fiscal year 2010 to fiscal year 2012. On a Net Income Per Share basis, profits increased 21.36% on a YOY basis, and the figure increased a whopping 51.32% from 2010 to 2012!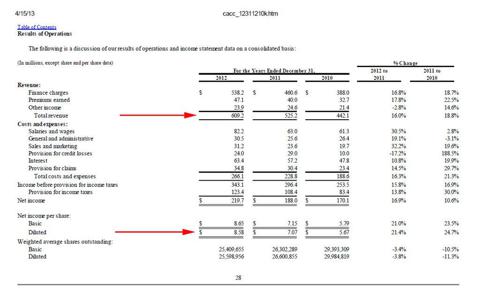 Source: CACC 10-K (2012)
CACC's business model is, essentially, based on two programs: The "Portfolio Program" and the "Purchase Program." Under the Portfolio Program, CACC advances monies to the Dealers (i.e. the auto dealerships which have partnered with CACC) in exchange for the right to service the underlying consumer loans. Under the Purchase Program, CACC buys the consumer loans from the Dealers and keeps all of the monies collected from the consumers. By far, the most popular program is the Portfolio Program.
The following table shows the percentage of Consumer Loans assigned to us based on unit volumes under each of the programs for each of the last three years:

Source: CACC 10-K (2012)
Under the Portfolio Program, Dealers, as payment for the given vehicle, generally receive the following:
· a down payment from the consumer;
· a cash advance from us; and
· after the advance has been recovered by us, the cash from payments made on the Consumer Loan, net of certain collection costs and our servicing fee ("Dealer Holdback").

Source: CACC 10-K (2012)
The monies that are collected by CACC (again, under the Portfolio Program) are applied as follows:
· First, to reimburse us for certain collection costs;
· Second, to pay us our servicing fee, which generally equals 20% of collections;
· Third, to reduce the aggregate advance balance and to pay any other amounts due from the Dealer to us; and
· Fourth, to the Dealer as payment of Dealer Holdback.

Source: CACC 10-K (2012)
In other words, under its contract with a Dealer, CAAC is first reimbursed for any expenses related to collection costs; it then subtracts 20% to satisfy its servicing fee; then it removes any other amounts that may be due to CACC before it eventually sends the Dealer its payment. Thus, under this arrangement, CACC retains total control over the payment stream for vehicles sold through its program. Moreover, CACC further "perfect[s] [its] security interest in the Dealer Loans by taking possession of the Consumer Loans, which list [CACC] as lienholder on the vehicle title." [CACC 10-K (2012)]
The two aforementioned programs, however, are not the only way for CACC to generate revenue. Again, using the company's 10-K report as our guide, we see that CACC derives it revenues from the following principal sources:
Finance charges, which are comprised of: (1) servicing fees earned as a result of servicing Consumer Loans assigned to us by Dealers under the Portfolio Program, (2) finance charge income from Purchased Loans, (3) fees earned from our third party ancillary product offerings, (4) monthly program fees of $599, charged to Dealers under the Portfolio Program; and (5) fees associated with certain Loans;
· Premiums earned on the reinsurance of vehicle service contracts; and
· Other income, which primarily consists of: Dealer support products and services, vendor fees, Dealer enrollment fees and ancillary product profit sharing income.
In the tables below, CACC reveals that the majority of it revenues are derived through finance charges; however, it is also made evident that CACC receives monthly program fees of $599 from the Dealers and that, as of December 31, 2012, the company had 5,319 Active Dealers in its program. In addition, we see that CACC added an additional 2,519 Dealers to its program in 2012. On a YOY basis, CACC increased the number of its active dealers by 33.04%, and it increased its new enrollments by 28.98%.


Source: CACC 10-K (2012)
Fundamentals: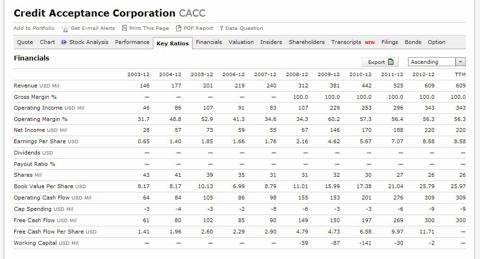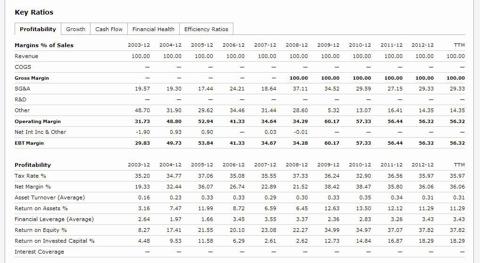 Source: Morningstar.com
Fundamentally, CACC appears strong. All of the important metrics have shown signs of growth over the past ten years, with some of the best advances being made during the early stages of the Great Recession (i.e. between 2008 and 2009) when its operating margin nearly doubled from $34.3 million to $60.2 million, and its net income rose 118% (i.e. from $67 million to $146 million).
Technicals: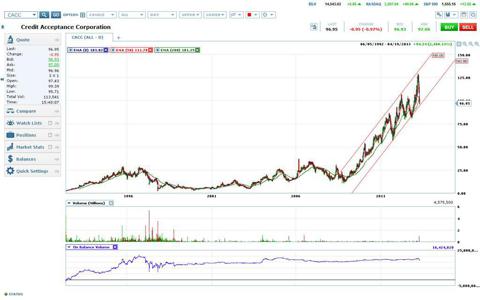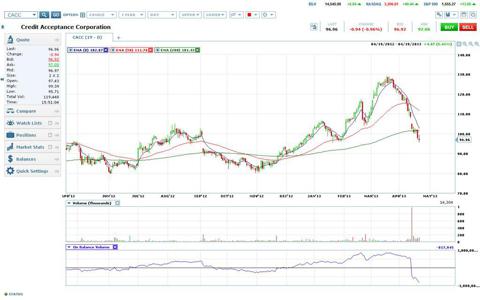 Source: optionsXpress.com
Technically we see that, since early December of 2008, CACC investors have very much enjoyed a nice run-up in the company's stock price. Toward the end of March of this year, however, the stock rolled over and took a nosedive. The plunge took place shortly before an announcement was made in early April regarding a secondary stock offering for 1.5 million shares at a price of $105.00 per share.
Southfield, Michigan, April 11, 2013 (GLOBE NEWSWIRE) - Credit Acceptance Corporation ... announced today the pricing of the previously announced underwritten public offering by certain trusts affiliated with the founder and Chairman of the Company Donald A. Foss and Karol A. Foss and certain individuals and entities associated with Prescott General Partners LLC of 1,500,000 shares of the Company's common stock at a price to the public of $105.00 per share. The Company will not sell any shares in the offering and will not receive any proceeds from the offering. The underwriters will have a 30-day option to purchase up to an additional 225,000 shares of the Company's common stock from the selling shareholders.

Source: Yahoo! Finance

Source: Form 424B3 (4/12/2013)
Though the news may have been poorly received by those who owned the company's stock at the time, the overall outcome may have provided a good entry point for new investors, especially given its current and forward earnings multiples.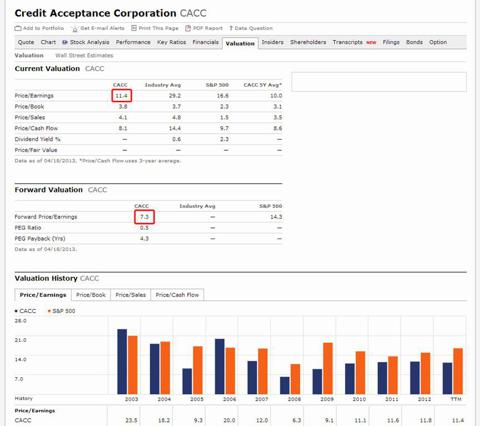 Source: Morningstar.com
Conclusion:
Credit acceptance Corporation is a company that has shown its ability to generate revenues during good and, more importantly, during bad economic times. More astonishingly, it has done so working with some of the most financially distressed consumers in the marketplace.
During the discovery process of this report, some of the most negative news that was uncovered on CACC surrounded consumer complaints regarding the company's handling of vehicle repossessions (which also included litigation issues). Though some of the complaints appeared to be valid, some appeared to be mistakes based on communication errors, while still others appeared to have little or no merit. Several complaints can be viewed on the Consumer Affairs Web site, while others can be viewed on the Better Business Bureau's Web site. Presently, the BBB has two regional offices that have rated CACC an "F" on its A through F ratings scale. Those ratings can be found here and here.
Given the tough neighborhood in which CACC operates, the harsh ratings may be as understandable as they may be unwarranted. It would seem that CACC takes great care to manage its potential losses, which, unfortunately, means there will be some disgruntled consumers from time to time.
Though it stands to reason that CACC's performance will be much better during economically favorable climates, its performance during economically challenging times is truly noteworthy.
Disclosure: I have no positions in any stocks mentioned, and no plans to initiate any positions within the next 72 hours. I wrote this article myself, and it expresses my own opinions. I am not receiving compensation for it (other than from Seeking Alpha). I have no business relationship with any company whose stock is mentioned in this article.