3D Systems (NYSE:DDD) had a rough ride in the last two months. Its 42% plunge from all-time highs followed a disappointing earnings release. 3D Systems appears to have bottomed in mid-March, as it was dragged higher by the competing Stratasys (NASDAQ:SSYS), which I noted in my previous article. The company will announce earnings on April 30th, and it will certainly make a determining impact on short and intermediate-term price direction.
Recent developments
The sentiment surrounding 3D printing stocks has changed for the better recently. Upbeat earnings reports from Stratasys and ExOne (NASDAQ:XONE) helped to put a stop on the declining price of 3D Systems. Meanwhile, the company is making efforts in expanding its reseller network. Three deals were announced recently, and the company expanded its presence in Turkey and Japan. The latest deal was with Hawk Ridge Systems, and gives the company increased exposure in the United States and Canada. Hawk Ridge is recognized as the number one worldwide SolidWorks reseller.
Last week the company announced the immediate availability of Geomagic Design, a new suite of affordable CAD design solutions. 3D Systems acquired Geomagic in late February. Geomagic design is available in three versions, with the lowest price for the Geomagic Design Personal starting at $199, and the most advanced expert version starting at $20,500. These tools enable mechanical CAD design, allowing engineers, makers, consumers and hobbyists to go from concept to manufacturing.
Earnings preview
Analysts expect first quarter earnings to rise 23.5% to $0.21 from $0.17 last year, on a 30.4% increase in revenue. There were no changes in expectations in the last sixty days, except for the decrease of consensus estimates for 2014, from $1.39 to $1.29.
In the fourth quarter conference call, the management said it expects further increase in gross profit margins. Integrated materials revenue as a percentage of total materials revenue increased from 30% in 2009 to 63% in 2012. Integrated materials have the highest gross margin, and the trend of increased share of total materials is expected to continue, driving the gross margin higher toward the expected target of 56%. Current gross profit margin is 51.2%.
The management also expects consumer activities to become a significant revenue driver in the second part of the year, so we should wait a couple of quarters to see the breakdown of this segment, as it was promised in the latest conference call.
Short interest
Short interest continued to rise in the two latest reporting periods, from 24 million shares at the end of February to 26.5 million shares at the end of March. The short interest as a percentage of the free float now stands at 31.2%. With such a high short interest, I expect significant volatility after the earnings announcement. If the company delivers above expectations and gives an upbeat guidance, we might see a significant short squeeze and a sharp rise in price. The opposite is true if the company fails to deliver, and an example of investor disappointment can be seen looking at the post-earnings reaction two months ago.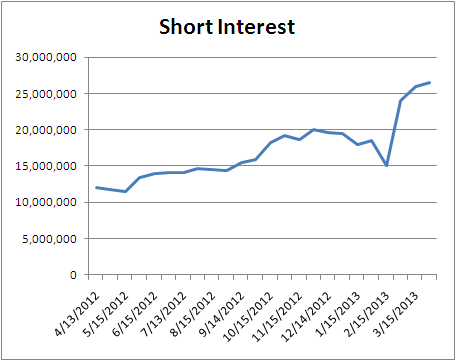 Source for data: Nasdaq.com
Price Action
3D Systems is up 18% since the mid-March bottom. It failed to close above the 50 day moving average line, which serves as resistance at the moment. Price action has been constructive recently, with more volume on up days, and lower volume on down days. The broad market is getting weaker, and that might pressure the share price. A decisive break above the 50 day moving average line on above average volume would be very positive for the stock. I suspect investors and traders will wait for the earnings announcement, and that trading will be subdued until then.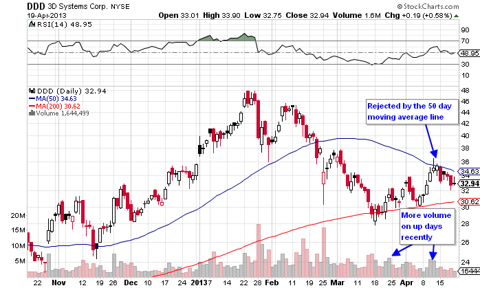 Conclusion
3D Systems has continued its efforts to expand the reseller network, domestic and abroad, with increased presence in Turkey, Japan and North America. Earnings and revenue growth are expected to continue, and the announcement at the end of April will provide investors with new information about the results of the recent efforts, and determine the direction of the share price.
Disclosure: I have no positions in any stocks mentioned, and no plans to initiate any positions within the next 72 hours. I wrote this article myself, and it expresses my own opinions. I am not receiving compensation for it (other than from Seeking Alpha). I have no business relationship with any company whose stock is mentioned in this article.