I've been long Perfect World (NASDAQ:PWRD) stock for over a year now and the price hasn't moved too far from the $9-$13 trading range. My original investment thesis hasn't changed - Perfect World is still incredibly cheap. Despite the company running consistent annual profits and generating healthy cash flow the company is currently trading at 0.8x book at the end of Q4 2012 and about 1x tangible book value. 1x tangible book value is pretty cheap, but what makes Perfect World a steal is the company's real estate assets, which are carried on the balance sheet at well below market value.
Prime Beijing Real Estate
On March 19, 2008 Perfect World announced that it entered into an agreement to purchase approximately 55,000 square meters of office real estate in Chaoyang District, Beijing for approximately 700M RMB ($113.31M USD) - a substantial chunk of the company's ~$500M market capitalization. The specifics of the purchase agreement and address of properties purchased were disclosed in Exhibit 4.32 of the company's 2007 20-F annual report.
So how much is that 700M RMB real estate purchase worth today? Take a look at the chart below from Savills Research & Consultancy showing price appreciation (red line) for commercial properties in Beijing.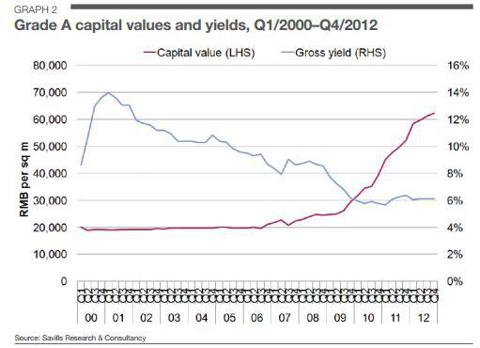 Perfect World's timing on the real estate purchase was near perfect. The location of the property (Area F of Jiaming Park) may not count as "Class A" but it is certainly located in a respectable part of Beijing. The Chaoyang District houses many foreign embassies and the rapidly growing Central Business District. Seeing that Grade A properties have already tripled in price, it's fair to say that the 700M RMB real estate purchase is probably worth somewhere between 1.70B RMB to 2.3B RMB (275M - 372M USD) today. The company also purchased two other offices properties in Beijing in 2007 and 2008 totaling an additional 7,200 SQ meters of office space. All of these properties are being carried on the balance sheet at cost rather than market value, which is what makes them hidden gems - they won't pop out on any stock screener.
Other Assets
What makes Perfect World such a bargain is that the company's other assets are mostly liquid. $564M in assets are current assets and even if you mark down the value of all equity investments, goodwill, and intangible assets to 0 the company is still trading below tangible book value. This means that the market is currently valuing the very profitable operating business at -100M+. The actual operating business has numerous huge game launches coming up too (DotA 2 / Swordsman / Saint Seiya Online / Neverwinter) - but that's beyond the scope of this article. Even if every single new game was a complete flop, the company is still attractively priced and older games remain profitable.
Conclusion
Despite revenues slowing down last year (due to no new game launches), Perfect World remains profitable and extremely cheap. The company paid a $2 dividend last year and a $0.45 dividend earlier this month, which should prove to skeptics that the company is legitimate, as no Chinese fraud to date has paid any meaningful dividends. Fosun International has also recently increased their ownership in the company to 12.12%, up from 8.31% last year as per their SC 13D/A filing on April 11, 2013. Fosun is the same company that bought a huge chunk of Focus Media after their late 2008 crash, tripling their investment when the company agreed to be taken private last year. Clearly I'm not the only one who has spotted this bargain.
Disclosure: I am long PWRD. I wrote this article myself, and it expresses my own opinions. I am not receiving compensation for it (other than from Seeking Alpha). I have no business relationship with any company whose stock is mentioned in this article.