Summary: Lipper Fund Flows for the week ending April 17, 2013 showed $2.7 billion coming out of gold ETFs, although the appetite for equities remains positive. Inflows of combined equity mutual funds and equity ETFs increased also by about $2.7 billion. The largest chunk of that total, almost $2.0 billion headed toward international equities, showing continued strength in that sub-class compared to domestic equities.
Traders and Investors Continue to Exit Gold ETFs
The recent shakeout in gold ownership made for great headlines globally, including a sell-off related to the country of Cyprus and perhaps other eurozone countries being pressed to sell part of their reserves. As gold tries to find a bottom above the $1,300/oz level as of April 22, Lipper Fund Flows data for the week ending April 17, 2013 shows gold ETF ownership plunged by $2.7 billion (see chart below). What may have been brushed off by some was the slightly negative fund flows at the beginning of the year - a time when a lot of allocation changes in individual portfolios are made.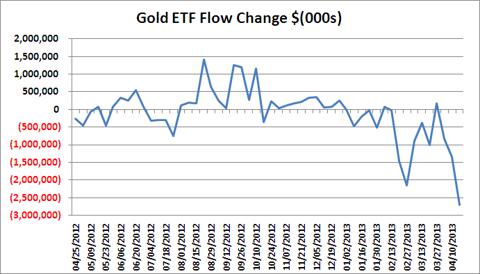 According to Tom Roseen, Head of Research Services at Lipper (a Thomson Reuters company), traders and investors in all gold ETFs including the largest, the SPDR Gold Trust ETF (NYSEARCA:GLD), began their exit in a major way in the week ended February 20. That's when gold closed just under $1,600/oz level for the first time since August 2, 2012.
The big question will be what Lipper's Gold ETF data will report in the coming weeks, as these products saw their heaviest volume days on April 15, where the active June gold futures contract plunged from a close of $1,501 (from $1,564 the prior session) on April 14 to a low of $1,335 on April 15. These two large drops on consecutive days gained the attention of the media, as well as concerned owners of gold and gold-related funds, as evidenced by the fund flow data for that week.
Equity Fund Flows Remain Positive
While gold ETF participation declined, equity mutual fund and ETF activity increased by about the same $2.7 billion, although this does not at all imply a direct movement from gold toward equities in general. On a year to date basis, almost $68.8 billion has moved into all equity mutual funds and ETFs, with only the week ending February 27 showing a net decline of $0.9 billion.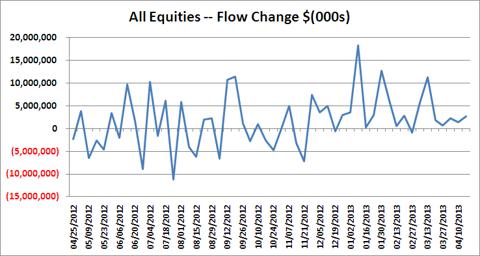 International Fund Flows Remain Strong
Roseen still sees traders and investors putting a good chunk of new monies into international markets -- a case in point being the latest reporting week ending April 17. Of the $2.7 billion of funds reported by Lipper as flowing into equity products for that week, just about $2.0 billion found its way to international products, as may be seen in the chart below.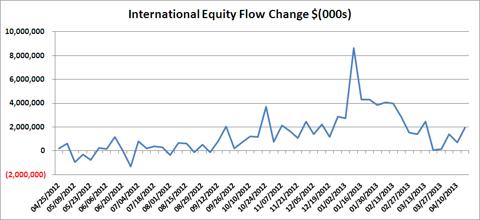 International equity fund flows remain the strongest category according to Lipper data, which shows a total net inflow of $72.1 billion in the past 52 weeks. (The Vanguard FTSE All-World ex-US ETF is one such investment vehicle - VEU). During that time, 44 of those weeks have seen positive figures. Among the eight negative weeks, the only the week showing a drop of over $1 billion was the week ending June 26, 2012 -- recording a net outflow of $1.3 billion. Seasonality and the need to put idle funds to work may have played a role in the first 14 full weeks of the year. But there's no evidence yet of monies moving out of international equities, as was lightly the case in May and June 2012 on the chart.
Summary
Many investors contribute to their accounts at the start of a new year and often on a quarterly basis. With new monies coming in to the markets in January, as well as personal investors and wealth managers shifting their asset allocations around the beginning of a new year, the handwriting may have already been on the wall for gold's lack of demand by its fund flow behavior.
Disclosure: I have no positions in any stocks mentioned, and no plans to initiate any positions within the next 72 hours. I wrote this article myself, and it expresses my own opinions. I am not receiving compensation for it. I have no business relationship with any company whose stock is mentioned in this article.