Over the past few weeks' investors have embraced defensive baskets and shunned risk. But, investors shouldn't be surprised by this shift. Historically, investors reduce risk ahead of summer doldrums, opting for defensive baskets ahead of the notoriously troublesome summer months.
The defensive shift is reflected in data compiled at my firm, E.B. Capital Markets, LLC.
Our team screens more than 1800 stocks weekly, including 400 large-cap stocks, to help identify market, sector and industry trends early.
As part of that process, each large-cap stock is given a weekly score based on earnings growth, earnings beats, valuation, short interest, insider buying, seasonality and money flow.
This week, utilities remain the top-scoring large-cap sector.
Those individual stock scores are averaged by industry and sector, with utilities claiming the top sector spot since April 2.
Utilities strength and the weakness in technology (NYSEARCA:XLK) reflects investor appetite for Treasury-beating dividend yields and stable cash flows rather than risk.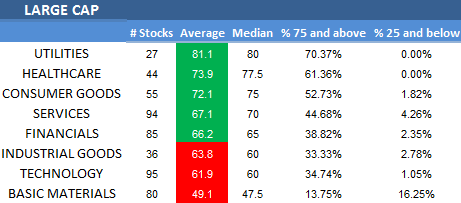 The move into utilities isn't surprising.
It isn't surprising to see utilities (NYSEARCA:XLU) climb higher at this time of year.
The basket offers investors stable dividends and revenue clarity, providing a relatively safe place to park money.
So far this year, returns in the utilities ETF have strengthened relative to the S&P 500 (NYSEARCA:SPY) each month.
After underperforming by -0.35% in January, the XLU outpaced the SPY by 1.04% and 1.5% in February and March, respectively. And, the XLU is ahead by 4.6% this month through April 19.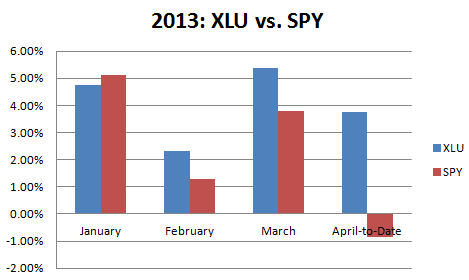 In addition to being the de facto defensive group for risk-wary investors, utilities also offer significant seasonal strength ahead of summer -- the peak season for electricity demand.
This year, it appears performance may have been pulled forward into February as cold weather boosted natural gas use, driving prices higher and lifting spot market electricity prices.
The higher spot price trend should continue as we move closer to summer, when peak electricity capacity is brought online.
Higher marginal prices suggest investors will continue to focus on utilities through the spring shoulder months. Over the past decade, utilities have generated their best excess market returns in Q2 and Q3.
Source: Seasonal Investor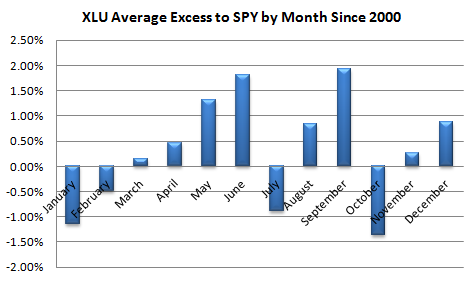 Investors focused on individual stocks may find this a good time to watch Edison International (NYSE:EIX), P P L (NYSE:PPL) and Xcel Energy (NYSE:XEL). Those three are the top scoring in the large-cap utilities sector, according to E.B. Capital Markets, LLC.
| Large Cap Utilities: Top Scoring | | | 4/19/2013 | 4 Week MA |
| --- | --- | --- | --- | --- |
| Company Name | Symbol | Industry | SCORE | SCORE |
| Edison Intl | EIX | ELECTRIC UTILITIES | 105 | 96.25 |
| P P L Corp | PPL | ELECTRIC UTILITIES | 100 | 83.75 |
| Xcel Energy Inc | XEL | ELECTRIC UTILITIES | 100 | 95.00 |
| Firstenergy Corp | | ELECTRIC UTILITIES | 95 | 67.50 |
| Centerpoint Energy Inc | | DIVERSIFIED UTILITIES | 90 | 86.25 |
| Public Service Ent. | | DIVERSIFIED UTILITIES | 90 | 85.00 |
| Wisconsin Energy | | DIVERSIFIED UTILITIES | 90 | 87.50 |
| American Elec Pwr Inc | | ELECTRIC UTILITIES | 90 | 86.25 |
| A E S Corp | | ELECTRIC UTILITIES | 90 | 86.25 |
| Nextera Energy | | ELECTRIC UTILITIES | 90 | 90.00 |
| Eqt Corp | | GAS UTILITIES | 90 | 85.00 |
Disclosure: I have no positions in any stocks mentioned, and no plans to initiate any positions within the next 72 hours. I wrote this article myself, and it expresses my own opinions. I am not receiving compensation for it (other than from Seeking Alpha). I have no business relationship with any company whose stock is mentioned in this article.