It is that time of year: the next earnings report from Apple (NASDAQ:AAPL). The stock has not traded this low since December 20, 2011, just weeks ahead of a major run-up in 2012 that eventually ended in the last all-time high in September 2012. As Aaron Task says in the intro of Monday's Daily Ticker - "Bracing for Disaster: How Bad Will Apple's Earnings Be"? - the Apple earnings report is an event that is usually heralded with a lot of hype and anticipation. This time, it is being met with fear and dread.
The ensuing discussion between Henry Blodget and Howard Lindzon is a great example of the head-twisting ambivalence that investors and traders must feel about AAPL. Blodget has bought the stock ahead of earnings in anticipation of the earnings report finally setting a low bar for expectations. Lindzon recently sold out of the stock because he got tired of being wrong for so long. Yet, he is very bullish. He just wants to get back in when Apple has a stronger stock. He puts Apple in the same category with other great companies that have suffered large one-year corrections before resuming their great runs. Both men see plenty left to like about Apple's products and prospects.
However, the concept of Apple bearishness is quite squishy. As I pointed out in early March, negative sentiment is hard to find in the numbers on Apple. This makes it difficult to estimate or guess how or where a bottom might finally occur. Certainly, the stock chart looks extremely bearish. The stock has largely obeyed the gravitational pull of a downward sloping 50-day moving average (DMA) and has crashed through multiple levels of support along the way.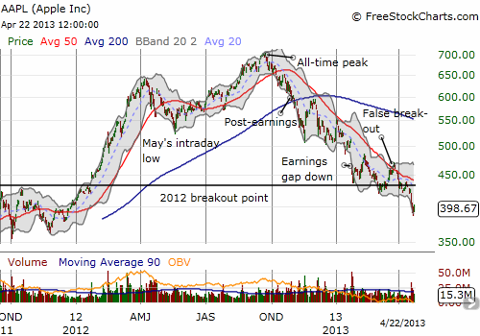 Apple's steady plunge from all-time highs has erased 16 months of gains
Source: FreeStockCharts.com
This selling has barely attracted the interest of short sellers. Short interest remains a paltry 2.1% of float. The 20.0M shares sold short are still below the 2+ year high from last November at 21.6M shares sold short. While shorts have been net buyers of Apple stock since then (covering positions), options players have loaded up on call options. Until Monday, April 22nd, the day before earnings, the open interest put/call ratio had fallen to 0.5. Over the past two years, only the 0.48 reading from mid-February of this year has been lower. Finally, on the expiration of April monthly options, traders reached for put options, sending the open interest put/call ratio to 0.64, back to levels seen right before January's disastrous earnings but still only the 25th percentile level (all data from Schaeffer's Investment Research).
Analysts have been hitting the reset button, but almost none have recommended lightening up or outright selling shares. Instead, price targets have come down with reiterations of buy or outperform. New ratings have started out with buy recommendations. According to briefing.com, the only sell recommendation over the last year has come from a brokerage firm called Berenberg who downgraded AAPL from a buy on March 6th. Robert W. Baird issued a downgrade to a neutral on January 28th. The end result? About 78 to 84% of analysts still give Apple a recommendation of strong buy or buy (the specific ratio varies depending on the data vendor - compare Schaeffer's with Yahoo! Finance, for example).
The numbers simply do not flash the bearish teeth worthy of Apple's 43% tumble from all-time highs.
So what is a nervous AAPL holder or trader to do? At this point, with a forward P/E of 8.1, AAPL does seem too cheap to sell. If you have held this long, you might as well give AAPL at least one last shot during the earnings report to deliver some news that can set a foundation for a recovery.
It probably also helps to look at Apple more as a trading vehicle than an investment until the news flow indeed improves. To that end, I am providing an update of both the Apple pre-earnings trading model and the daily trading model in this post.
First, the pre-earnings trading model suggests that AAPL is a screaming buy (imagine that). Since 2007, Apple has always traded up on the day after the April earnings report. This includes a huge surge last year that kicked off this earnings trading model with a bang.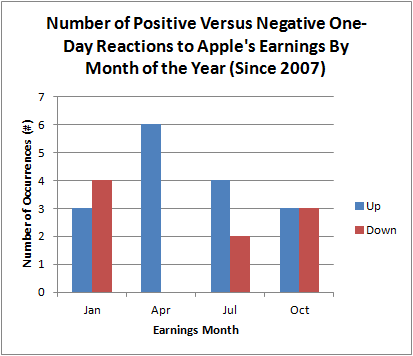 Number of Positive Versus Negative One-Day Reactions to Apple's Earnings By Month of the Year (Since 2007)
Starting in 2011 and 2012, Apple has shown an increasingly strong inverse correlation between price changes going into earnings and the price the day after earnings. This inverse correlation is most prevalent for the April earnings report. At the time of writing, Apple's 7-day and 14-day average daily price changes are -1.2% and -0.5%. All that is left is to see whether Apple will close down on the 23rd.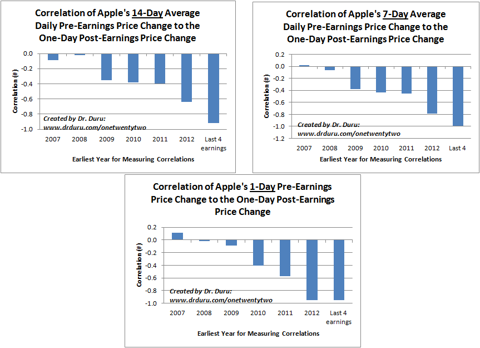 Correlation of Apple's Daily Pre-Earnings Price Changes to the One-Day Post-Earnings Price Change
When I saw these relationships last year, I was astounded and pounded both fists on the table to buy Apple aggressively. Admittedly, Apple was also still in a bullish breakout and uptrend that made it a little easier to make such proclamations. This time, in deference to ambivalence, I will not insist Apple is a buy. However, I am going into earnings with a call spread (left over from last week's trading) to stick with the principle of playing the odds wherever they point, even if for just one day.
Apple's persistent and virulent downtrend has had a notable impact on the daily trading patterns of the stock. This year, Apple tends to end the week poorly and start the week poorly. The main positive change is that down Mondays are typically followed by rally Tuesdays. Notably, Tuesdays tend to feature sell-offs after a Monday rally (so Apple will very likely close down ahead of Tuesday's earnings given Monday's 2.1% rally). When Apple rallies 1% or better on the day, the market tends to sell Apple shares the very next day, except on Mondays and Fridays. All these relationships are shown in the charts below.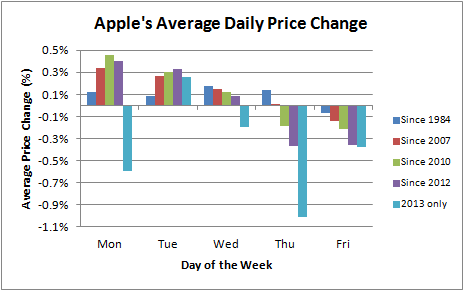 Apple's Average Daily Price Change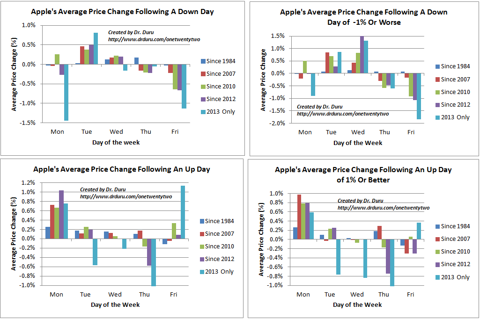 Apple's Average Price Change Following Various Scenarios
The trading patterns in Apple are as distinct as the current short-term downtrend. While playing these patterns, it is always important to keep in mind that one day, the patterns may (should?) end and give way to new patterns. In that spirit, I try to update these data at least once a quarter to facilitate any new assessments. As I have done with other short-term trading models, I also plan soon to apply data mining/machine learning techniques to increase the rigor of this analysis and to incorporate other predictors and scenarios.
In the meantime, sit back, and brace yourselves for Apple's earnings. It promises to be big - after-hours, after the open, and/or in the days and weeks ahead.
Be careful out there!
Disclosure: I am long AAPL. I wrote this article myself, and it expresses my own opinions. I am not receiving compensation for it (other than from Seeking Alpha). I have no business relationship with any company whose stock is mentioned in this article.