SanDisk (SNDK) reported its Q1 revenue ended in March rose 11% y-o-y and 13% q-o-q to $1.34 billion. The company delivered an EPS of 84 cents against analysts' expectations of 79 cents. Overall the results have been impressive. SanDisk's CEO said:
Our SSD products drove 20 percent of sales and we delivered a record first quarter retail revenue. Our strong results reflect an improved product mix and continued favorable industry supply and demand conditions. We believe our position in enterprise and client SSD markets, differentiated retail brand and continued focus on profitable growth provide us with solid momentum for continued gains in 2013.
SanDisk is an emerging player in the SSD (solid state drive) game. The company's SSD sales made up approximately 10% of its total revenues in 2012. In this article I will dig deeper into SanDisk's long-term prospects in SSDs, while offering an analysis on SanDisk's relative valuation.
SSDs: SanDisk's New Growth Catalyst?
SanDisk's combined sales of Client and Enterprise SSDs tripled y-o-y in the most recent quarter, according to the company management. In the client market, SanDisk has begun shipment of new 19-nanometer SSDs to the retail and B2B channels. SanDisk expects it will continue to gain share and momentum in this market.
SanDisk says it's well positioned to benefit from 5x5 caching and standalone SSDs, both of which are supplied to the vast majority of leading PC OEMs. Its Enterprise SSDs also posted strong y-o-y and sequential growth, setting a second consecutive record for quarterly revenue.
"In the first quarter, for the first time, the majority of our Enterprise SSD revenue was derived using captive memory supply," CEO Sanjay Mehrotra said. "These products are built with our 24-nanometer memory, and we expect to launch our next-generation SaaS and PCIe SSDs manufactured on our 19-nanometer technology in the second half of this year."
SSDs vs. Hybrids vs. HDDs
Although SSDs are the newest forms of secondary storage, they've not yet gone mainstream. Hybrid drives are more popular, particularly in the consumer market, because of their cost effectiveness.
It's well known that Seagate (NASDAQ:STX), SanDisk's no. 1 competitor in the secondary storage market, has been manufacturing its third generation 2.5-inch Momentus XT hybrid drive for quite some time. A hybrid 5mm drive is a very good fit for Ultrabooks and tablets, offering near-SSD speed and 500GB or more capacity at substantially less than SSD prices. Moreover, Seagate has begun to ship the world's first 4TB hard drives that feature 1TB platters. Seagate says that the four platter design is one that allows for the highest performance possible, while doubling capacity and reducing cost.
Western Digital (NYSE:WDC), another player in this niche market, recently unveiled its new hybrid solid state technology known as SSHD at the CES this year. The new tech features the speed of a decent SSD, but the capacity that a mechanical HDD would feature. On top of that, Western Digital owned HGST (formerly Hitachi Global Storage Technology, but now a division of Western Digital) has recently brought out a new line of 12Gb/s SAS SSDs based on MLC flash. These are a part of the company's UltraStar line products. Whereas HGST's first-generation UltraStar SAS SSDs used SLC flash, the new SSDs are based on 25nm MLC flash but offer the same warranties as HGST's prior generation, according to a new report by The SSD Guy.
SanDisk's Relative Valuation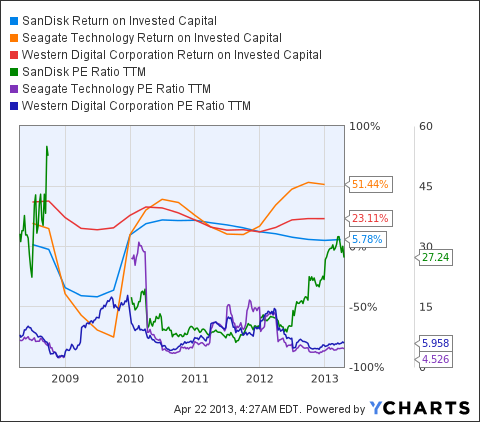 SNDK Return on Invested Capital data by YCharts
SanDisk's ROIC stands at 5.78%, compared to Seagate's 51.44% and Western Digital's 23.11%. Against this, SanDisk is getting a PE of 27.24, compared to Seagate's 4.526 and Western Digital's 5.958. Since SanDisk is an established player in the smartphones game, which is a high growth market, SanDisk enjoys such an astronomically higher relative valuation.
It's clear that the SSD market will take time to mature. Meanwhile, SanDisk will face fierce competition not only in the SSD market, but in the smartphones and tablets market as well. I don't think SanDisk's economic moat justifies its rich valuation.
Disclosure: I have no positions in any stocks mentioned, and no plans to initiate any positions within the next 72 hours. I wrote this article myself, and it expresses my own opinions. I am not receiving compensation for it (other than from Seeking Alpha). I have no business relationship with any company whose stock is mentioned in this article.