ARM Holdings (NASDAQ:ARMH) delivered a strong quarter, hitting $263M in revenues against its forecast of $250M, and seeing a whopping 58% Y/Y increase in (non-IFRS) EPS and operating margin thanks to significant operating margin leverage of the firm's royalty business. While shares are richly valued, it appears that the growth that Wall Street is expecting on both the top and bottom lines is indeed coming to fruition as ARM increases its penetration into various segments of the low power processor market, including smartphones, tablets, and micro-controllers. While I believe that this is all well priced in, and I would still have trouble recommending it as a long at these levels, the short case has become much more difficult to justify at this time in light of the likely momentum this solid quarter is likely to engender.
The Good
During the quarter, ARM signed 22 processor licenses, one ARMv8 architecture license (this means some company plans to design its own processor cores around ARM's 64-bit instruction set), and 7 ARMv8 processor licenses (Cortex A57/A53). The firm also signed 3 low power graphics IP licenses, which helps to bolster the firm's strategy of attempting to take more dollar content share in smart devices. Revenues are up 26% Y/Y, quite a bit above guidance and analyst expectations of ~19% Y/Y and EPS up 58%, are also quite healthy.
High operating leverage given the royalty model is what fuels the fairly high present valuation, as ARM's business model likely does not require too much further R&D and SG&A investment in order to drive further royalty and licensing revenues.
The Okay
While revenues and EPS were up quite nicely, something to note is that average royalty rate per chip was actually flat Y/Y during the quarter, despite deeper penetration into graphics and the adoption of "big.LITTLE". The increase from higher value applications processors was offset by high volume, lower value processors such as wireless connectivity and embedded chips. The models that are built on ARM meaningfully increasing royalty per chip may prove to be incorrect over time, although it is unclear how much of a premium royalty rate ARM will be charging over the ARMv7 (32-bit) architecture licenses. Until we see some hard data here either way from shipping ARMv8 devices, visibility is limited here.
The Bad
Operationally, the company is doing quite well, but I don't like the discrepancy between the firm's IFRS and non-IFRS results (this is like GAAP vs. Non-GAAP in US-Speak). While the operating margin looks incredibly impressive at ~50%+ when share based compensation is excluded, that drops significantly to ~38% when such compensation is included, which means that there was only a ~2% increase Y/Y in operating margin.
What this means is that ARM is, quite smartly, using its inflated currency to pay employees rather than use actual cash. This comes at the expense of nontrivial dilution: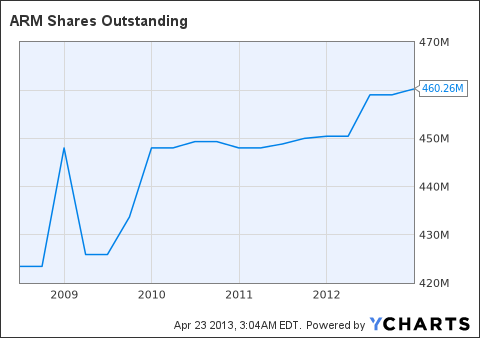 ARMH Shares Outstanding data by YCharts
But as long as the company keeps hitting/exceeding its revenue targets, investors will continue to keep the shares riding high, further incentivizing use of shares as part of compensation packages and keeping the non-IFRS results looking much healthier than the IFRS ones.
Conclusion
At the end of the day you are still looking at a $20B+ market capitalization company that is on track for its first $1B year and maybe hopes to earn $400M in net income. This isn't chump change, but things will have to keep going right for the chip IP firm in order for this premium valuation to be maintained over the next couple of years. While the mobile space is still growing rapidly, and while there is still no meaningful competition in terms of market share in ARM's high value spaces today, there are still the looming threats of both Intel (NASDAQ:INTC) and Imagination/MIPS longer term.
That being said, us bears have to eat crow as I expect a new 52-week high is just around the corner.
Disclosure: I am long INTC. I wrote this article myself, and it expresses my own opinions. I am not receiving compensation for it (other than from Seeking Alpha). I have no business relationship with any company whose stock is mentioned in this article.
Additional disclosure: I am short ARMH, but hedged by having sold puts against the position.