On Thursday Acacia Research (NASDAQ:ACTG) released their first quarter earnings and promptly saw their market cap drop 25%. While the quarterly numbers may certainly look weak on paper, investors should note that this was the second highest quarter in the company's history and it serves to illustrate the difficulty of trying to value Intellectual Property monetization companies on quarter over quarter comparisons.
Investors may be better served to use the same metric that the company uses, a rolling 12 month growth figure. This eventually will look at the full year end which I am expecting to show significant growth over last year's record $250M in revenue. Let's look at what the growth looks like using the TTM method and just the year end number. In 2009 revenues were $67M, while in 2010 they climbed 95% to $131M. In 2011 they grew 40% to $184M, followed by 36% to $250M in 2012. While along the way there were certainly quarters that did not show quarter over quarter growth, the yearly trend is pretty evident and another record year is certainly possible.
Chart courtesy of stockcharts.com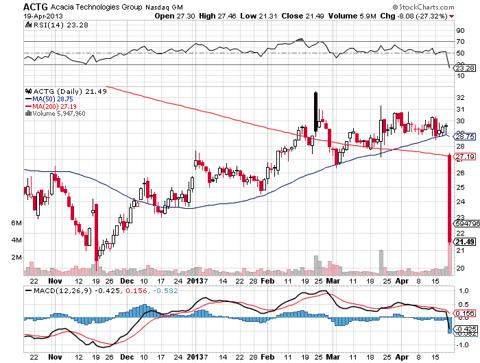 While it is not easy to predict revenue fluctuations with this type of company, there were some key hints in the first quarter conference call that many may have missed. From the first quarter transcript of the conference call:
Paul Ryan - Chief Executive Officer
I would now like to respond to questions we are asked most frequently by analyst and shareholders. The first question we are usually asked is what is your visibility for future revenue growth.

Our answer is that historically there has been a very high correlation between our growth in new assets under management and our subsequent revenue growth with 12 to 18 months lag to begin generating revenues. While our totally numbers are uneven, we have always seen very significant and consistent growth in annual revenues based on the previous 18 months of growth in new assets under management.

Because we have added a record number of new assets during the past 18 months, we expect to generate continued revenue growth. In addition, a number of the new portfolio as we now have under management in the technology, medical technology and automotive sectors have very significant revenue opportunities based on the depth and breadth of the patent coverage and the size of the market these technologies address.
Why is this of even more significance than usual? Fifteen months ago Acacia made its largest purchase of IP in its history when it bought ADAPTIX for over $150M.
ADAPTIX, a pioneer in the development of 4G technologies for wireless systems, is an award-winning technology company long recognized in the industry as one of the first developers of cutting edge 4G wireless systems. With patents filed as early as 2000, ADAPTIX's research and development efforts have resulted in one of the most significant intellectual property portfolios focused on 4G technologies. With its rapidly growing portfolio of 230 issued and pending patents in 13 countries, ADAPTIX's innovations extend across a broad range of 4G technologies including OFDMA and MIMO.
While this was a huge purchase for the company as noted in the above quote, the typical payback window really starts 12-18 months after acquiring portfolios. From the conference call:
Clayton Haynes - Chief Financial Officer
Sure. I mean, we've got data obviously, at ADAPTIX we invested $350 million and we earn back roughly two-thirds of that in the first three licensees over a period of about 14 months, which is pretty much on target and hopefully we will be in the money on that portfolio this year and its one that has revenue opportunities going out for the next decade, so that's how you earn exceptional ROIs that we have done historically with invested capital.
So while the first quarter comparisons may not look good, Acacia continues to grow its core areas and it has only just scratched the surface in the monetization of its ADAPTIX 4G intellectual property.
Another company in the space just beginning to make a name for itself and possibly giving investors an early stage opportunity reminiscent of Acacia in its infancy is Marathon Patent Group (NASDAQ:MARA). Led by patent veteran Doug Croxall, partnered with IP Navigation, and having amassed a team of top industry talent, Marathon is setting itself apart from the crowd consisting of companies like VirnetX (NYSEMKT:VHC), Vringo (VRNG) and Worlds Inc. (OTCQB:WDDD). While these and most NPE's are subject to tremendous risk and volatility with investors banking on litigation and the potential prospects of large settlements, Marathon has bifurcated its business model creating multiple revenue streams.
Unlike these others, Marathon has mitigated investor risk associated with the lawsuits so vital to driving revenue for its peers. While it too may engage in litigation and is currently as evidenced by its recent suit against Sony Computer Entertainment America LLC, Siemens Energy, Inc., CB Apex Realtors, d/b/a Coldwell Banker Apex Realtors, Blue Cross and Blue Shield Association, Juniper Networks (NYSE:JNPR), Inc., Winn Dixie Stores (NASDAQ:WINN), Inc., and Dell, Inc. (NASDAQ:DELL), it's not all or nothing prospects for investors. Investors recently saw this risk play out first hand when VHC shares tumbled precipitously upon news it lost its patent infringement case against Cisco (NASDAQ:CSCO) because the jury says it didn't violate them.
Marathon stand alone in providing their clients advice and services that enable them to realize financial and strategic return on their own IP rights. They serve a wide range of patent holders and technologies from Fortune 500 to independent inventors. Clients are served through its two complementary business units: their IP Research & Services Center, which helps to identify and manage patents, and their IP Licensing and Enforcement Group, which acquires IP assets, partners with patent holders, and monetizes patent portfolios through actively managed patent licensing campaigns.
Late Monday, the company added to its recent growing list of accomplishments when they announced they had secured revenue generating patents via an acquisition of CyberFone Systems and that their partner and patent licensing leader IPNav will continue to manage the licensing campaign. The patents cover claims that provide the right to practice specific transactional data processing, telecommunications, network and database inventions, including financial transactions. The portfolio, which has a large and established licensing base, consists of ten United States patents and 27 foreign patents and one patent pending. The patent rights that cover digital communications and data transaction processing are foundational to certain applications in the wireless, telecommunications, financial and other industries. The portfolio cites and has been cited in patents owned by IBM, Cisco, Hitachi, Siemens (SI), NEC and in 437 other patents issued or pending in the United States.
"Marathon Patent Group believes that the CyberFone portfolio of performing assets enables us to reduce investment risk and establish performance," said Doug Croxall, Chief Executive Officer of Marathon Patent Group. "The transaction, in conjunction with our recent acquisition of the Bell Labs patent from MOSAID Technologies, lends credence to Marathon's IP growth strategy, and provides a strong foundation for us to build upon."

"IPNav is pleased to be able to serve Marathon Patent Group in supporting the CyberFone Systems licensing program," said Erich Spangenberg, Chief Executive Officer of IPNav. "This patent portfolio is broadly infringed and a proven revenue-generator that will continue to provide significant income for quite some time." "We see the difference in what Marathon Patent Group is building and we are elated to be receiving equity in Marathon as part of our compensation," said Spangenberg.
Investors can only be encouraged that through this transaction, IpNav and Spangenberg are adding to their existing sizeable position in Marathon.
So whether you invest in Acacia, Marathon Patent Group, or one of the other mentioned patent monetization companies, just be mindful of the fact it may be difficult to value the companies on a traditional quarter to quarter valuation matrix. Instead, consider looking at a longer term view like in the case of Acacia, which may provide investors with a very good buying opportunity over the next several months prior to the next earnings cycle.
Disclosure: I am long MARA. I wrote this article myself, and it expresses my own opinions. I am not receiving compensation for it. I have no business relationship with any company whose stock is mentioned in this article.