On the heels of Microsoft's (NASDAQ:MSFT) recent earnings announcement, I'd like to share my views on a company which is certainly not lacking in coverage; it is one of the most widely followed names on the Street and has also at times been one of the most controversial. However, in my opinion, too much emphasis is placed on trying to out-predict consensus views on the company's intermediate-term outlook (which is very difficult to do consistently) and too little is placed on what Microsoft can do today to create value for shareholders.
This article will explain why I feel shares could be undervalued by 10-15% right now, and how they could be worth 60%-110% more over the next 5 years.
"Doing the same thing others do exposes you to fluctuations that in part are exaggerated by their actions and your own…"
- Howard Marks, "The Realists Creed," May 31, 2002
The above quote has proven particularly insightful to me over the years, both in finance and in life. The concept of having a contrarian perspective is one that investors often aspire to, but all too often they wind up following the trend. Being a contrarian doesn't always translate to buying a stock that is particularly out of favor; it often means having a viewpoint that differs substantially from that of the "herd."
Looking beneath the surface of short-term earnings predictions and margin assumptions you will find the elephant in the room, which is that Microsoft has a vastly under-utilized capital structure that can be leveraged to create major value through share buybacks and additional dividend increases. With the recently announced departure of CFO Peter Klein sending shares up 3% post announcement and a new position by an activist investor, a fresh perspective may be just what Microsoft needs to boost it's sluggish performance.
Microsoft - Past Successes, Present Opportunities (Better Late than Never)
The world has changed several times over since Bill Gates and Paul Allen founded Microsoft in 1975. Microsoft Windows enjoyed a near monopoly in the PC market during the 1990's, capturing roughly 90% market share in the space. Society is at another inflection point today. Technological advances over the past decade are facilitating huge growth in mobile computing, with wireless data traffic expected to grow 66% per year over the next five years.
Microsoft has unquestionably fallen behind the trend in mobile and is still trying to adapt to a declining PC market, falling behind the likes of Apple (NASDAQ:AAPL) and Samsung (OTC:SSNLF) in the smartphone and tablet markets. The silver lining here is that the mobile and cloud markets have expanded dramatically, creating opportunities for MSFT to capture additional revenues in the space. Microsoft still maintains a solid presence in traditional PC markets, with a stranglehold on Desktop Operating System usage.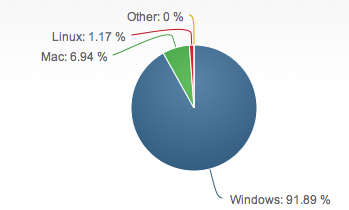 Source: netmarketshare.com
In their recent earnings report, CEO Steve Ballmer stated "The bold bets we made on cloud services are paying off as people increasingly choose Microsoft services including Office 365, Windows Azure, Xbox LIVE, and Skype. While there is still work to do, we are optimistic that the bets we've made on Windows devices position us well for the long-term."
While it is critical that Microsoft deliver on its goal to establish a Windows presence across PC, tablet, phone, server and cloud platforms, the company should benefit from its entrenchment in traditional platforms and strong foundation with long-standing clients and end-users.
Recent Financial Trends
On April 18th, Microsoft announced quarterly revenue of $20.49 billion for the quarter ended March 31, 2013. Operating income, net income, and diluted earnings per share for the quarter were $7.61 billion, $6.06 billion, and $0.72 per share. Operating margin came in at a respectable 37.2%. Cash equivalents were roughly $74.5 billion. These results were largely in line with Wall Street consensus estimates. Commenting on results, CFO Klein stated that "Our diverse business continues to deliver solid financial results, even as we navigate the evolving device market. Looking ahead, we will continue to invest in long-term growth opportunities to drive our devices and services strategy forward and deliver ongoing value to shareholders."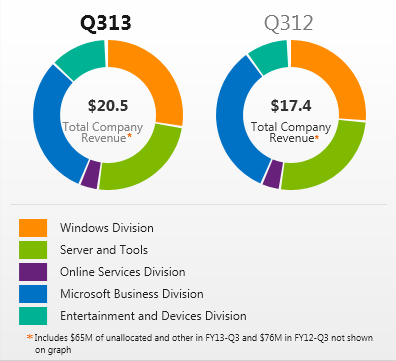 Source: Company website
Microsoft has a long history of generating respectable financial results. Over the last 10 years, annual revenues have grown from $28 to $70 billion, a 16% average annual increase. Annual earnings before taxes have grown from $7.8 to $22 billion, an 18% average increase. Basic earnings per share have grown from $0.50 to $2.02, a four-fold increase.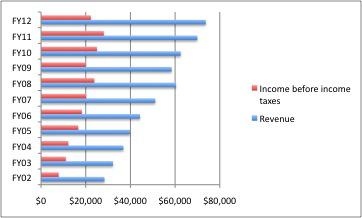 Source: Company financial statements
Interestingly, over this time, the stock is only up around 3.5%, versus the Nasdaq which has risen 119%. Clearly, multiple contraction has played a major role in Microsoft's underperformance...

Current Valuation is Attractive
Microsoft currently trades at less than 11X current year consensus EPS of $2.842 and approximately 10X 2014 EPS estimates of $3.10 (Source: Bloomberg). However, subtracting the $9.37/share in cash held on the balance sheet, MSFT is actually valued at around 7.6X 2013 EPS estimates. If we were to apply a hypothetical ex-cash multiple of 9X current year EPS and add back the cash per share, I would propose shares should be worth $35.

Source: Mirus Capital Advisors, April 2013 Monitor
With a market cap around $248 billion, Microsoft is valued at roughly 8X 2012 EBITDA of $30.9 billion, a slight discount to the blended valuation of the technology sector aggregate of 8.5X. Again, if we were to exclude the $75 billion cash position, the company is being valued at $173 billion or 5.6X trailing EBITDA. If we were to apply even a conservative 7X trailing EBITDA multiple and add back cash, the company would be valued above $290 billion, which would equate to a share price of approximately $34.70.
My fair value estimate for shares at today's level without any additional catalysts is $35, given the above reasoning. This represents a 13.5% premium to today's closing price.
Recent Events Signal Potential Catalyst
On April 22nd, it was reported that ValueAct Capital, a $12 billion activist hedge fund, has disclosed a $2 billion stake in MSFT shares. This represents a sizeable position for the fund, which describes its investment goal as being able to "work productively with management and or the company's Board of Directors to implement a strategy or strategies that maximizes the returns for all shareholders." While the investment represents less than 1% of the outstanding float, it still makes ValueAct a top 15 shareholder.
This follows the recent announcement last Thursday that CFO Peter Klein, an 11 year veteran of the firm, is planning on resigning to spend more time with his family.
As I mentioned earlier, Microsoft has huge untapped potential in its under-utilized balance sheet, including $75 million of cash equivalents. While CEO Steve Ballmer has faced much public scrutiny from the likes of hedge fund manager David Einhorn for falling behind competition in mobile and cloud, I feel that the company's capital allocation policies warrant the same amount of criticism from shareholders who have seen minimal returns over the past decade. While ValueAct has described their investment as "fundamental" in nature and cited the company's potential in growth markets like cloud computing as the basis for investment, I would not be surprised at all if the subject of capital deployment comes front and center over the next year or so.
Capital Allocation to Unlock Value
Late in 2008, the Board authorized a repurchase of up to $40 billion worth of outstanding shares over 5 years. Of this amount, roughly $8.2 billion remained as of June 30 2012 with an expiration date of September 30 2013.
Microsoft has a market capitalization of roughly $248 billion, with about $75 billion of cash equivalents on the balance sheet. The company has a minimal debt burden and generates roughly $30 billion in free cash flow per year. With yields on investment grade corporate debt near all-time lows, Microsoft could borrow at 3-4% depending on the maturity and terms of the issuance. Even at historically low valuations of around 10x forward earnings, the cost of equity is meaningfully higher, presenting an opportunity to recapitalize the balance sheet and repurchase a meaningful amount of shares, lowering the overall cost of capital and rewarding shareholders in the process.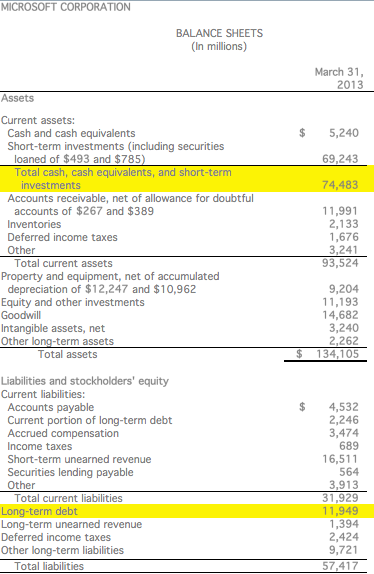 Source: Company financial statements
Let's assume that Microsoft were to borrow $25 billion, taking the proceeds as well as cash-on-hand to repurchase $100 billion of their stock (2.5X the previous repurchase authorization). With free cash flow of $30 billion, this amount of debt is still very modest. At today's share price of around $31, that would equate to roughly 3.2 billion shares repurchased out of the 8.4 billion still outstanding. For argument's sake, we will simply assume that the stock will be bought at a price average equal to today's value.
Right now, MSFT is valued at $248 billion, or 8X 2012 EBITDA of $30.9 billion.
With a reduced share count of roughly 5.2 billion shares outstanding, a $248 billion valuation would equate to a share price around $48, a 60% premium to today's price.
Of course, it's not practical to assume the buyback would be completed in one year's time. Let's assume that shares are repurchased over the next 5 years. Let's also assume that Microsoft's EBITDA grows at a modest 5% annually over this time frame to $39.43 billion in 2018. Assuming a valuation multiple of 8X EBITDA, we would arrive at a target value of $307.6 billion.
With a reduced share count of roughly 5.2 billion shares outstanding, a $307 billion valuation would equate to a share price around $61, a 106% premium to today's closing price.
The Bottom Line
While management has left much to be desired in terms of vision and capital allocation over the last several years, the fact remains that Microsoft is a profitable, cash-rich company that is righting the ship and positioning itself for the next stage of growth in mobile and cloud computing. Shares seem attractively valued from a historical Price-to-Earnings perspective and offer good relative value to the sector. A healthy 3% dividend yield allows investors to be "paid while they wait" for more meaningful capital appreciation. The balance sheet would provide some optionality for future transforming events including return of capital to shareholders through buybacks and dividends, as acquisitions of this size would be unlikely in my opinion.
In closing, I view shares as attractive for those who can own for the long-term. Look past the quarterly earnings and behold the potential...
Disclosure: I have no positions in any stocks mentioned, and no plans to initiate any positions within the next 72 hours. I wrote this article myself, and it expresses my own opinions. I am not receiving compensation for it (other than from Seeking Alpha). I have no business relationship with any company whose stock is mentioned in this article.
Additional disclosure: I am a fiduciary over client accounts which are currently long MSFT at various prices. While I have no plans to make any additional investments in shares over the next 72 hours, this may change due to a number of different factors.