Introduction
Transocean (NYSE:RIG) and Seadrill (NYSE:SDRL) are well known names in off-shore deep sea oil and gas drilling. The former is the largest company to conduct such operations, while Seadrill is not far behind. Over the years, the two companies have transformed their fortunes and have witnessed massive expansion in their operations due to the increased demand of oil and gas from the global economy. Recently, a combination of unfavorable results and activism by investors on the stock market has led to a lot of interest in the two stocks. In this article, I aim to determine the best deep sea drilling stock addition to your portfolio.
Seadrill announced that it has secured a three-year, $662 million contract for the newly built West Neptune drillship. The vessel, to be delivered from Samsung Heavy Industries in June 2014, will be employed in the Gulf of Mexico and Bluewater will hold an option for a one-year extension. The operator leasing the rig plans to use it in the Gulf of Mexico and has an option for an extra year, if necessary. Earlier in the month, Seadrill also acquired 66.23% of the total outstanding shares of Asia Offshore Drilling Limited, which would help boost its cash flow after the $2.9 billion tender rig division sale to SapuraKencana Petroleum.
Transocean, on the other hand, has a bit of trouble on its hands. Its Aker Drilling transaction still haunts its management, and then there's investor-activist Carl Icahn's strong demands involving a $4 per share dividend ringing the bells for all of Transocean's investors. Icahn claims that the company destroyed approximately $11 billion in shareholder value by buying Global Santa Fe and Aker. Furthermore, revenue growth of the company has been stagnant for the past 3 years at an average of $9.5 billion, while analysts expect revenues to grow only around 8.5% over the next two years.
Stock Performance
Before analyzing the stock price performance of the two companies, I must mention that this is an extremely cyclical industry, which makes interpreting past stock patterns less reflective of future trends due to the industry's volatile nature. That being said, the ongoing management issues at Transocean make matters worse for investor confidence and stock performance. In comparison to the S&P 500 and Dow Jones Industrial Average, Transocean has performed poorly over the past 5 years with the stock's worth decreasing by 69.51%. Furthermore, the stock has been unable to keep up with the market trend and is showing a slow, continuous fall away from the market's pace. After suffering from the 2009's global fall off in oil demand, Seadrill has made massive gains throughout 2010, 2011 and 2012 to outstrip the market averages by 25.57%. While currently on a downturn, it can be attributed to the cyclical downturn of the season.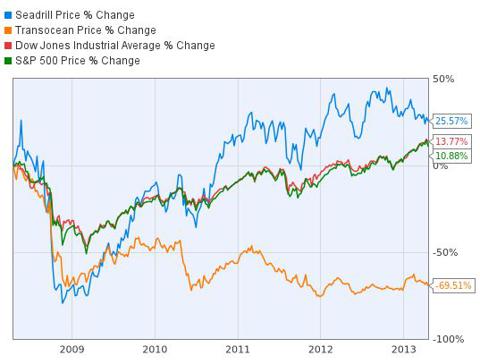 From the perspective of only a year ago, both stocks are venturing into a negative percentage and have shown minimal gains throughout the year. Unlike Transocean, the positive aspect for Seadrill in this respect is the 7.08% yield it offers on its stock. Transocean and Seadrill have beta values of 1.21 and 1.99, respectively, representing high volatility with respect to market changes.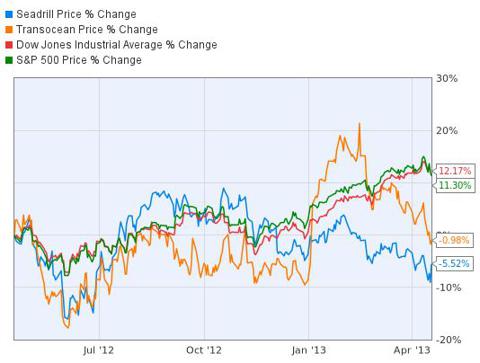 Financial Review
Seadrill has a 52 week range of $31.37 to $41.95 and currently trades at $35.28. Transocean's 52 week range starts from $39.32 and ends at $59.50, while it currently trades at $48.48.
There are many ways to estimate the fair stock value of a company. For this purpose, we applied the discounted-earnings-plus-equity model developed by EFS Investment analysts to these competitors.
Indicator

Price/Earnings ttm

17.3

21.1

Price/Book

2.7

1.1

EPS Growth

(3 Year Avg.)

0.0

0.0

Dividend Yield, %

7.08

-

Debt/Equity

1.5

0.7

Return on Equity

15.9

-1.4

Current Price

$35.99

$48.52

$30-$43

$67-$111

Stock Valuation

Fairly Valued

Undervalued

Upside Potential to Reach a Fair Value

--

39%
Data from Morningstar and Financial Visualizations on April 23, 2013
The calculations based on this model allow us to suggest the following: currently, SDRL stock is fairly valued, whereas RIG stock is undervalued. EFS's fair stock price valuation indicates that Transocean is trading at the attractive discount.
Transocean is valued more than Seadrill due to the higher market capitalization, giving it the title of being the world's largest offshore oil and sea drilling company. The industry average P/E is 25.2, which makes Seadrill and Transocean look undervalued compared to their competitors. With regards to EPS, the situation has been torrid for both companies. Seadrill has had minimal EPS growth over the past three years, while Transocean has registered a negative EPS for the past two years.
Seadrill's dividend offers significant values at a time when the industry is going through a difficult period. The dividend sets the company apart from its competitors as it offers a 7.08% yield on its stock. This is very attractive compared to Transocean, which is not offering a dividend at this moment. If investor Icahn succeeds in getting a dividend approved, a yield of 4.5% should be expected. With a total debt of $13 billion, I don't think Transocean has the balance sheet which would allow it to pay a $4 per share dividend at a time when its revenue growth has been stagnant. Despite the company's inability to grow, its cash flow looks stable. However, Seadrill's debt/equity ratio is extremely alarming and will become worse as it gives up a fundamental amount of its assets to SapuraKencana.
Make or Break for Investors
Keeping in mind the prospect of Transocean's investors receiving a dividend in the future, I remain pessimistic due to the growing negativity around its board and operations. Unlike Mr. Icahn, I like to hold stocks for long periods of time. With the involvement of Icahn, it is assured that he will cut and run as soon as he gets his returns. Furthermore, Transocean may seemingly present a good opportunity to buy for what might be a profitable future. However, there are just too many uncertain variables involved in Transocean's possible success, which is why I suggest against buying into this company.
Seadrill, on the other hand, has been making headway for a sustained future, as many of its new rigs have already been contracted out. Using money from the sale of tender rigs, the company can grow exponentially in the next two years. Furthermore, the expectation of a dividend clearly makes it an investor favorite. In my opinion, Seadrill has a lot of potential for the coming year and keeping in mind the news and financials analyzed in this article, I am providing a buy rating for it.
Morningstar provides the following ratings for the two stocks: SDRL - 1/7 buy, 5/7 hold, 1/7 sell. RIG - 6/8 buy, 1/8 outperform, 1/8 hold, 1/8 sell.
Bottom Line
As long as Seadrill can capitalize on its market position - as suggested by the sale of tender rigs and contracts for its new rigs, it will be able to reel in a higher amount of revenue and boost profits. I can only hope that the company further increases its payout ratio for investors.
Disclosure: I have no positions in any stocks mentioned, and no plans to initiate any positions within the next 72 hours. I wrote this article myself, and it expresses my own opinions. I am not receiving compensation for it (other than from Seeking Alpha). I have no business relationship with any company whose stock is mentioned in this article.