The bond market is often considered a much more stable and senior partner to the stock markets. For example, I have seen claims the bond market is twice the size.
So I took a look at an 80+ year history of treasury yields and inflation numbers. Ideally, since a 10-year Treasury is a risk-free asset, you would expect its yield to mainly vary according to future inflation expectations.
When you look at the history however, the error in the bond market's predictions seem quite large! The graph below shows a comparison of 10-year treasury yields against annualized future inflation over the next 10 years, followed by a graph directly showing the error between the two (it's the same data, the latter is just subtracting the red line from the blue in the first graph).
You can see that the treasuries have gone through cycles of over- and under-predicting inflation. The second graph shows this behavior best. Most recently, since the mid-1970s, long treasuries have paid much better than inflation, although the gap shrinks all the way to the last points in 2003 (the last time at which we know the future 10 years of inflation).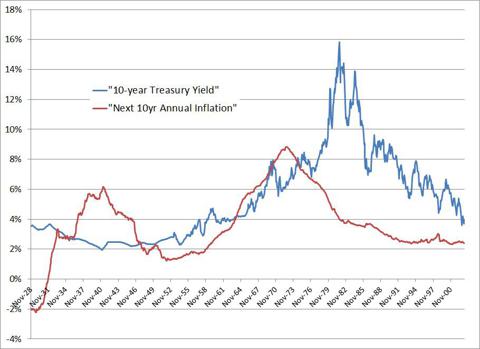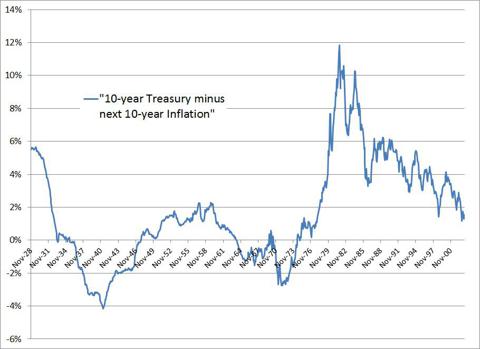 An additional factor to consider is that long treasury rates have never, to my knowledge, been manipulated in the way that the US government is manipulating them today. So if anything, the error where the treasuries have been paying much higher than future inflation in the past ~30 years is more likely to swing the other way by the time we can draw points for the graph at 2011, 2012, or 2013.
The only conclusion I can reach from this analysis is to stay away from long government bonds, which includes ETFs like TLT, IEF, ZROZ, etc.
Disclosure: I have no positions in any stocks mentioned, and no plans to initiate any positions within the next 72 hours. I wrote this article myself, and it expresses my own opinions. I am not receiving compensation for it (other than from Seeking Alpha). I have no business relationship with any company whose stock is mentioned in this article.