In my recent article titled 5 CEFs to Fill in the Cracks of Your Income Portfolio, I identified five unique closed end funds (CEFs) that income investors could use to diversify their portfolio. These five were just the tip of the iceberg of many great funds that are available. In this new article we will dive deeper into the CEF universe and identify two more funds that offer a unique blend of income strategies.
Eaton Vance Risk-Managed Diversified Equity Income Fund (NYSE:ETJ)
In our first article we focused on the Eaton Vance Tax Advantaged Global Dividend Income Fund (NYSE:ETG). ETG invests primarily in dividend-paying common and preferred stocks, and uses a good amount of leverage to distribute a high level of dividend income. Let's stay with the Eaton Vance family and focus on another income CEF. Unlike ETG, this is an investment that deals with arbitrage and taking advantage of a unique set of circumstances. The fund in question is named the Eaton Vance Risk-Managed Diversified Equity Income Fund. Before continuing I must thank a good friend of my named Todd Johnson of DividendLab.com for first bringing this fund to my attention.
At first glance ETJ does not seem that special of a fund. ETJ is a diversified, non-leveraged portfolio of common stocks coupled with out-of-the-money short-dated S&P 500 index put options. ETJ also sells out-of-the-money S&P 500 index call options of the same term as the put options with roll dates that are staggered across the options portfolio. The fund currently sells at a 10.3% discount to net asset value, and has a distribution rate of 10% that is paid out on a monthly basis. The fund's top holding are presented in the chart below: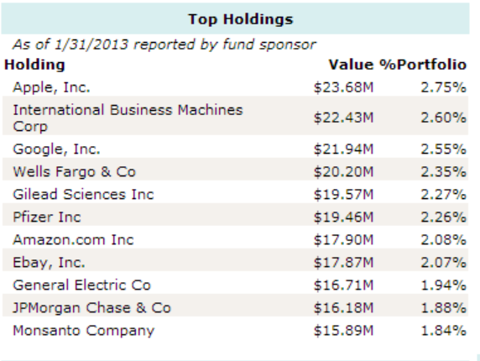 So what makes ETJ so special? The answer to this question is actually multi-faceted, but the biggest reason that investors should consider ETJ revolves around an entity known as the Brooklyn Capital Management LLC (BCM) and their closed end fund named the Special Opportunities Fund (SPE). SPE employs an opportunistic investment philosophy with a particular emphasis on investing in discounted closed-end funds, undervalued operating companies, and other attractive special situations including risk arbitrage and distressed securities. BCM owns more than 8% of ETJ and it is one of the fund's largest holding. As one would expect, BCM purchased most of its ETJ shares at a large discount to net asset value which was reported to be in the mid-teens.
Once BCM became major shareholders things started to get interesting. BCM started to express concerns that the shares of ETJ were trading at too much of a discount to net asset value. In response the Board of Trustees announced a plan to buy back up to 10% of ETJ's outstanding shares in an effort to address BCM's concerns. Below is the most recent chart that shows the progress of the repurchased shares of ETJ.

These repurchases have seemed to work in that the discount to net asset value has now narrowed to around 10%. This though is not enough for the likes of BCM. They have also suggested that ETJ should pay their dividend on a monthly basis rather than quarterly. In response ETJ's management agreed and now the distribution is done on a monthly basis. Now the question is, will this be enough to bring the fund's shares back in line in the eyes of BCM?
If these plans don't work and the shares don't trade to a single digit discount amount, BCM has stated that they will likely push for further measures to apply pressure. The greatest effort would be when BCM in their latest Special Opportunities Fund Annual Report dated December 31, 2013 stated that they might even push for a liquidity event.
Income investors should now get a better picture of how ETJ can be a very interesting play. The fund is non-leveraged and holds protective index puts, so there exists downside protection in case the markets were to take a tumble. Shares are still selling for a 10% discount and the 10% distribution is being made monthly. On top of that BCM is leading the charge and keeping pressure on management to close the gap on the discount to net asset value. ETJ has many moving parts, but for an income investor this might be one closed end fund that could be worth a closer look.
GAMCO Natural Resources, Gold & (NYSE:GNT)
Another closed end fund that was mentioned in my last CEF article was the Gabelli Global Gold, Natural Resources & Income Trust (NYSEMKT:GGN). This fund was selected as a way for investors to derive income with exposure to gold mining and natural resource stocks. Below are a few charts that show the makeup of GGN according to their annual reports.


Gold's recent price volatility has left many income investors wary of an investment in GGN. That being the case, one alternative gold income play is a related fund named GAMCO Natural Resources, Gold & Income Trust. This CEF is a non diversified fund whose investment objective is to provide a high level of current income. Under normal market conditions GNT will attempt to achieve its objectives by investing 80% of its assets in equity securities of companies principally engaged in natural resource and gold industries, and by writing covered call options on the underlying equity securities. Below are a few charts that show the makeup of GNT according to their annual reports.


At first glance one can see that both funds have a very similar makeup in gold related positions of about 44%. The difference is that GNT has divested into other sectors such as specialty chemicals, machinery and agriculture. GNT also held 13% less U.S. government obligations than GGN. Looking at each fund's top holding one can see that GGN top positions are all gold related while GNT has a mixture of gold, energy and fertilizer companies. That being the case, GNT is less heavily invested in gold producers but still offers exposure to the miners who deal in the yellow metal.
GNT's shares currently trade at par to net asset value. Current distributions are made on a monthly basis, and the yield is 12%. Below is the current distribution history: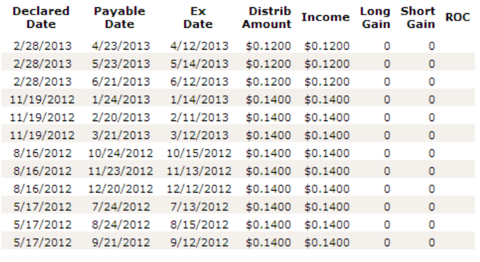 Before buying shares of GNT, income investors should realize the fund's performance over the last year has not been entirely positive. Below is the current chart of GNT's performance over a year's time frame: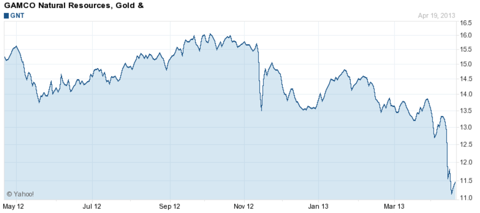 The weakness in the price of gold and other commodities have played havoc with GNT's share price. If one feels that commodity prices will rally in the near future, then GNT's share price should rebound as well. That being the case, income investors looking for exposure to gold and natural resource companies should consider GNT.
In conclusion, both GNT and ETJ offer income investors new and diverse markets which generate cash flow. Although there is risk in any investment, these CEFs offer a unique way in which an income investor could diversify their portfolio.
Disclosure: I am long GGN, ETG, ETJ. I wrote this article myself, and it expresses my own opinions. I am not receiving compensation for it (other than from Seeking Alpha). I have no business relationship with any company whose stock is mentioned in this article.