Over the past few months, gold (NYSEARCA:GLD) has seen a steady decline in its price from $1,744.81/oz in September 2012 to $1,393.25/oz on April 17, 2013. The drop has been significantly sharp in the current month, from the $1,598.3/oz level at the start of the month.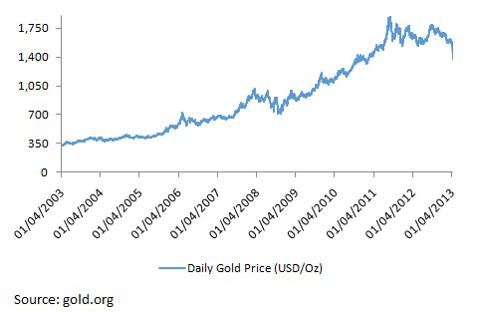 The question now is whether the gold rush is over? In order to answer this question we would have to take a look at multiple factors.
Reasons For The Rise
Gold has always been seen as a safe haven by investors in times of turmoil. Thus, after the 2007-08 crisis, it was expected that investment in gold would cause an increase in its price. However, the levels achieved by gold over the last few years have been unprecedented.
The reason for such a sharp and drastic increase in gold's price is the creation of ETFs. Roughly $150 billion flowed into the gold market via Gold ETFs such as SPDR Gold Shares (GLD), PowerShares DB Gold (NYSE:DGL), ProShares Ultra Gold (NYSEARCA:UGL) and Direxion Daily Gold Miners Bull 3X Shrs (NYSEARCA:NUGT) between 2004 and 2011. What the creation of such ETFs did is provide quick and easy exposure to gold for investors and speculators. Coupled with a major economic downturn, gold prices saw a substantial increase.
Gold prices have historically seen an inverse relationship between interest rates, as can be seen in the graph below. Thus, as the Fed decreased the interest rates in order to improve economic activity, gold prices surged.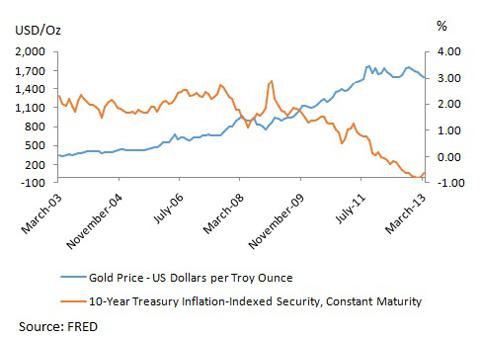 As interest rates fell, investment in the housing sector also dropped and investment shifted to commodities, specifically into precious metals. This huge influx of funds, now through a much simpler and a faster channel in the form of ETFs, pushed the price of gold up. In recent months as mortgage rates increased and as the housing sector revived, gold experienced a fall in its price. This relationship is aptly depicted in the graphs below.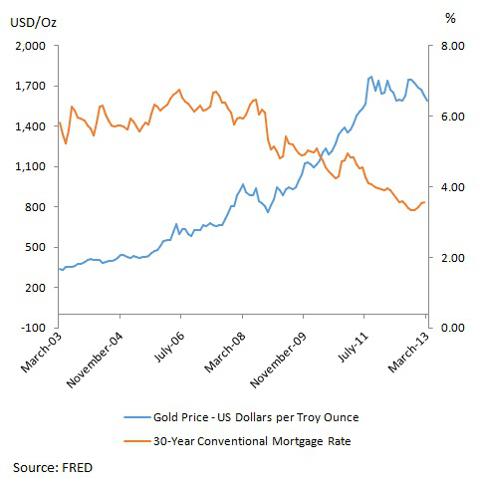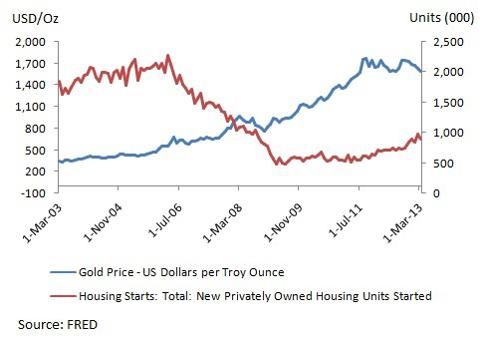 The Future
According to some technical analysts, gold's price has recently achieved a dead cross. What this means is that the general market sentiments have turned against the yellow metal. And according to analysts, gold is likely to ride this negative trend and experience a sharp fall in price, which it did in the first half of this month.

Another big driver of gold price is fear, as determined by the volatility in the stock market. As seen by the graphs above, during the periods of gold price hikes, stock market volatility was very high. And in recent periods stock volatility has fallen, indicating an increase in investors' confidence with regard to stock markets, and consequently gold prices fell. If the stock market continues to provide good returns to investors and if investors' confidence levels remain high, gold prices will continue to fall.
Conclusion
Historically, inflation-adjusted gold prices have remained within a certain range of inflation-adjusted prices of other commodities. As depicted in the graph below, in the past several years, gold prices have completely detached from inflation-adjusted prices of other commodities, thus creating a bubble. In the future I would expect gold's price to fall, bringing the inflation-adjusted gold prices back to its historic range.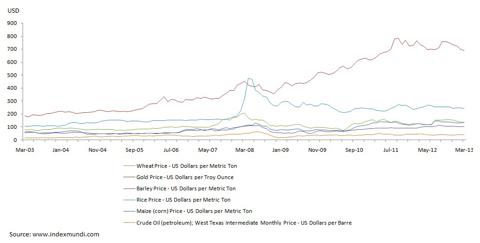 The U.S. economy has recently seen signs of recovery as industry production has risen and the housing sector activity has started to increase. The quarterly real GDP growth also showed improvements rising from negative figures in mid-2009 to sustained positive figures in the recent quarters. The U.S. real GDP growth rate has historically tracked the U.S. leading index and as shown in the graph below, the U.S. leading index has been improving in recent quarters. Thus, it seems likely that the economy would see improvements in the coming periods. As the economy turns around, funds are going to flow out of commodities, specifically precious metals, and into other asset classes such as real estate and stock markets. When this happens, gold's price is going to experience a free fall.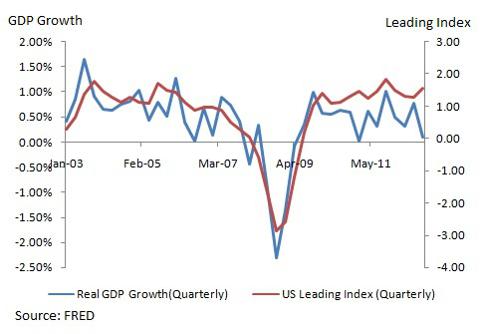 The worsening eurozone crisis would mean a stronger U.S. dollar, and a strong U.S. dollar historically translates into lower gold prices. Thus, based on my analysis I see a negative outlook for gold in the future.
Disclosure: I have no positions in any stocks mentioned, and no plans to initiate any positions within the next 72 hours. I wrote this article myself, and it expresses my own opinions. I am not receiving compensation for it (other than from Seeking Alpha). I have no business relationship with any company whose stock is mentioned in this article.