In a previous article I provided analysis of Bill Gross's PIMCO Corporate & Income Opportunites (NYSE:PTY), and alternatives that didn't require the significant premium to NAV at the time. Once again Bill Gross has selected PTY as a pick for the 2013 Barron's Roundtable and the premium ante has expanded even further to 26.2%. I thought it would be timely to see how the alternative PIMCO funds have done, and update the comparison to PTY. I also found some surprising changes. Leverage and duration have dropped materially since 2011, while returns have been maintained at relatively high levels.
PIMCO Closed End Funds - Performance Update
Below is a performance analysis from LikeAssets covering the period from 1/26/2011 to 4/18/2013. The return numbers include dividends. Each of the funds are also benchmarked appropriately (US Bonds, High Yield Bonds) using the LikeAssets benchmark to get an Alpha value that shows the return margin by which an investor would have beaten a passive fixed income ETF like AGG and HYG.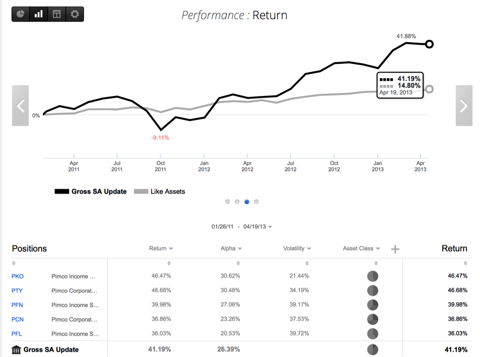 Returns for all the funds have been phenomenal, well above the fixed income benchmarks. At first glance PTY has been the star performer. Why? And can it be sustained?
Why PTY Out-Performed
The table below measures the change in the Premium to NAV from 1/26/11 to 4/18/2013. PTY was already starting from a hefty 10.9% premium, but this expanded further and faster than the other funds with a 15.3% increase to 26.2%. Subtracting the premium expansion since 2011 provides a Net Performance number that tells a different performance story with PTY dropping to 4th place.

Can the Returns Continue - Lower Leverage, Lower Duration
The story gets more interesting if we compare some of the key data for the five funds. Below are two tables, one from January 2011 and one from April 2013. Both came from CEFConnect.com. The significant decline in duration and leverage is noteworthy since yields have remained relatively stable. I associate lower leverage and lower durations with lower risk, but I would also expect returns to decline as well. But the monthly returns have stayed steady while risk has been managed down, at least leverage and interest rate risk. There is a good amount of High Yield Bond exposure in all the funds. I can't tell if credit quality has changed appreciably since 2011.
From 2011 Analysis: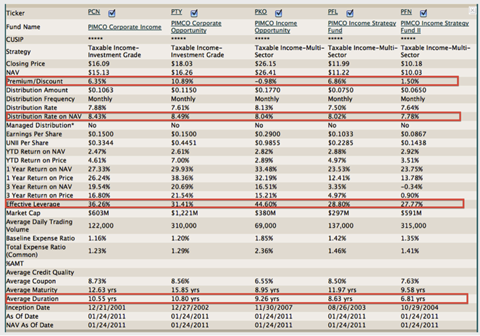 April 18th, 2013 Update
PTY's duration has decreased from 10.8 years to 4.24 years and leverage has gone from 31% to 21%, while the distribution rate has increased from 8.49% to 9.2%. Most of the other funds have had similar changes, reducing interest rate risk and leverage while distributions have increased or decreased by minimal amounts.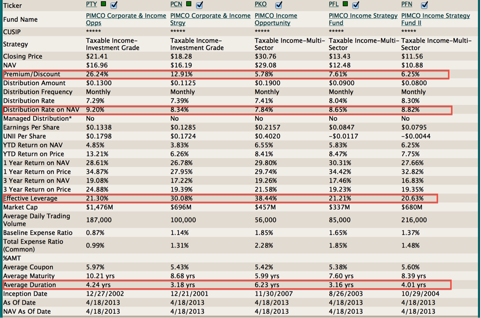 Investing Now - PTY or the Alternative PIMCO Funds
In 2011 I was suggesting that investors consider the other PIMCO funds as viable alternatives. Any of the funds would have done very well, but PTY was the winner due to the incremental premium expansion. As you can see below from the historical chart of PTY's premium to NAV ( from CEFConnect.com), PTY's current premium of 26% is near the historical maximum, and well above the 13.58% average of the past 5 years. I would consider the alternatives, again. BTW, Bill Gross is listed as Portfolio Manager on all the funds.

Disclosure: I have no positions in any stocks mentioned, and no plans to initiate any positions within the next 72 hours. I wrote this article myself, and it expresses my own opinions. I am not receiving compensation for it. I have no business relationship with any company whose stock is mentioned in this article.