Good times are ahead for dividend investors! Readers may react to this headline with puzzlement or amusement because of the very good times we have been experiencing recently. Share prices of big dividend payers like Proctor & Gamble (NYSE:PG), Verizon (NYSE:VZ) and Kimberly-Clark (NYSE:KMB) have equaled or surpassed broad market averages during the current bull market, paying very nice dividends to boot. MLPs have hefty yields, 6-8% or better, and REITs like American Capital Agency (NASDAQ:AGNC) and Annaly Capital (NYSE:NLY) pay well over 10%. In some respects it's been a dividend paradise. For a specific type of investor, however, even better times are ahead. The strategy advocated herein eliminates loss risk, realizes capital gains, and sets the stage for higher income from dividends.
Investors value dividends for different reasons. Some, knowing that half the total return of U.S. stocks over many decades is from dividends, prefer to take profits in this relatively low risk manner. Others enjoy the benefits of DRIP investing and dollar cost averaging. This article is addressed to a third group: Those for whom yield is paramount - for whom maximizing the number of dollars received from dividends is the primary goal. In the next three months these investors, if properly prepared, could increase their income by 10% or more.
There are only two ways yield can go up: 1) an increase in the dividend or 2) a decrease in the stock price. The case for No. 2 is becoming stronger by the day. In the current Dividend Garden of Delights there is a growing sense of unease that something must change. Commentary appears on SA and other business media every day predicting a very different future not far away. The wall of worry is tall and foreboding.
The Setting
If you are betting "it's different this time," that we are entering a golden age based on a new economic paradigm, you can stop reading now. Remaining readers, those who recognize the critical importance of cycles, are concerned about the unprecedented number of metrics that are simultaneously at extremes. This situation cannot hold, and anxiety will grow until the pressure is released. Among the most important extreme conditions are these:
Corporate profits as a percent of GDP are at historically unsustainable levels. Currently at 10%, the long-term average is under 6%. A quote from Warren Buffett in 1999: "In my opinion, you have to be wildly optimistic to believe that corporate profits as a percent of GDP can, for any sustained period, hold much above 6%." Buffett goes on to make a compelling economic, mathematical, and political case for why higher amounts are not possible in that or any other time.
The Federal Reserve, by pushing interest rates to extreme lows, has sent other metrics to extremes as well. Corporate bond rates, from AAA to junk, are extremely low and equity prices are at highs, all as investors desperately reach for income.
U.S. fiscal deficits now and for the foreseeable future at a trillion dollars a year, a level unimaginable just five years ago.
Even more transient measures are also at extremes. Record percentages of companies are reporting negative earnings guidance, according to FactSet. Advisor bullishness, a contrarian indicator, is at a record high.
Readers can add money supply, mortgage rates, margin debt, or any number of other items to the list. When any of these conditions reverts toward normal the change in equities markets is highly likely to be negative, some causative and some correlational. Cases have been made for more benign results, but as John Hussman writes in the context of elevated profit margins, "accounting identities, historical data and simple arithmetic" argue otherwise. Hussman's profit margin chart, reproduced below, illustrates the degree of extremity we are now experiencing.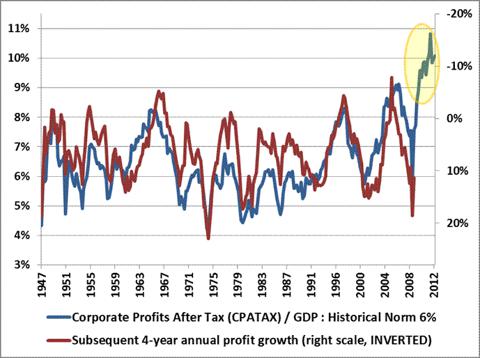 The Strategy
It is time to step away from the frenzy, refocus and regroup. Simply put, sell to increase cash and hold it until extremes are ameliorated and markets settle at a lower level. A number of metrics can identify candidates for selling in the current environment:
Following a meaningful pullback (10% as proposed in a previous article is still on track), the cash can be put back to work in a more focused manner. With the prospect of continued global volatility, candidates for reinvestment are:
Companies whose management has shown a long historical commitment to returning cash to shareholders as dividends, such as General Electric (NYSE:GE), U.S. Bancorp (NYSE:USB), Altria (NYSE:MO), and Chevron (NYSE:CVX) (recent dividend cuts in companies like these are rare events and not likely to be repeated),
The result is higher yields as cash is reinvested at lower prices. On average the expected increase is proportional to the drop in market averages, but higher increases are possible. If one sells and rebuys a higher beta stock, like Caterpillar at 1.8 for example, a 10% general market drop would be 18% for CAT and a corresponding 18% increase in yield on repurchased shares. This is the equivalent of locking in three years of 6% dividend increases ahead of schedule.
For those who are uncomfortable with high cash levels, allocating newly raised cash to inverse market ETFs is a way to maintain fuller market participation while the market adjusts. ProShares Short S&P 500 (NYSEARCA:SH), ProShares Short Russell 2000 ETF (NYSEARCA:RWM), and ProShares Short Dow 30 ETF (NYSE:DOG) are some of the established names in this sector.
Regroup, Remember, Reaffirm
A strategy of selectively and intelligently raising cash is simple, but has compelling advantages in the present set of economic conditions. It virtually eliminates loss risk, allows capital gains to be realized, and sets the stage for higher future income. It reduces one's participation in market gains in the immediate future, but based on the present extreme conditions such gains are more precarious by the day. Noise from the markets, from government and the media can wear us down and cause us to lose focus. It's important to step back from the incessant news cycle, regroup, remember our goals as investors, and reaffirm the roadmap we have developed over the years to get there.
Disclosure: I am long MO, INTC. I wrote this article myself, and it expresses my own opinions. I am not receiving compensation for it (other than from Seeking Alpha). I have no business relationship with any company whose stock is mentioned in this article.