Today I am going to look at the 3-D printing sector, a sector that is enjoying a lot of investor enthusiasm right now. I am going to focus on a new technology that could justify this investor appetite for stocks in the sector. Much of the growth forecast for the 3-D sector is from parts printing. Revenue in the sector is estimated to grow into a $7 billion industry by 2019. The real growth driver however will come from printed electronics, which none of the players in the 3-D sector can do right now. Xerox Corporation (NYSE:XRX) has developed a technology that could literally explode the upward sales trajectory of 3-D printing in the coming years, and in turn help lead to a manufacturing resurgence in the U.S. It is called printable flexible electronics and XRX has estimated that it will grow from a $1 billion per year industry to $45 billion by 2016.
I have not seen XRX talked about much with regards to 3-D printing even though it pioneered the sector in the 1970s. When 3-D stocks are discussed it is the usual candidates:
Stratasys Ltd. (NASDAQ:SSYS)
3D Systems Corporation (NYSE:DDD)
The ExOne Company, (NASDAQ:XONE)
XONE, a recent IPO, has seen its shares gain 50%. This is an indication of how investor appetites are high for 3-D stocks right now. It is a smaller player in the sector but it too is growing sales. Two other companies that could have a big impact in the sector in the coming years are Xerox and iRobot, (NASDAQ:IRBT).
In a recent article the New York Times went over the new technology that XRX has developed that could change manufacturing in the U.S. in a massive way. The technology, developed by PARC (the same division that invented the graphical mouse based operating system that inspired both Bill Gates and Steve Jobs) allows the "printing" of micro circuitry, something that has alluded all of the 3-D printer players thus far. Currently, chips are printed on large wafers that hold hundreds of dies, each with the same electronic circuitry. The wafers are then cut into individual dies and then assembled on printed circuit boards.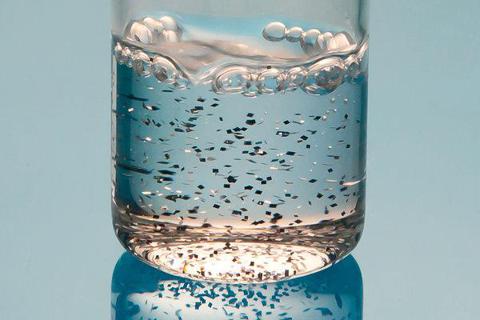 XRX has developed a laser printer that will place tens or hundreds of thousands of chiplets, the size of a grain of sand, on a surface at the exact right location. The chiplets can be microprocessors and computer memory as well as other circuits needed to create complete computers. They can also be MEMS, that perform tasks like sensing heat, pressure or motion. This new system that XRX has developed could be used to build computer systems or be part of a 3-D printing system that prints objects with computing printed right in. Currently, 3-D systems can only print a toy car. With XRX it can print a remote control car with all the computing and electronics needed to make it run. This small advancement will be a massive boon to manufacturing in the U.S. By replacing the circuit boards, this new technology could dramatically shrink the supply chain that spans the globe and employs hundreds of thousands of workers, many of them in Asia. Using laser printers, Xerox's Palo Alto Research Center may one day be able to create desktop manufacturing plants that use chiplets to "print" the circuitry for a wide array of electronic devices.
This new technology from XRX could be great for companies like DDD and SSYS. SSYS offers desktop 3-D printers for idea and design development, a range of systems for rapid prototyping, and production systems for direct digital manufacturing. It is one of the leading stocks that come to mind when mentioning 3-D printing.
Below is one of SSYS's largest manufacturing printers.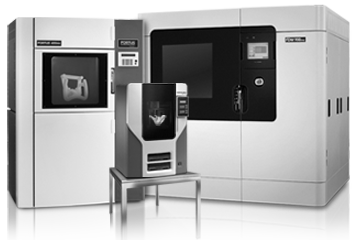 It can print almost anything one can think of. NASA engineers are using 3-D printing to build the next generation rover to support humans exploring other worlds, such as asteroids and eventually Mars. However, one thing these printers cannot do, yet, is print electronics. The SSYS printer can print a robot's arms and legs and joints but it cannot print the electronics that run it. Another company looking to change this is iRobot. This is another stock one does not hear mentioned when it comes to 3-D printing, but it too is getting into this hot new sector. On January 23, IRBT filed a patent for an autonomous all-in-one 3-D printing, milling, drilling and finishing robot.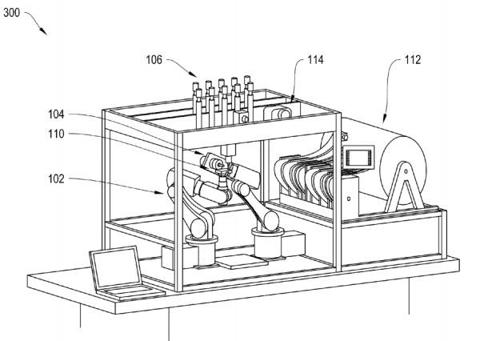 The new system includes a fabrication machine that fuses additive and subtractive manufacturing with component placement to provide completely autonomous all-in-one product manufacturing. The fabrication machine may be used in factories, by individuals or the military in the field for producing and repairing products. The processes, including FDM and Robocasting, will allow for products made up of numerous materials, including ABS, polycarbonate, silicone rubbers, urethane rubbers, and plastics, and low melting temperature metals, as well as combinations of these materials. This would greatly help in the further adoption of 3-D printing in the manufacturing sector.
A quick look at XRX financials make this stock an even more compelling buy for long-term investors. With a forward PE of only 7.55 XRX can be considered the cheapest play in the sector. In the most recent year XRX generated $1.88 billion in free cash flow. XRX also pays a 2.57% annual dividend, an excellent addition to a stock being held long term. As you can see XRX has a solid business right now without even projecting possible revenues from the new 3-D technology. While the upside growth in the sector will be split among many companies, even a small piece of the potential sales could have big bottom line implications for XRX.
Of course we must also delve into the risk factors associated with investing in such a new sector. When I look for stocks to invest in I look for at least two plays in the sector. First I look for a new company/entrant with a lower share cost, higher stock price and a possibility of a stock split down the road. SSYS falls into this category. The other type of stock I look for is a more "mature" company in the sector, if one exists. With 3-D printing stocks, I believe I have found both investing criteria. XRX is without a doubt a mature company. As mentioned above the company posts strong profits, cash flow and a nice dividend yield. While SSYS brings the risk aspect to the sector play, I also have a mature dividend slow moving stock to compensate for that. Also, the possibility that the new 3-D technology XRX has developed could dramatically change the sector soon, is a great bonus.
As for sector risk there is of course large risk in the 3-D sector. The current pricing of 3-D printers is still sky high. The current euphoria in the sector is being driven by the price declines of the at-home printers for individuals. Most models have started to come down in price over the last year with an average cost now under $2,000. This is still very expensive but reminiscent of the pricing seen years ago when paper printers first hit the market. This has garnered much of the attention but I feel this is NOT the market that will make the sector. It will be manufacturing. The key to the sector booming over the next decade, and the stocks continuing higher, is adoption of 3-D printing in manufacturing. The new technology of XRX could be key to this next phase in the 3-D sector growth. If however, the adoption rate of XRX's new technology is slower than expected, or fails to occur, then the risk will be that 3-D printing remains a niche only for those who can afford it. However, even with this risk I believe the opportunity for large gains in the coming years will be well rewarded.
The next few decades in the U.S. may very well be called the renaissance of U.S. manufacturing thanks to 3-D printing. 3-D printing is a disruptive technology that seems poised to change the manufacturing sector in a large way. Currently the surge in 3-D printing is in the parts manufacturing segment. While this area has tremendous upside it pales in comparison to printed electronics. XRX appears to have developed a technology that will explode the 3-D printing sector in the coming years. iRobot is also working on allowing an expansion of the market. Investor appetites are high for 3-D stocks right now and it seems as though that enthusiasm is warranted. XRX , the boring old stock, may end up being the best way to play this sector in the coming years. With its low PE, decent dividend yield and very exciting electronics printing technology, long-term investors should reap very nice rewards in the coming years. Even if the 3-D revolution does not come to fruition, the fundamentals in XRX make it a strong long-term investment with large upside if its 3-D business grows.
Disclosure: I am long SSYS. I wrote this article myself, and it expresses my own opinions. I am not receiving compensation for it (other than from Seeking Alpha). I have no business relationship with any company whose stock is mentioned in this article.