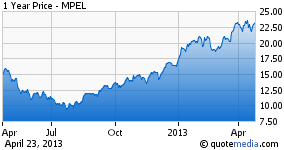 Back in June of 2012, I recommended buying shares of Melco Crown (MPEL) due to its future casino in the Philippines. Since that recommendation, shares are up 109%. For investors who didn't get in at that time, I believe there is plenty of growth for Melco in the short and long term from the Philippines and a new casino in Macau.
Melco Crown will fund a private placement of 1.1 billion shares totaling $377 million. This much needed cash infusion will help Melco's planned $600 million first phase investment in the Belle Grande Manila Bay expected to open in the Philippines in 2013.
A joint venture from Melco and SM Investments, Belle Grande, will be the second of four planned casinos in the Philippines. Solaire, which opened in March of 2013, was the first casino in the region that is hoping to grow like Las Vegas and Macau once did.
Belle Grande will have 920 rooms. This compares to only 500 rooms from Solaire. Belle Grande will also cater more to VIP and high-roller casino players. This is a market that Melco has helped dominate in Macau.
Back in Macau, Melco owns one of only six casino licenses. The company operates two casinos and has a promising third one on the way. Studio City is on track to open in the middle of 2015. The third casino in Macau from Melco is located close to the Lotus Bridge, giving it a prime location on the popular strip. Melco shares have increased significantly since the launch of its first two casinos. The addition of Studio City will greatly impact shares and 2013 provides a good time to get in before Studio City revenue comes in.
Despite avian flu worries, Macau traffic is up and analysts are raising their tone on the region. Recently both Fitch and The Economist raised their overall growth numbers for the region. Fitch expects Macau growth of 11% from the previous year. The Economist is slightly less bullish with growth of 9.7% predicted for 2013. The Economist does however see double digit growth happening in 2014 with a projected target of 13.7%.
In the fourth quarter, Melco saw revenue increase 9% to $1.1 billion. The company's EBITDA hit $247.5 million in the quarter, a record for the company. Earnings per share came in at $0.20. In the fourth quarter, Macau casinos City of Dreams and Altira made up the majority of revenue. Here is a breakdown of the company's revenue:
City of Dreams $772.5 million revenue ($695.9 million), rolling chip volume increased 15% to $23.5 billion. Non-gaming revenue increased 11% to $64.4 million. Occupancy increased 96% vs. 92% last year. Average daily rates increased 7% to $189 from $176.
Altira $281.7 million revenue ($268.0 million), non-gaming revenue increased to $8.6 million, a 6% increase from the prior year. Occupancy increased to a near perfect 99% vs. 98% last year. Average daily rate increased to $228, a significant increase from last years $196.
Mocha Clubs reported fourth quarter revenue of $35.3 million. The company has over 2000 machines now, an increase from 1800 last year.
One of the most important announcements from the fourth quarter was the re-financing of debt. Melco paid off $600 million in notes that had a 10.25% rate on them. The company priced $1 billion in senior notes with a rate of 5.0% to lower annual interest payments. The notes also gave Melco some cash towards its new casino projects.
Shares of Melco Crown could reach new fifty two week highs any day with shares above $23.00. I don't see shares slowing down anytime soon with the new projects in both the Philippines and Macau. Melco was one of the first stocks I recommended on Seeking Alpha and shares are up 60% since that time. I continue to believe in the long term growth of this international casino company.
Disclosure: I have no positions in any stocks mentioned, but may initiate a long position in MPEL over the next 72 hours. I wrote this article myself, and it expresses my own opinions. I am not receiving compensation for it (other than from Seeking Alpha). I have no business relationship with any company whose stock is mentioned in this article.