Times are challenging for companies in the medtech industry with the introduction of the Affordable Care Act's medical device excise tax, pricing pressures and the maturation of certain segments of the industry. Growth is becoming slower for some of the relatively older segments of the market, but there are ways for companies to sustain themselves if they make the right moves in the near future.
Stryker Corporation (NYSE:SYK) has fared much better than the industry on average in maintaining healthy financials and consistently introducing new products into the market. With the segments it primarily operates in coming to a slowdown, Stryker now has work to do, but chances are that it will stay ahead of the game.
Growth story built on acquisitions
Stryker started out by manufacturing hospital beds and focused on hospital equipment for several years. Then it moved into implantable orthopedic devices by acquiring Osteonics Corporation. Years later it acquired Pfizer's (NYSE:PFE) Howmedica which strengthened its position in the orthopedic space considerably. Then it went ahead and made several acquisitions in the neurovascular and orthopedic space. In 2011, the company acquired Boston Scientific's (NYSE:BSX) neurovascular unit to enter into the stroke intervention area. Neurovascular and orthopedics then became the focus for this company. Hospital equipment became a secondary interest.
Stryker went beyond its core competency through the acquisitions route several years ago. It then went ahead and solidified the acquired businesses. In my opinion, during these times of change in the industry, Stryker's growth will primarily be determined inorganically as always. However, the type of companies acquired will have to change.
Trend in recent acquisitions, their impact and what future acquisitions should be
Stryker made four acquisitions - Gaymar, Orthovita, Memomental Technologies and Concentric Medical - in 2011. Through Gaymar the company expanded in acute-care, and through Orthovita it further established itself in spine, orthopedics and biosurgery. Memometal helped Stryker expand in the high-growth extremities market, while Concentric Medical introduced it into the ischemic stroke market. The last acquisition recently got the company a potential winning product in the form of the stent retriever, which got 510(k) approval in August 2012. The impact of these acquisitions has been new products entering into Stryker's portfolio and adding on to its revenues and strengthening its pipeline. But Stryker now needs to go beyond neurovascular and orthopedics. To see why, let us look at some data on industry trends in the past 5 years.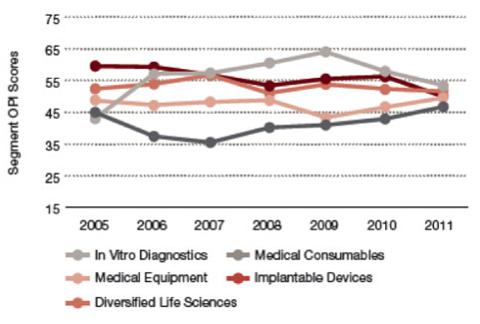 The rising costs of healthcare have indeed made it more valuable to be able to diagnose illnesses sooner and with greater efficacy. Along with the trend towards personalizing treatments, that has, not surprisingly, made in-vitro diagnostics one of the top performing segments.
Implantable devices and diversified life sciences have also fared better than the other two segments - medical consumables and medical equipment.
Stryker would do well to consider future acquisitions in the area of in-vitro diagnostics as this area will be growing greatly in the future. Orthopedics and neurovascular markets are approaching maturation, and the company needs to venture into an area of high demand to boost its revenues in the face of the excise tax and rising pricing pressures. A lot of times when a company moves into a completely new market through an acquisition, there is a lot of concern and doubt surrounding it. This makes it imperative that Stryker ensures clear communication to investors regarding the rationale behind its moves. Stryker can also consider going in for a partnership initially, to test the waters in a completely new market, before going the acquisition route. A few promising partnership deals can give investors the confidence that the company has the competency to make wise acquisition choices in that business.
Finances
The company's financial history shows good growth and operational performance. Current industry trends necessitate the need to optimize operational performance and Stryker is on track for it. In the past 5 years, cash flow provided by operations has grown by 70%. In the same period the company's earnings per share have increased by about 70% and dividend growth has been 286%. Net sales had grown last year by 4.2% but net earnings had taken a hit (-3.5%) due to the newly introduced excise tax. The company has been engaged in some restructuring activities to cut down on costs and deal with the blow that came with the excise tax. On the financial front, Stryker gives investors no cause for fear.
Competitors
Stryker's competitors include Medtronic (NYSE:MDT), which is a leading manufacturer of heart-rhythm management devices. The company operates in segments such as cardiac rhythm management, spine and biologics, neuromodulation, diabetes and surgical technologies, all of which are likely to quickly get saturated and Medtronic doesn't have any plans right now of diversifying into any new high growth business. The company financials indicate a 5-year annual dividend growth rate of 17.1%, while that for Stryker has been about 26.7%. Additionally, Medtronic's 5-year revenue growth rate has been about 5.6%, while that for Stryker it has been 9.1%.
One of Stryker's other competitors is St. Jude Medical (NYSE:STJ), which is focused on the cardiovascular and neuromodulation segments. St. Jude Medical has fared better in terms of 5-year annual revenue growth of about 11%, but the company is not diversified and depends on high-quality differentiated products. Without moving into newer business areas and acquiring new products, St. Jude might find it tough to compete in the future.
Conclusion
Stryker is in a good place financially and well positioned to continue to thrive despite the negative trends in the medtech industry, with some good strategic moves and continued excellence in operational performance. The company's eyes should be out looking for candidates to acquire so that it can enter into new growth areas. Stryker is likely to do what it takes to keep its performance going, making it dependable and worth a buy.
Disclosure: I have no positions in any stocks mentioned, and no plans to initiate any positions within the next 72 hours. I wrote this article myself, and it expresses my own opinions. I am not receiving compensation for it (other than from Seeking Alpha). I have no business relationship with any company whose stock is mentioned in this article.