Here's a look at the four top tech investments that will lead the charge during the next few years: Qualcomm (NASDAQ:QCOM), Yahoo (YHOO), Netflix (NASDAQ:NFLX), and Hewlett-Packard (NYSE:HPQ).
Back in 2007, Jim Cramer declared the storied days for Dell (DELL), Intel (NASDAQ:INTC), Cisco (NASDAQ:CSCO), and Microsoft (NASDAQ:MSFT) were over. He argued that a new era of tech giants was about to lead the charge. Apple (NASDAQ:AAPL), Google (NASDAQ:GOOG), Amazon (NASDAQ:AMZN), and Research in Motion-turned-BlackBerry (BBRY) became his 'Four Horsemen,' and lead the charge they did - an equally-weighted portfolio of those four stocks yielded a 125% return since its 'founding' on June 6, 2007. The S&P 500 is only up 3.7% in that same time.
| | | | |
| --- | --- | --- | --- |
| | June 7, 2007 | April 22, 2013 | % Gain |
| AAPL | $119.30 | $395.89 | 231.8% |
| GOOG | $498.88 | $796.60 | 59.7% |
| AMZN | $68.01 | $263.76 | 287.8% |
| BBRY | $66.36 | $13.97 | -78.9% |
Cramer's call was spot on; he pinpointed intuitive stocks that had built terrific business models that could sustain an economic downturn and command a charge up from the bottom. Three of the four stocks bulldozed forward during the last six years. The time has come to pick the four technology stocks that will lead us from our current position. We're at all-time highs on the Dow and S&P 500, sentiment is positive, and we've fully recovered (from an earnings perspective) from the economic downturn of 2008. Will our new leaders continue the momentum push upward? Or will it be strength in time of renewed uncertainty? Only time will tell.
Qualcomm's Tasty Chips
Investors in QCOM have been frustrated over the past year; they've seen a return of just 4.2% in the exploding smartphone market. Not to mention, QCOM is the world's leading chip supplier for CDMA-based smartphones. Despite the terrific growth - 16% bottom line profit growth year over year with expected growth forecast at 22% for FY2013 - the company has been stagnant, trading in a range between $55-$68. Year-to-date that range has closed; the stock has traded primarily between $63-68 since January 1. With a shrinking range it is tough to profit - price swings aren't volatile enough for the retail investor to see significant gains. So why is this company a leader going forward?
The global smartphone and tablet movement continues to rock. Though there's continued worry about the global slowdown (specifically in the key Chinese and Indian markets), the sheer numbers continue to grow handily.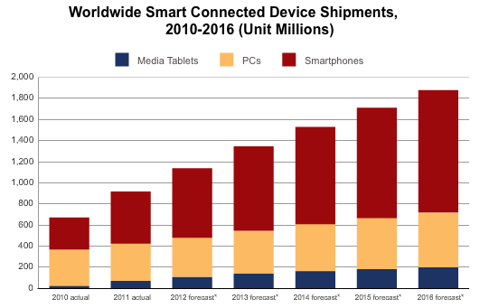 Going forward, the growth of smartphone and tablet shipments (and usage) becomes pared on a % basis, but the empirical unit growth remains constant and strong. As seen in the chart above, when discounting the PC shipments, smartphone and media tablet shipments are anticipated to more than double by 2016.
QCOM is poised to lead the smartphone and tablet charge, which is why it is the first of our 'Four Horsemen.' With increasing competition in the mobile hardware space - AAPL and Samsung are battling it out while BBRY and Nokia (NYSE:NOK) try to remain relevant - the real winners are the chip producers. QCOM faces competition from several other chip companies, specifically Broadcom (BRCM). It has positioned itself as the industry-leaders, though, characterized by consistently strong growth (TTM revenue growth of 25.8%) and industry-leading profit margins (TTM profit margin of 28.3%).
Investors Finally Screaming "Yahoo!"
What happened to YHOO? It was a story stock once, if you can remember back that far. During the tech bubble at the start of the millennium, shares of YHOO hit $125, but just as quickly as they rose, so too the fall. The stock hovered around lows of $4 for a few years before making a three-year bull-run to $40, where it traded in range until falling back to the $15 level. It was only late last year that YHOO once again broke out of the trading range. Since September 2012 the stock has risen 63% on solid volume, and it is my belief that the company is back to stay.
We've seen the incredible influence that great leadership can have on a stock price. Remember the Steve Jobs story at AAPL? Or Michael Dell's run with his startup-turned-conglomerate DELL? It seems that newly appointed (July '12) President and CEO Marissa Mayer is having the same influence on shares of YHOO. The stock was embattled for a long time. Investors always believed in the potential that YHOO had, but no company leader ever had the gumption and foresight to rev the engines since the tech bubble in 2000.
Investors finally have reason to believe in the future of YHOO. Under Mayer's leadership, the company has already rewarded shareholders with $2.2 billion in share repurchases with $778 million more in repurchases already allotted for the current fiscal year. Additionally, Mayer has leveled the wobbling ship - both revenues and EBITDA were unchanged year over year. Additionally, the company has increased its net margin significantly - from 27% in Q1 2012, to 37% in Q1 2013. The increase in profitability is a telling sign for the direction of YHOO. If Mayer can spur top line growth in addition to the increasing margins, YHOO will be a catalyst for the tech movement going forward.
Netflix Back To Business
Investors in NFLX have reason to breathe easy again after over a year of navigating a tumultuous landscape. After the company's IPO at $15 in 2002, investors had to wait patiently until the 500% increase between 2010-2011. The stock bounced handily off of the $300 level, though, and similar to the YHOO stock story in 2000, NFLX fell back down to $60 in just four months, where it hovered for over a year until the most recent earnings announcement. When the company announced earnings in January, the stock rocketed on stellar results and better-than-anticipated forecasts. The stock jumped from $103 to $169.5 in just two trading days and continued its run up after that, bouncing several times off of the resistance level at $190. After announcing earnings yesterday the stock rose from the $170 level to $217 after-market on strong user growth of 2 million during the quarter.
Many investors are wary of the company's current valuation - NFLX is trading at a 160x forward multiple that pundits don't see as sustainable. It should be noted that the company only trades at an industry-average 4.74x Price/Cash Flow ratio, which dictates that operating cash flows are at least fairly priced into the current share price. Growth prospects are tremendous for this stock. The next four years have forecast earnings growth of 355%, 117%, 86%, and 30%, respectively. The growth model is dependent on the acquisition of new subscribers, which has grown substantially since the fall-down in late 2011. NFLX has roughly 29.4 million subscribers, over 80% of which are based in the United States. The company still sees a negative contribution to net income from its international exposure, where it has begun investing in marketing but hasn't yet cashed in on transitioning those target users. The international market is going to be the key driver of growth going forward for NFLX. With a sustainable, profitable model internationally, this stock could trade at $300 by early next year. Lastly, even at this new high valuation after the earnings release, an acquisition could come in the very near future.
Hewlett-Packard Sees Rebirth
There is inherent risk in any investment, especially a big tech name that you're looking to carry your portfolio through the next few years of trading. There is skepticism over YHOO being dead in the water, NFLX being too highly valued, and QCOM finding new money flows into the stock price to justify any future strength. Perhaps the newest of the 'Four Horsemen' that will be most scrutinized, though, is HPQ. In five years HPQ might be irrelevant. But it also might be king again, and I'm betting on that rebirth.
If you want to talk about leadership like we did with YHOO and Mayer, Meg Whitman is one of the top executives in the world. She successfully led eBay (NASDAQ:EBAY) for many years before moving to embattled HPQ and has begun a turnaround process there that might just miraculously work. In the most recent call, Whitman explained that the company will spend the next year becoming a more profitable machine - downsizing the workforce by 10%, exiting unprofitable businesses, among other steps. From its 2012 10-K: "Fiscal 2012 was the first year in a multi-year journey to turn HP around. We diagnosed the problems facing the company, laid the foundation to fix them, and put in place a plan to restore HP to growth. We know where we need to go, and we are starting to make progress."
Consumers label HPQ as a PC business, while in fact it earned 71% of FY2012 revenues from businesses other than "Personal Systems," or PC sales. The bulk of revenues derive from services, printing, and ESSN, so the fact that it has begun a deleveraging (though not a total abandonment) from the shrinking PC business shouldn't be surprising. The company is trimming costs and driving sales in key strategic growth categories. In addition to the changes Whitman is leading at the firm, there continues to be a priority placed on returning cash to shareholders, even when times are tough. HPQ continues to feature a strong dividend yield (2.5%) and repurchases stock on a frequent basis. In FY2012 the company returned $2.6 billion to shareholders while substantially reducing debt.
Again, there is uncertainty with HPQ. If it can't eventually move away from the shrinking PC business it'll be left with much lower levels of profitability on a significant chunk of business. If it can focus all efforts - as Whitman and the leadership has already begun doing - on bolstering the profitable core businesses, the company has a real chance at not only surviving the next few years, but being the leader of the pack.
Conclusion
There are no sure bets in the stock market. It doesn't matter if you're investing in low-growth value plays or high beta tech names. If you're looking to bolster your portfolio with a bundle of technology stocks that will be the catalysts for growth through the coming years, set your sights on the 'New Four Horsemen.' There's risk, but there's also an exceeding amount of upside that more than offsets any inherent risk the companies face.
Let these horsemen lead you to the land of profits!
Disclosure: I am long QCOM. I wrote this article myself, and it expresses my own opinions. I am not receiving compensation for it (other than from Seeking Alpha). I have no business relationship with any company whose stock is mentioned in this article.